Casting Crowns is hitting the big screen! The GRAMMY-winning, multi-Platinum-selling group is celebrating its 20th Anniversary as a band this fall with a legacy album, "Lifesong: A Celebration of the First 20 Years," available here. Continuing the celebration, the group is touring this fall on the "Casting Crowns' 20th Anniversary Tour: A Live Symphony Experience," and a band documentary, "Casting Crowns: Home By Sunday," will premiere in theaters on November 30th.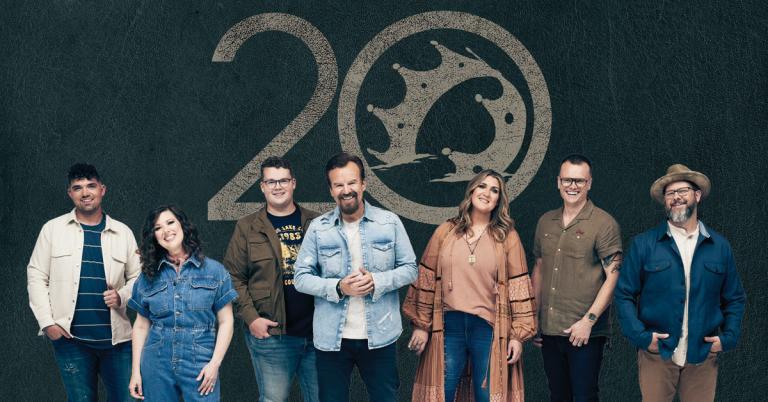 I love the concept of the new legacy album, which takes 21 of the band's songs and allows 20 guest artists such as Steven Curtis Chapman, Phil Wickham, Amy Grant, Brian Littrell (Backstreet Boys), Zach Williams, Natalie Grant, and others. It also contains a brand new songs from the group, "On This Desert Road." Today three lyric videos for "Nobody," "Praise You In This Storm" and "Who Am I" will debut on YouTube. 
The fall tour, "Casting Crowns' 20th Anniversary Tour: A Live Symphony Experience," began last night and will make stops in cities across the country including Boston, Baltimore, Indianapolis, Cleveland, Tulsa, Austin, San Antonio, San Diego and Tucson, among others. On this 20-city tour, Casting Crowns will be joined on tour by a live orchestra for this one-of-it's-kind concert experience. Click here for a list of cities.  
Culminating the anniversary, "Home By Sunday," releasing Nov. 30, shares the stories behind the journey, music and ministry of Casting Crowns. From their unique beginnings to the inspiration behind one of their most beloved songs and a near-life-ending diagnosis, Home By Sunday gives a behind-the-scenes look into the mission and mindset that has driven Casting Crowns for the last two decades. The release includes exclusive performances of "Praise You In This Storm," "Only Jesus" and "Nobody" that can only be seen during this cinema engagement. For more information and theaters showing the film click here. 
Watch the trailer for "Home By Sunday" below: