Faith and prayer are weapons of spiritual as Sister Irene (Taissa Farmiga) finds herself facing off against the demon Valak in "The Nun II, releasing Sept. 8 from New Line Cinema/Warner Bros. The evil entity, which first appeared in "The Conjuring II," based on the case files of spiritual investigators Ed and Lorraine Warren, reappears in France committing murders after the events of "The Nun."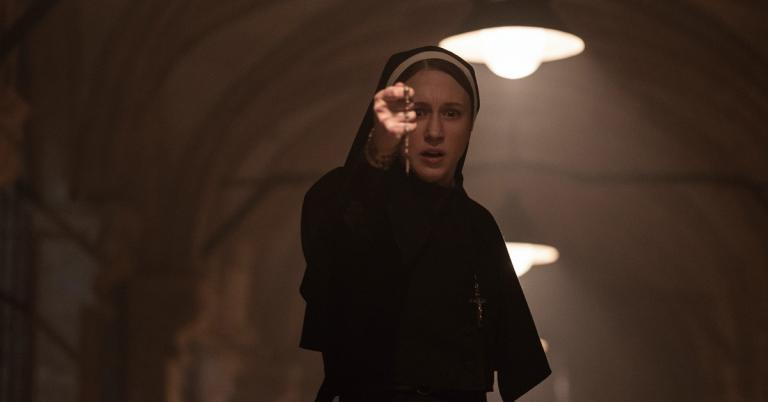 Taking the reins as director this time around is Michael Chaves ("The Conjuring: The Devil Made Me Do It"), who spoke about the importance of faith in the lives of the film's characters.
"Faith is so powerful for this series," he said. "A lot of times in these stories, that faith is the armor that our characters wear and it is their weapon. It is the power."
Chaves, who was raised Catholic, said that although he has struggled in his faith and has faced questions, "there is something wonderful about (faith), because the world can be so chaotic and so complicated. Being able to fall back on that is really reassuring."
He contrasted the two lead characters, Sister Irene (Farmiga) and Sister Debra (Storm Reid), who come together in different ways to fight the demon.
"Our characters are each on their own journey of faith," he said. "With Sister Debra, it's literally just a question of belief. She's a novitiate, basically a nun in training. And she's questioning the very the principles of her Catholic faith, about blessing the wine . . . And for Irene, it's a much more personal question of faith. It's the faith that she has in herself and who she is and who she comes from. And there's questions of identity there. I think these are universal issues and I think people really connect with them."
On the eve of the release, Chavez said he feels somewhat like a father "sending it off to college, sending it out into the world and sharing it with the world." Following in the footsteps of James Wan, "the master of horror, a living legend," he says) and Corin Hardy ("The Nun"), an "incredibly talented and great guy."
The film shot in the south of France at a small, rundown school that was hundreds of years old with two bathrooms and was very tiny. But what it lacked in amenities, he said, the site made up visually.
"It was really beautiful," he said. "It was hard to find an angle that was not beautiful in that country."
"The Nun II," directed by Michael Chaves and starring Taissa Farmiga, Sister Irene, Storm Reid, Anna Popplewell, and Bonnie Aarons, releases Sept. 8 from New Line Cinema/Warner Bros.
Watch an interview with Michael Chaves and DeWayne Hamby below.