Sony AFFIRM has released a new trailer for its upcoming Nativity-themed musical "Journey to Bethlehem," starring Fiona Palomo,  Milo Manheim and Antonio Banderas. The trailer features a greater look at the scope of the film directed by Adam Anders ("Glee," "The Descendants") opening November 10.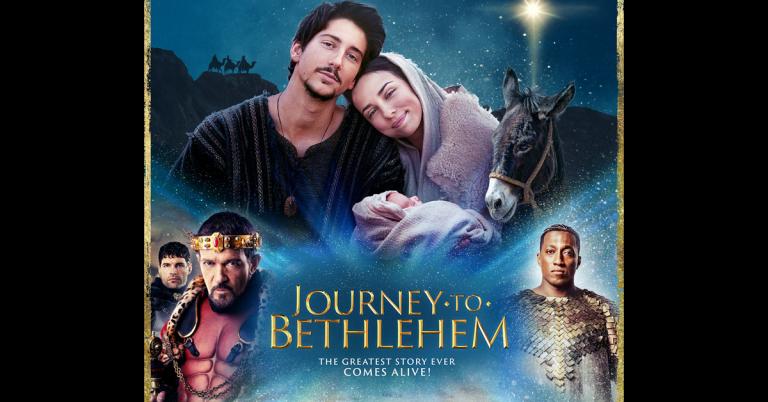 "I have had a dream to create a Christmas musical for years and to see it come to life with a stunning cast has exceeded every expectation," said Anders. "We could not be more excited for this film to be a classic for years to come."
Rich Peluso, EVP and Head of AFFIRM Films, is enthusiastic about the film, especially the amazing soundtrack.
"The music is shockingly good," he said. "Look, I was raised in the music industry, 15 years at EMI Christian Music. So I could spot good music. And I was expecting, you know, the first draft of the script has lyrics, of course, integrated into the dialogue, because it's a musical. And I read the lyrics, I'm like, 'Well, you know, that's those are really interesting lyrics. I can't wait to hear the music.' And I figured the music would be good, because it's Adam Anders. And I was shocked at the level of the musicality and the lyrics, and how it propelled the story. It really has a lot going for it."
Even Banderas gets in on the musical action, delivering a show-stopping song as Herodes called "It's Good to Be King." Peluso revealed the song features a high note the actor wasn't sure he was going to be able to hit, until he was assisted by the director and his brother Alex, the music producer.
"When Antonio heard it, he said, 'Man, I'm never, I'm never going to hit that high note at the end. It just won't happen'," Peluso said. "So they said, 'Trust us, we'll work with you. They ran the song and they rehearsed with him. He could barely hit that note. I wouldn't say really effectively, but he hit it. And then they told Antonio that they had increased the pitch during rehearsals. When brought it down to the actual register of the song, he nailed it."
The offical synopsis for "Journey to Bethlehem" follows:
"Journey to Bethlehem" is a story about a young woman carrying an unimaginable responsibility. A young man torn between love and honor. A jealous king who will stop at nothing to keep his crown. This live-action Christmas musical adventure for the entire family weaves classic Christmas melodies with humor, faith and new pop songs in a retelling of the greatest story ever told, the story of Mary and Joseph and the birth of Jesus. A unique new entry into the collection of holiday classic movies, this epic Christmas musical is unlike any before it.
"Journey to Bethlehem," directed by Adam Anders and starring Fiona Palomo, Milo Manheim, Antonio Banderas, MŌRIAH, Stephanie Gill, Joel Smallbone, Lecrae, Rizwan Manji, Geno Segers, and Omid Djalili, opens November 10 in theaters from Sony AFFIRM Films. Watch the new trailer below: