The Gospel of "Placing My Faith in a Proposition."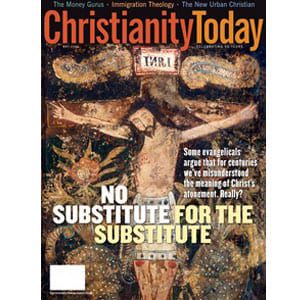 (Originally posted at VanguardChurch on 5/9/2006)
The May 2006 cover of Christianity Today reads, "No Substitute for the Substitute." The article by Mark Dever ("Nothing But the Blood," CT, May 2006, Vol. 50, no. 5, pp. 28-33) makes the case that the central essence of Christianity is the atoning death of Christ understood in terms of penal substitution. Dever, senior pastor of Capitol Hill Baptist Church in Washington, D.C., is an outspoken advocate for a very strict Reformed (Calvinist) interpretation of the Bible.
Dever believes that the "Good News" is that Jesus died to pay the legal debt for the sins of individuals like you and me. We are saved only when we understand this fact and place our faith in this fact. He says so in the opening lines of his article in CT: He tells the story of a woman he knows that was accused of being "too Atonement-centered."
"A Christian friend told her that she talked too much about Christ's death, which dealt with our guilt due to sin. I responded that knowing and accepting this truth was the only way to a relationship with God, and that I didn't think it was possible to be 'too Atonement-centered'."
Did you catch that? Dever's gospel is this: There is a particular proposition about what Christ accomplished on the cross—Jesus died to pay for your guilt due to your sin. You must place your faith in this truth as the only way to have a relationship with God.
Where does the Bible tell us to place our faith?
I have some questions: Is this biblical? Where does the Bible tell us to place our faith? Does it tell us to place our faith in particular statements of facts or to place our faith in the person of Jesus Christ? This may seem like nit-picking, but this troubles me a lot. Please hear me out on this one.
I have been sharing the gospel with people for many years. For the longest time, it looked pretty much like how Mark Dever states it: When we believe that God sent his Son to die for each of us in our place, as our substitute and atoning sacrifice to fully satisfy God's righteous standard, the guilty verdict that hangs over our heads is shifted to Christ—we are forgiven of the legal guilt for our sins and can be guaranteed our place in heaven.
So, you can see where this gospel presentation led me: To a place in our conversation where I am trying to convince my hearer that they must give intellectual acceptance of these declarations in order to save themselves from Hell and gain the benefits of a relationship with God. The focus of our conversation subtly transferred from faith in Jesus to faith in a set of propositions. Instead of asking the person to have faith in Jesus, I was asking the person to have faith in my particular understanding of what happened on the cross.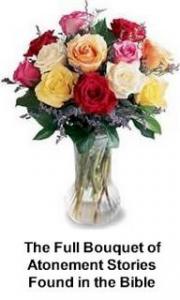 Now, I'm not saying that propositions are completely illegitimate. To tell the story of Christ's incarnation and sacrifice, I often pause and offer statements that spell out what I believe to be true about that. But this is not the end; it is the means to the end. What Dever (and myself, in my earlier attempts to explain the gospel to people) is guilty of doing is making a specific understanding of the Atonement the end-point. For Dever (and, as I understand it, many modern evangelicals), one must believe that Christ died as our legal substitute on the cross in order to be saved. Dever insists, "At stake is nothing less than the essence of Christianity."
But why is that the ONLY way to explain the love of God in Christ for us? If the actual end-point is to usher people into a real relationship with God through Christ, then why are other means demeaned by Dever?
If I explain to people that Christ died for them in order to free them from the systemic evils that are destroying lives and culture (the "ransom" or "classical" theory of the atonement), am I not preaching the gospel?
If I explain to people that Christ died for them so that the image of God that is wonderfully in them can blossom and flourish so that we can become the kind of humanity that we are meant to become (the "recapitulation" theory of the atonement), am I not preaching the gospel?
If I explain to people that when we place our faith in Christ's sacrifice on the cross, it gives us the ultimate example of how life is meant to be lived—that we are to also sacrifice in order to advance the cause of righteousness (the Abelardian "example" theory), am I not preaching the gospel?
If I explain that Jesus died on the cross as the means by which God reconciles the entire broken cosmos back to himself (the Reformational view of atonement found in Colossians 1:20), am I not preaching the gospel?
Each of these varying stories of the Atonement is found in the Bible, and each leads to faith in Jesus Christ. Each is a beautiful rose in the bouquet that encompasses the multi-faceted aspects of what Christ accomplished on the cross.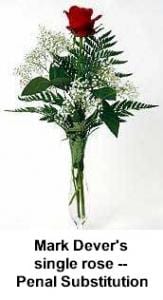 For Dever to insist that one of these stories of the Atonement is essential to Christianity is simply unbiblical.
The Bible offers a full bouquet of Atonement stories, with differing colors, differing fragrances, differing textures, so that we can embrace the fullness of what Christ accomplished for us. The Atonement is so big and spectacular that it takes all these stories to capture its beauty. People are so different in the various cultures in this world and in their assorted life-situations that these diverse stories speak to them wherever they are and whatever they believe and however they need the grace of God.
Dever pulls one rose from the bouquet and sets it alone as the single most significant story of the Atonement. It certainly is a beautiful rose, but we are missing so much more!