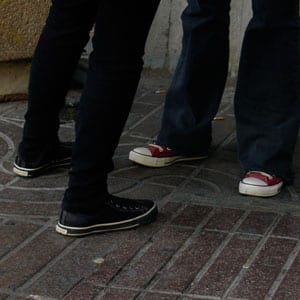 The best way to do evangelism is simply to ask questions.
Spiritual conversations are best when we are genuinely interested in other people enough to ask them questions. How can you offer something that meets a need without asking them what is going on in their life?
POSSIBLE STARTER QUESTIONS:
Do you have much of a spiritual background? Where would you say you are in your spiritual pilgrimage?
What is your concept of God? Is He a reality to you or more of a vague concept?
What do you think about Jesus?
I believe that God wants us to participate with him to make the world a better place. What do think is your unique contribution and purpose in God's work in the world?"
Would you like to hear my story of faith? (This is where you share what God has done in your life).
Would you like me to share with you how we can be reconciled with God and join Him in His purposes in the world? (This is your entryway into sharing the Plan of Salvation, see below).
SOME POINTERS:
First and foremost, "success" doesn't depend on you. The Holy Spirit takes care of changing people's hearts; all we have to do is to faithfully share God's love with people.
Again, most people will bristle at a strong evangelistic lecture, so it's best to first get to know him or her and where that person is spiritually through asking questions. Try to figure out what roadblocks to faith they might be struggling with before launching into the plan of salvation.
Don't push the discussion if they seem resistant to it. Evangelistic presentations are best when they're receptive to hearing it. It isn't a failure if you choose to wait for a better time.
Don't feel like you need to push for a decision right away. If you give them something to wrestle with, you've done your job. The change of heart happens on the Holy Spirit's timetable.
What the Gospel is, and How to Share the Plan of Salvation
THE GOSPEL IS:
Jesus is the Christ, or the "King," and he has begun his kingdom on earth with his death and resurrection. He wants to redeem every square inch of God's world, and that starts with redeeming human beings so that they can have a relationship with God and participate with God in His purposes for the world. A major part of the Gospel, therefore, is the Plan of Salvation.
THE PLAN OF SALVATION IS:
A. IT'S NOT THE WAY IT'S SUPPOSED TO BE!
The world is not the way it's supposed to be. We see evil and injustice all around us. And we are meant for so much more than lives of confusion and scrambling for purpose. We know something is wrong, but we don't exactly know what it is.
However, the Bible tells us what the problem is: Many of the people, a lot of our institutions, and the prevailing culture are all in rebellion against God's good purposes for the world.
B. GOD IS DOING SOMETHING ABOUT IT, ESPECIALLY FOR YOU. ALL YOU NEED TO DO IS TRUST JESUS!
God loves you so much that Jesus, God in the flesh, died for the forgiveness of your individual rebellion against God's purposes (which is called "sin" in the Bible).
You must decide to yield to the loving lordship of Jesus as the King and get onboard with His Kingdom purposes in your life and in the world around you.
But, first, this requires your confessing your personal sin and asking Jesus to take over your life.
You need to personally trust your life to Jesus Christ, who gives you the gift of salvation. You are "saved" from the consequences of sin only through faith. Instead of believing that you can rescue yourself, you must transfer that trust to Jesus, the King.
C. YOU WILL GROW AS YOU DEVELOP YOUR RELATIONSHIP WITH GOD!
The moment that you trust Jesus Christ, you become a child of God and His Spirit comes to live within you! God promises to love you forever, even in the ups and downs of life and He forgives all your sins: past, present and future. He totally accepts you as you are and guides you to become all you are meant to be!

As you grow in your relationship with God and with others who follow Jesus in a local church, your place in God's mission to restore everything will come into better view. You will also experience fulfillment and freedom in this life as you anticipate the life to come!
---
Image by charlieCe. Used with permission. Sourced via Flickr.