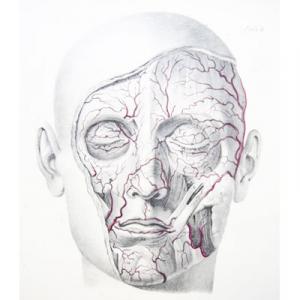 Anyone who knows me knows that I have been experiencing one physical malady after another. It just keeps piling up. So I have grown to hate this body.
But what's the alternative?
Some Christians pine away for a future existence in a disembodied "heaven." They are just biding their time, hoping that their passage to that better life will come sooner than later.
Maybe, I thought, I should be one of them.
But mysteriously and oh so graciously, God led me to this passage this afternoon, found at the end of 2 Corinthians 4 and the beginning of 2 Corinthians 5:
"We have this treasure in jars of clay to show that this all-surpassing power is from God and not from us. We are hard pressed on every side, but not crushed; perplexed, but not in despair; persecuted, but not abandoned; struck down, but not destroyed…

Because we know that the one who raised the Lord Jesus from the dead will also raise us with Jesus and present us with you to himself…

Therefore we do not lose heart. Though outwardly we are wasting away, yet inwardly we are being renewed day by day. For our light and momentary troubles are achieving for us an eternal glory that far outweighs them all. So we fix our eyes not on what is seen, but on what is unseen, since what is seen is temporary, but what is unseen is eternal.

For we know that if the earthly tent we live in is destroyed, we have a building from God, an eternal house in heaven, not built by human hands. Meanwhile we groan, longing to be clothed instead with our heavenly dwelling, because when we are clothed, we will not be found naked. For while we are in this tent, we groan and are burdened, because we do not wish to be unclothed but to be clothed instead with our heavenly dwelling, so that what is mortal may be swallowed up by life. Now the one who has fashioned us for this very purpose is God, who has given us the Spirit as a deposit, guaranteeing what is to come."
A New Body Awaiting Me
For some reason, as I read this, I pictured this glowing spacesuit awaiting me in a closet up in heaven. God says, "I've been keeping this ready for you, a new "tent" or new "clothing" that is outright "heavenly! One day I'm going to take it out of this hevenly closet and you'll get to wear it for all eternity! I know your suffering, Bob. Your present body is a hot mess. I know. But this new thing is going to be absolutely awesome! You are experiencing what is normal in this present age – the wasting away of your body. But you will be re-embodied one day! One day, this here new body you'll put on over that old body and it will cover you in such a way that you will no longer feel the groaning of your "death" body. It will be replaced by the joy of your "life" body. An eternal life body suited for the New Heaven and New Earth.
N.T. Wright explains:
"In this passage — and it is typical of many in the New Testament — 'heaven' is not the place we go to when we die, but rather the place where God has our future bodies already in store for us. Paul uses two pictures to make this clearer. First, he refers to the body as a 'house' or 'tent' (in his world, of course, many people lived in tents all the time, which was one of the reasons why there was always work for a tentmaker like him). This enables him to say both that the present body can be exchanged for a better one in due course, and that being embodied matters. Though the idea of a house or tent does allow him to think of the 'self' as losing one dwelling place and gaining another, it also suggests strongly that the point of the exercise is not to give up having a body altogether. Everybody needs to live somewhere. He combines this with the idea of the body as 'clothing'. This enables him to say a similar thing from a slightly different angle: the Christian hope for the future is not about becoming disembodied but about being re-embodied. (N.T. Wright, Paul for Everyone: 2 Corinthians, pp. 52–53)
So what does that do for me now? How does that change my today?
Therefore I will not lose heart. Though outwardly I am wasting away, yet inwardly I am being renewed day by day. Sure, I am hard pressed on every side, but I am not crushed; I am crtainly perplexed, but I am not in despair; I feel persecuted, but in realtiy, I am not abandoned; yes, I've been struck down (again and again), but I am not destroyed.
---
Image by University of Liverpool. Used with permission. Sourced via Flickr.