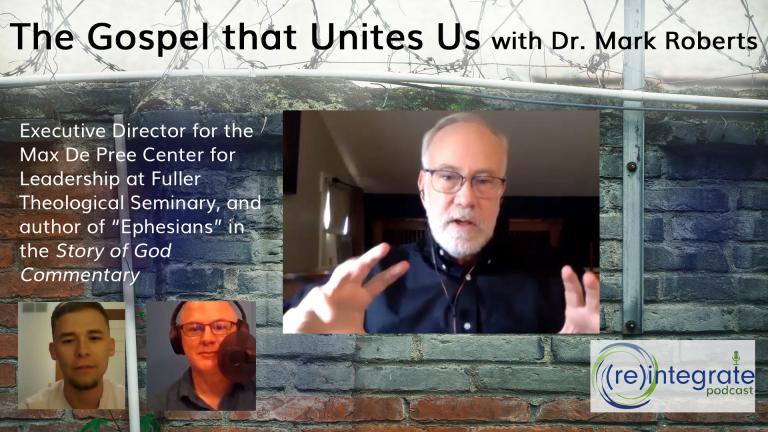 Listen to the podcast on your favorite app:

Episode Description:
We are experiencing disunity in ever-increasing ways. We are feeling it especially in 2020. How did we get here?
According to Genesis, God created an integrated world, where we could live in harmony. But sin has dis-integrated everything. Sin breaks these loving relationships.
Therefore, what is the grand plan of God?
"To unite all things in Christ, things in heaven and things on earth!" (Eph 1:10)
The cross of Christ not only provides individual forgiveness and eternal life, but it also breaks down the wall of hostility and unites formerly divided peoples!
Dr. Mark Roberts, the Executive Director for the Max De Pree Center for Leadership at Fuller Theological Seminary, wrote a new commentary on Ephesians.
He shares with us what Ephesians says the gospel accomplishes: The gospel reintegrates all things, which includes the reintegration of the human race.
(The video of Bob leading college students in a Bible study of Ephesians 1 can be found here).
Before his current position at Fuller, Mark Roberts was the Senior Director of Laity Lodge in Texas where he also served as their Executive Director of Digital Media. Bob Robinson worked for him as a Content Editor for their website, The High Calling for three years.
With a Ph.D. in New Testament from Harvard, he has written eight books and has been teaching at Fuller Seminary, most recently in his Doctor of Ministry cohort on "Faith, Work, Economics, and Vocation." Mark is married to Linda, and they have two grown children.
Thanks for listening!
Go to https://www.re-integrate.org/ for years' worth of articles on reintegrating your callings with God's mission, resources for further learning, links to the Reintegrate YouTube channel, and more.
On Reintegrate's podcast page, you'll find ways to email us or call us to comment on this podcast. https://www.re-integrate.org/reintegrate-podcast/
If you like this podcast, please subscribe and write a quick review at Apple Podcasts or your favorite podcast app to encourage others to listen too!
---