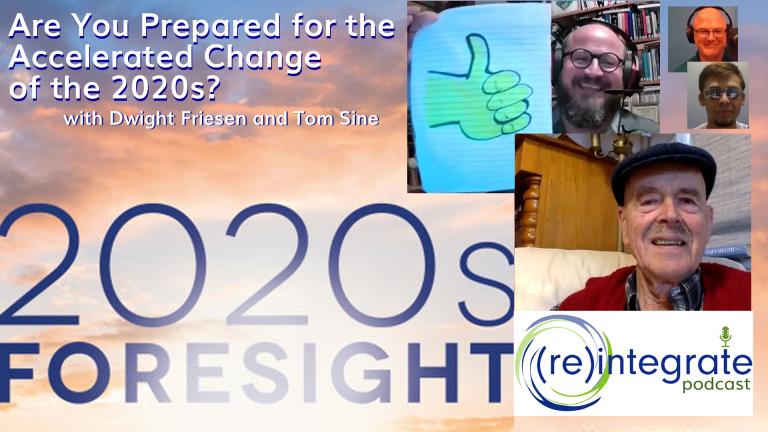 Listen to the podcast on your favorite app:

Episode Description:
2020 has been an incredible year of turmoil. It is the first year of a decade that promises to have lots of challenges.
Tom Sine and Dwight Friesen are the authors of a fresh new book, 2020s Foresight: Three Vital Practices for Thriving in a Decade of Accelerated Change.
Brendan and Bob discuss with them how these three vital practices can prepare young people, ministry leaders, and marketplace Christians for a decade that promises to be incredibly challenging. How can Christians be on the front lines, changing challenges into opportunities to serve and to show the love of Christ?
Tom Sine is what we might call a futurist. He is co-founder, along with his wife Christine, of Mustard Seed Associates. For three decades, he has consulted countless churches and organizations to help them forecast and innovate for the challenges of the future. They live in an intergenerational community in Seattle where they seek to model a new way of living for the 2020s called the Mustard Seed House. He encourages and equips who he calls the New Changemakers.
Dwight Friesen is a professor of practical theology at The Seattle School of Theology & Psychology. He has been a leading innovative church leader for years which has led him to initiatives like Parish Collective, a global movement of Christians reimagining church in, with, and for the neighborhood as well as the Inhabit Conference, a gathering of Christian leaders who share a common vision for seeing the transformation of the church through their participation in their neighborhoods. Born & raised in Canada, he now lives in Washington State with his wife Lynette.
Thanks for listening!
Go to re-integrate.org for several years' worth of articles on reintegrating your callings with God's mission, online resources for further learning, and more.
On Reintegrate's podcast page, you'll find ways to email us or call us to comment on this podcast.
Please consider purchasing this book from our friends Beth and Byron Borger, independent bookstore owners of Hearts and Minds Bookstore.