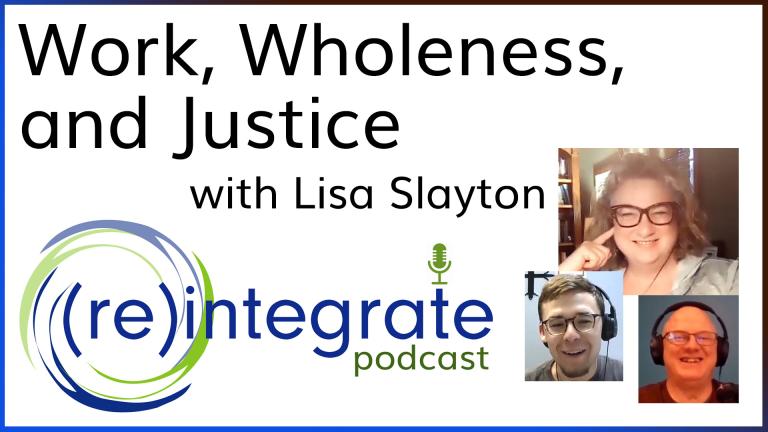 Listen to the podcast on your favorite app:
What does it look like to be a Christian at work? How can we be healthy and whole people who are better able to contribute? What is our mission in the workplace? How can we be agents of justice in and through our work?
Our guest on this episode of the Reintegrate Podcast is Lisa Slayton. Lisa is the founder of Tamim Partners where she comes alongside leaders and their teams to grow in wholeness and cohesion as they seek to serve their organizations for the common good and for the flourishing of their city and the world.
She is also the Director of CityGate, a new initiative of the Denver Institute for Faith and Work, which is creating a community of workers, leaders, thinkers, and makers committed to both personal transformation and bringing healing change to their cities through holistic expressions of the gospel.
Lisa lives in the Pittsburgh metro area. She has been married to Roger for nearly four decades, has one adult child and two Labradors.
Bible Passages:

"Jesus Christ…gave himself for us to redeem us from all lawlessness and to purify for himself a people for his own possession who are zealous for good work." (Titus 2:14)
"When Abram was ninety-nine years old the LORD appeared to Abram and said to him, 'I am God Almighty; walk before me, and be tamim (whole, healthy, with integrity), that I may make my covenant between me and you, and may multiply you greatly.'" (Genesis 17:1–3)
Thanks for listening!
Your hosts are Brendan Romigh and Dr. Bob Robinson, the Executive Director of Reintegrate.
Go to re-integrate.org for the latest articles on reintegrating your callings with God's mission, online resources for further learning, links to the Reintegrate YouTube channel, and more.
On Reintegrate's podcast page, you'll find ways to email us to comment on this podcast.