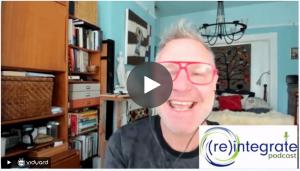 Click here to watch the video at Vidyard
Listen to the podcast on your favorite app
Episode Description
In a society fixated on anxiety, competition, and comparison Jesus Christ offers another path. He has told his followers that instead of living in constant striving and competition that each of us has equal dignity and worth. It's often assumed that the good life is only for the most wealthy, attractive, and powerful. Poor, sad, and suffering people are left out. But Jesus offers a ninefold path in the Beatitudes that is for everyone. Whatever your story, whatever your struggle, wherever you find yourself, Jesus says that you are blessed in Him.
Mark Scandrette's latest book is The Ninefold Path of Jesus: Hidden Wisdom of the Beatitudes (IVP, 2021). In this book, Mark explores the nine sayings in the opening verses of Matthew chapter five, helping readers move beyond their first instincts to instead embrace the deeper reality of the kingdom of God. He invites us into nine new postures for life. Instead of living in fear, we can choose radical love.
Mark Scandrette is the founding director of ReIMAGINE: A Center for Integral Christian Practice, where he leads retreats, workshops, and projects that help participants apply spiritual wisdom to everyday life. His multidisciplinary studies in applied psychology, family health, and theology have shaped his approach to learning and transformation. He is on the creative team for NINE BEATS collective, a project exploring the beatitudes as a 21st-century vocabulary for the living way of Jesus.
Check out ninefoldpath.org for more information.
__
Buy this book from Byron and Beth Borger at Hearts & Minds Bookstore. You can order online through their secure server or call 717-246-333. Mention that you heard about these books on the Reintegrate Podcast and get 20% off!
Your hosts are Brendan Romigh and Dr. Bob Robinson, the Executive Director of Reintegrate.
Go to re-integrate.org for the latest articles on reintegrating your callings with God's mission and online resources for further learning.
There is a Bible study book that you can use in your small group or individual devotions: Reintegrate Your Vocation with God's Mission by Bob Robinson.
On Reintegrate's podcast page, you'll find more episodes and ways to email us to comment on this podcast.