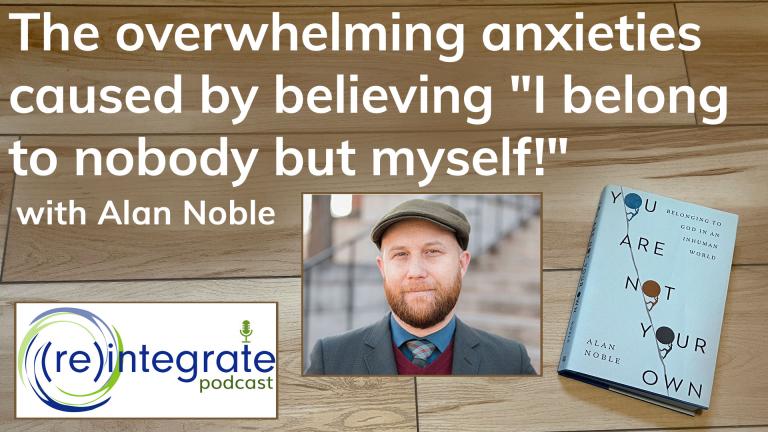 Listen to the podcast on your favorite app:
Episode Description:
Everything in Western society teaches us that we belong to nobody but ourselves. This sounds great! We can create our own identities, map out our own lives, and find our own significance. This means that we are entirely responsible for ourselves.
But Alan Noble says this overwhelmingly burdens us to try to justify our existence and to create and express our own identities. And society is more than happy to manipulate us as we do so. There is a lot of money to be had in people who are burdened with creating, sustaining, and projecting who they are.
Alan Noble (Ph.D., Baylor University) is Associate Professor of English at Oklahoma Baptist University , He is the editor-in-chief of Christ and Pop Culture, and the author of articles and books, including Disruptive Witness: Speaking Truth in a Distracted Age (InterVarsity Press, 2018). He just published You Are Not Your Own: Belonging to God in an Inhuman World (InterVarsity Press, 2021).
Contact Alan:
https://www.facebook.com/oalannoble/
https://twitter.com/TheAlanNoble
Buy Alan Noble's books from independent Christian booksellers Byron and Beth Borger at Hearts & Minds Bookstore. You can order online through their secure server or call 717-246-333. Mention that you heard about these books on the Reintegrate Podcast and get 20% off! 
>> Thanks for listening!
Your hosts are Brendan Romigh and Dr. Bob Robinson, the Executive Director of Reintegrate.
Go to re-integrate.org for the latest articles on reintegrating your callings with God's mission and online resources for further learning.
There is a Bible study book that you can use in your small group or individual devotions: Reintegrate Your Vocation with God's Mission.
On Reintegrate's podcast page, you'll find more episodes and ways to email us to comment on this podcast.
Tweet Bob at
https://twitter.com/Bob_Robinson_re
Follow Reintegrate at
https://www.facebook.com/reintegrateflv