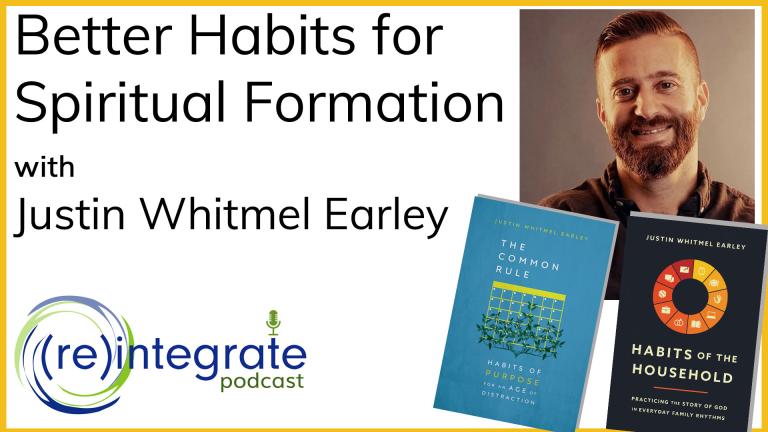 Listen to the podcast on your favorite app:
Episode Description:
Whether we know it or not, our lives are formed by invisible habits, habits that create in us anxiety, frustration, depression, and exasperation. How do we lean into the promise of the gospel when we remain addicted to our technology, scrolling through our social media feeds, streaming tv and movies at any time and in any place, all the while hurrying to get our work done with increasing demands and deadlines?
Justin Whitmel Earley is the author of two books on creating healthy habits to yoke ourselves to Jesus, The Common Rule: Habits of Purpose for an Age of Distraction (InterVarsity Press, 2019) and Habits of the Household: Practicing the Story of God in Everyday Family Rhythms (Zondervan, 2021).
He is a lawyer, author, and speaker. He graduated from the University of Virginia with a degree in English Literature before spending four years in Shanghai, China, as a missionary. Justin then received his law degree from the Georgetown University Law Center and he now runs his own business law practice in Richmond, Virginia.
Purchase Justin Whitmel Earley's books from independent Christian booksellers Byron and Beth Borger at Hearts & Minds Bookstore. You can order online through their secure server or call 717-246-333. Mention that you heard about these books on the Reintegrate Podcast and get 20% off! 
>> Thanks for listening!
Your hosts are Brendan Romigh and Dr. Bob Robinson, the Executive Director of Reintegrate.
Go to re-integrate.org for the latest articles on reintegrating your callings with God's mission and online resources for further learning.
There is a Bible study book that you can use in your small group or individual devotions: Reintegrate Your Vocation with God's Mission.
On Reintegrate's podcast page, you'll find more episodes and ways to email us to comment on this podcast.