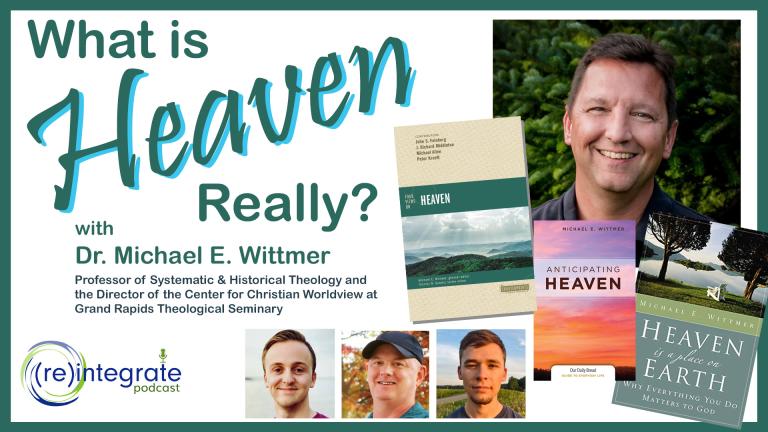 Listen to the podcast on your favorite app
Episode Description
Truth be told, most Christians, even many pastors, don't really have a firm understanding of what heaven is.
Where is the final destiny of the believer?
What will we be there and what will we do there?
In this episode of the Reintegrate Podcast, we invite an expert to share his insights. Dr. Michael Wittmer is Professor of Systematic & Historical Theology and the Director of the Center for Christian Worldview at Grand Rapids Theological Seminary at Cornerstone University.
He is the author of lots of articles and several books, including books that deal with the topic on this episode of the podcast: Anticipating Heaven (Our Daily Bread Publishing, 2019). Heaven Is a Place on Earth: Why Everything You Do Matters to God (Zondervan, 2009), and he just served as the editor of Four Views on Heaven (in the Counterpoints series, Zondervan, 2022), in which four Christian scholars provide their differing interpretations about what happens after we die and then offer responses and rejoinders to each other.
Read Mike Wittmer's devotionals at Our Daily Journey. Read his humorous and insightful tweets. Connect with Mike on Facebook, where he often posts video devotions.
Purchase Michael Wittmer's books from independent Christian booksellers Byron and Beth Borger at Hearts & Minds Bookstore. You can order online through their secure server or call 717-246-333. Mention that you heard about these books on the Reintegrate Podcast and get 20% off!
>> Thanks for listening!
Your hosts are Dr. Bob Robinson, Brendan Romigh, and David Loughney.
Go to re-integrate.org for the latest articles on reintegrating your callings with God's mission and online resources for further learning. You can also find out about a Bible study book that you can use in your small group or individual devotions: Reintegrate Your Vocation with God's Mission.
On Reintegrate's podcast page, you'll find more episodes and ways to email us to comment on this podcast.