Earlier this year, a reporter asked the great General James Mattis what threats worried him most. Mattis, whose job as U.S. Secretary of Defense is to protect us from a nuclear North Korea, radical Islamic terrorism, and an ever-encroaching Russia, had a surprising response.
"The lack of political unity in America. The lack of a fundamental friendliness," he said. He went on to add, "[i]f you lose any sense of being part of something bigger, then why should you care about your fellow man?"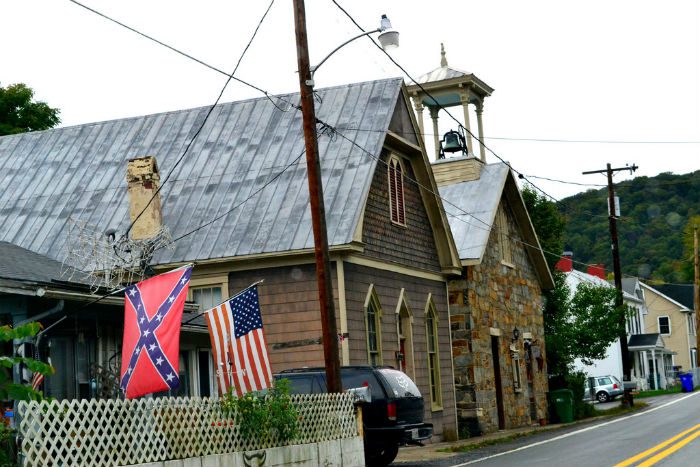 His remarkable observation, which came well before the terrible recent events in Charlottesville, echoed President Lincoln's statement that, "America will never be destroyed from the outside. If we falter and lose our freedoms, it will be because we destroyed ourselves."
Mattis and Lincoln express an essential truth about this great country. We can and have achieved remarkable things together, when we understand our commonality as Americans and work to the same ends. Alternatively, however, when we encourage hatred and sow seeds of discord and division, we put all in jeopardy.
Our country is experiencing far too much of this discord and division. As was the case for many Americans, as our family saw the events in Charlottesville unfold, we felt it deeply and personally. Just last year, we were there on the University of Virginia's "grounds" celebrating our daughter's graduation, walking freely around the campus, enjoying the lively and culminating festivities with families of all heritages. This was a shining example of this public space being experienced by all for a common good, and a celebration of shared success.
Thirty-three years ago at the University of Pennsylvania, I met and fell in love with my wife Jean, the daughter of Chinese immigrants. Jean has always told our four children she is the product of the great American Dream. Her parents left China with just one suitcase, no money, and no home to greet them on the other side. Yet, they managed to establish a profession, a home, and raise three successful children, sending them to the finest universities and graduate schools.
At Penn, in addition to meeting my wonderful wife, I was fortunate to evolve meaningful relationships with people of all colors and backgrounds, and particularly in the campus African-American community. I joined the university's very active and inspiring gospel choir, and given my deep friendships in the black community, decided to pledge Alpha Phi Alpha (the first of all black fraternities, and the fraternity of Dr. Martin Luther King, Jr. and Senator Edward Brooke, among many other great men). As you might imagine, a white guy joining a black fraternity raised some eyebrows, but it transformed me. The experience of marrying into one racial heritage and investing deeply in the brotherhood of another, laid a foundation for the last three decades of our family's life. We can't help but see ourselves as part of a beautiful American mosaic, where we all participate fully and truly benefit from the distinctive experiences of people of all heritages.
That's one of the many reasons the events in Charlottesville were so deeply disturbing. Seeing those terrible and violent visuals, I imagined returning to a place that my mixed-race family and my sisters and brothers of color wouldn't be welcome. And I know that my feelings are of so little consequence in comparison to those of so many in this country, who feel this in profoundly greater ways than I do.
Following the violence and awful symbolism of that day, we have all been forced to revisit some of our deepest historic wounds, given the lack of moral clarity and leadership in response. Though my opposition to the rise of President Trump in 2016 was well established, in our country we hope and pray for our leaders to rise to their greatest heights in office. And so, I observed with great sadness the comments from the Oval Office, which led to even greater fear, mourning and division across the land.
How do we respond?
First, we should cross lines of division and stand with people of different colors, heritage, and experience. For our family's part, we will continue to lean into our role across our region and state, building friendships and partnerships in the varying communities. We have hosted leaders from the African-American, Latino-American, Asian-American church and business communities in the past. After the experience of this terrible week, we look forward to a previously scheduled retreat weekend we are hosting in October with such leaders and their spouses.
Second, we should use the imagination and resources available to us. As we partner with a series of businesses and sponsor various not-for-profits in the digital media and film-making space, we would like to advance the discussion by launching a film competition and prize for emerging filmmakers and minority voices who are creating visual works of art on topics of race, oppression, discrimination, struggle, and justice. We seek to give voice to these important stories in our efforts to promote equality, peace, and unity for all people.
And lastly, we should provide moral and spiritual leadership in whatever ways we can, in whatever spaces are available to us.
One of my dearest advisors is Reverend Hurmon Hamilton, a very wise minister, formerly of Boston's historic Roxbury Presbyterian Church, and now presiding in a church elsewhere. He likes to say "pain knows no color." He's right. The pain is different, sourced in different places, coming from different spaces, and certainly not all equal (America's racial history declares that), but it is assuredly present and common to all of us, as Americans and as people.
With this in mind, I recall one last great Lincoln quotation, from his second inaugural address as the end of the Civil War neared. When he asked the people to convey "malice toward none, and charity to all" the end objective was to "bind up this nation's wounds."
May we find the courage to do the same today.
Special to Patheos from John Kingston,  who is running for U.S. Senate in Massachusetts.