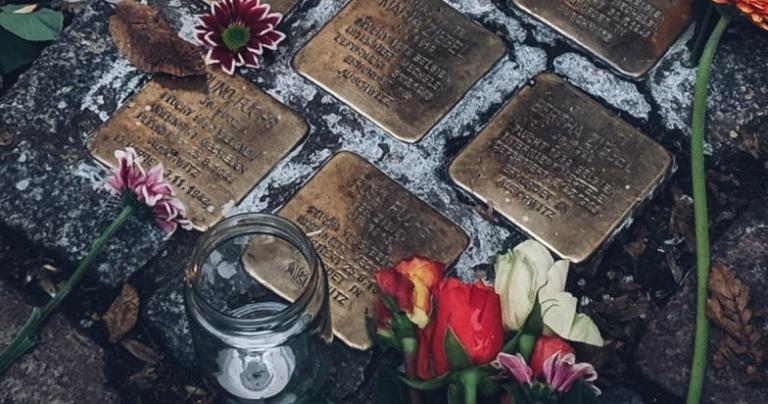 By Ken Chitwood
Berkach lies in the bucolic borderlands between the German states of Bavaria and Thuringia. Formerly divided by the hard boundary between former East (GDR) and West Germany, the one-time international frontier is now marked by an old watch tower, about a half mile outside the village.
But I'm not in Berkach today to chronicle its accounts of living on the fringes of the former GDR. Instead, I'm here to discover another significant aspect of the hamlet's history, its once robust and significant Jewish life.
As Germany looks back on 1,700 years of Jewish life in the country, dating back to a decree in Cologne in 321 they are recalling Judaism's long, if complicated, history in central Europe.
Visiting sites like Peter Eisenman's Memorial to the Murdered Jews of Europe in Berlin or renowned Jewish museums in Frankfurt, Berlin, or Munich, one gets a sense of the enormity of what was lost in the Holocaust — in human lives, in culture, in knowledge, in history and heart.
Yet, despite the ways each institution seeks to personalize the ambivalence of German Jewish life over the years, there is an intimacy and immediacy that is missed if those are the only places one goes.
To get a sense of the absent presence that Germany continues to wrestle with, one must also explore smaller, provincial places like Berkach.
Berkach: Where Everyone Had a Jewish Neighbor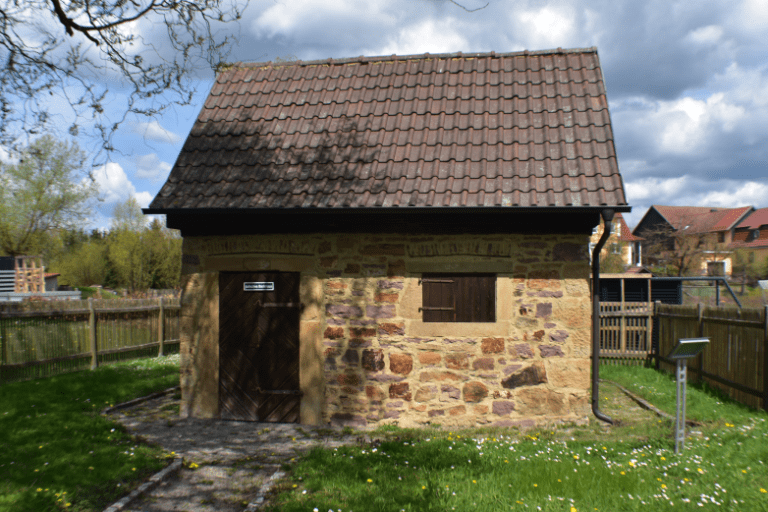 My guide through Berkach's history is Gundela Bach, a loquacious local tour guide who's dedicated herself to the preservation and appreciation of Berkach's old synagogue, Jewish cemetery, and mikveh — a pool of water used by married Jewish women for ritual washing.
Built in 1854, the 19th-century synagogue was confiscated and "sold" in 1938. Its Torah —the "Goold Torah" — was smuggled out and made its way to Temple Israel near Orlando, Florida. The only reason the synagogue even survived was because it was not seen as "significant enough" to warrant full-scale destruction.
When the Berlin Wall fell in 1989, Berkach's synagogue was in total disrepair. Utilized as a workshop during the Cold War, part of the complex was still being used for tractor parking. Since then, Bach has been working tirelessly to help repair the building and recover a sense of Jewishness that once defined the village.
Along the way, she met Otto. Born in 1907, Otto regaled Bach with stories of when half the village's population was Jewish. She learned through Otto how Berkach once had a thriving Jewish community. "Everyone in the village had a Jewish neighbor," said Bach.
Manfred Levy, director of education at the Jewish Museum in Frankfurt, said that people often forget how robust German Jewish life once was. "All that has been forgotten," he said, "the National Socialists did a thorough job."
According to the Central Welfare Office for Jews in Germany (ZWST), Germany's current Jewish population is around 225,000 with around 106 active Jewish communities. The Thuringian Jewish community has around 679 members, centered in Erfurt with auxiliary locations in Jena and Nordhausen.
But in Berkach, some 76 years after the Holocaust, the only testaments to how it was once a thriving center of rural German Jewry are its synagogue, mikveh, and cemetery. Even those were a struggle to refurbish. At least at first.
In 1990, when Bach and others sought renovation funds from the state government, they faced an uphill battle from residents who didn't see such projects' relevance.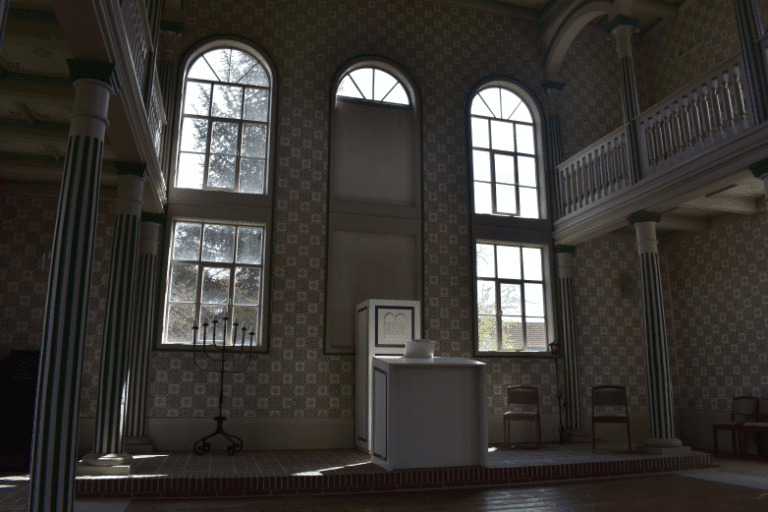 Looking out through the synagogue's windows to a steeple in the center of the village, Bach said that residents wanted funds to go to the church's restoration instead. "The reasoning was, 'there are no Jews here,'" Bach said.
To Bach, this underscores the cluelessness that continues to plague the appreciation of German Jewish life and culture. For her, a combination of ignorance and antisemitism still complicates Germany's relationship to its Jewish past and present.
"Those problems don't go away in a generation or two," Bach said, "many of the issues remain."
An ongoing local education in Mühlhausen
Despite this, Berkach's synagogue stands as a jewel in the collection of Thuringia's Jewish monuments and memorials, including the "Erfurt Treasure" — coins, goldwork and jewelry assumed to have belonged to an Erfurt Jew — or the remnants of German Jewish life left in Mühlhausen, about two hours north of Berkach.
Mühlhausen and its medieval old city are a maze of cobblestone causeways and passages. Along its Judenstrasse — renamed after German reunification — is the entrance to a rather nondescript, traditional woodwork building. After walking past a small library tucked into the anteroom and ducking through the entranceway's low doors, you enter into a Hof — or yard — behind the simple home. There, hidden from public view, is Mühlhausen's perfectly preserved 19th-century synagogue.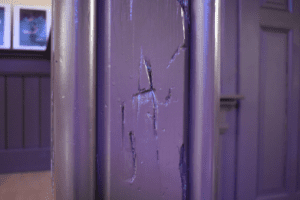 On Kristallnacht — the Night of Broken Glass — in November 1938, Nazis broke into the synagogue with the intention of burning it down, as they did with so many other synagogues that night across Germany. But because the synagogue shared a wall with one of the attacker's homes, they decided not to destroy it. They carved swastikas in its walls, leaving it to disrepair over the next several decades. Rediscovered in the 1990s, today it is a part of the community's continual educational efforts.
Through lectures, concerts, and programs with local schools and churches hosted at the synagogue, Pastor Teja Begrich, along with partners like Dr. Antje Schloms of Mühlhausen's city archives and the nearby Erfurt Jewish community, utilize the synagogue to show how German Jewish life isn't only a thing of the past, "but a living part of our present," said Begrich.
For example, Berlin-based Reuven Yaakobov, a specially trained and authorized rabbi (or sofer), has been working on a new Torah scroll for Thuringia's Jewish community since October 2019. According to tradition, the writing of a Torah should be experienced by others and so, Yaakobov has been visiting locations across the state through the "Torah is Life" program – a collaboration between Thuringia's Jewish Community and the local Catholic and Protestant churches.
Opportunities for this kind of ongoing, experiential, education are essential, said Begrich.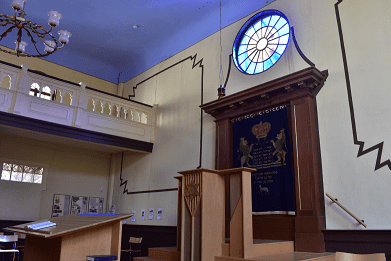 Like in Berkach, that isn't always easy to do. Mühlhausen's synagogue is not an active place of worship and no Jews live in the city today.
"The fact that there is no community here now," said Begrich, "we did that. Now, we have to deal with it."
Just as there is a constant need to educate Thuringia's residents about Jewish life there, Begrich also said, "there is a constant need to protect its Jewish sites." Since the deadly attack on a synagogue in Halle in October 2019, there has been a required police presence at each of the locations above, from Berkach's mikveh to Mühlhausen's synagogue.
In fact, as we left the synagogue that day, we stopped to say hello to the local police officer who had been stationed outside during our visit. A longtime Mühlhausen resident, he said, "the synagogue is the most beneficial part of the city."
The officer also said that when he comes across Stolpersteine — small brass stones, embedded into streets and sidewalks to commemorate Holocaust victims at their last place of residence —he reads and reflects on the lives lost, the history erased.
At this, Begrich pulled out a book he compiled with information on each of Mühlhausen's former Jewish families who were forced to flee or were murdered during the Holocaust. He gives it to the officer, who is visibly touched.
As we walk away, Begrich said this is why Thuringia's efforts are so crucial. As Germany grapples with its past and struggles with antisemitism in the present, every effort must be made to learn — and come into contact — with German Jewish life.
When that experience is local, he said, "when they're part of our cities, our state, it makes it more meaningful."