In a comment on my post in which I shared a quote from Fred Clark about how various leaders of the "Religious Right" are similar to/different from Rev. Sun Myung Moon, I was asked for evidence to support those claims. Fortunately, Ken Ham was kind enough to provide it on his Facebook page. Ham described my blog and/or Fred's as "secularist," never mentioning once that we are both Christian critics of his fraudulent claims and demagoguery. And as for his seeking of praise from followers, one need only keep an eye on the Facebook comments regularly. Any comments that offer criticism disappear, and so the number of comments goes not only up but down at regular intervals.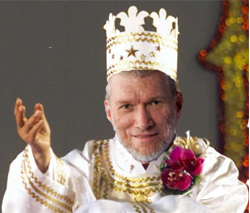 Ken Ham engages in something that ought to be considered a form of brainwashing, while pretending (as those who engage in mind control typically do) that it is those who teach actual science who do that. In a recent video, he claimed mainstream science brainwashes people, and he has the audacity to claim that if evolution is true, it should be obvious to children. Have you ever heard such hogwash? Is it obvious that the Earth rotates? It wasn't to the Psalmist, and it isn't to us, but science can show that it is the case despite it not being what we observe with our senses. Is it obvious that the brain is the location of thought and reasoning? It wasn't obvious to Paul, but study of the brain using advanced technology has revealed to us what Paul couldn't have known, because it isn't observable to the senses without scientific perspectives and equipment. And then he makes false claims, such as that science teaches that we are "nothing but animals" and "came from slime." Is there really nothing slimy that is ejaculated from men that human beings come from? And if Ken Ham doesn't take a distinctively creationist approach to conception and sexual reproduction, then just what is his point? It is rhetoric, trying to make people think that mainstream science undermines morality and human specialness. But ironically, human specialness is not a claim that depends on what Ham calls "historical science" and if it did, it would apparently be in doubt. It is a simple fact of observation. We write poetry and create music and some of us praise the Creator, and what we are composed of has nothing to do with that, nor does it detract from that. And so we see Ham engaging in disinformation of the sort that we associate with cult leaders and not the quest for truth. All one has to do is listen closely to what Ham claims and use the critical thinking that he claims to support, while in fact only presenting a set of bogus claims and misinformation, laced as all effective lies are with just enough truth to dupe the gullible.
But Ken Ham says you should be open to hearing other viewpoint and thinking critically, and so why not take that seriously and read a book by a Christian who is a professional biologist or geologist or otherwise engaged in actual scientific research, and hear what they have to say? If you just listen to what Ham says that mainstream science says, is that critical thinking? Are you really making sure that you are getting accurate information about science? Since there are always people out to dupe Christians, shouldn't you fact-check what Ham says carefully, since he is not a scientist or a Biblical scholar himself? Doesn't the fact that he doesn't allow comments on his videos and deletes comments critical of his claims from his Facebook page, while those who disagree with him, whether Christians or atheists, don't have to, make you even the least bit suspicious? Don't you owe it to God to ensure that, in following Ken Ham's teaching, you haven't been lured into a cult? Don't they all claim what he does – that they have the one true meaning of the Bible, and they will show you why everyone else is wrong, while making sure that all the information their followers get is carefully filtered and manipulated? Isn't it possible that Fred Clark is right on target in comparing him to a cult leader?
And most importantly, 
how will you be able to tell, if you don't get other perspectives than the one that he and others like him are feeding you
?
The sad truth is that "brainwashing" of this sort doesn't work consistently. And so if you are afraid that evil humanist atheist secularists will get their claws on your children, trying to shield them from other perspectives and simply indoctrinate them with one viewpoint is not going to be effective, even if you really do have the truth (which, if you are a young-earth creationist, you don't). Unless children are taught to seek after truth, to critically examine, and not simply to think that this or that viewpoint is biased, but to understand how to actually tell whether something is just pseudoscience, pretending to be skeptical while in fact merely using selective skepticism to cast doubt on views they dislike, and otherwise manipulating them, then the "faith" that you instill in them will not be genuine faith, but a house of cards which will be liable to collapse the moment anyone even gets close enough to it to ask questions about it. If you are a parent, is that really what you want?
I encourage you to read what some of the great scientists who are Christians have to say about evolution, the age of the Earth, and any other topic that may interest you. And in the short term, you can also click through to read Fred Clark's follow-up post to something he shared recently. In it he explains why he doesn't think that terms like "theistic evolutionist" are useful, and why no one describes themselves as a "theistic meteorologist."