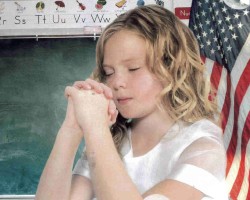 I commented previously on some of the conservative Christian reactions to the Newtown school shooting, including in particular the attempt to connect it with the removal of prayer from schools. Today in church, as a longstanding public school principal who is a member of my church gave a children's talk about prayer, my thoughts turned to the subject again, and I noticed a contradiction in one of the responses a conservative Christian made to one of my posts.
I suggested that it is ridiculous to think that some people in Sandy Hook Elementary School did not pray in the context of the situation that arose, the presence of a gunman in the school. A conservative Christian commenter replied that if those were not the prayers of believers, then it would not matter.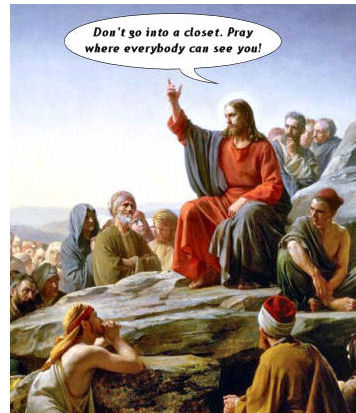 And there's the rub, the contradiction that finally struck me. Would the presence of formalized, ritualized prayer in the school have made the children, teachers, and other employees in the school believers, in the sense of Christians with a genuine faith in Jesus? I doubt that any Christian who would answer that question in the affirmative. Indeed, most would emphatically say that it would not do so. Some might go even further, pointing out Jesus' own teaching against formalized, ritualized, and/or public prayer. And so some Christians would also stand against imposed prayer in public schools as an expression of their faith. This could potentially not only be due to the aforementioned teaching of Jesus, but also for other reasons related to their faith. For instance, as Protestants, they probably would not want a Catholic priest to come in and teach their children to pray the Hail Mary.
You cannot have it both ways. Either the sort of prayer that Jesus taught, offered by people who are actually his followers, is the only sort that God listens to. In that case, formalized prayer will not help, while believers in the school will be praying without ceasing, privately and without show, as Jesus taught them. Or alternatively, maybe formalized prayer does indeed make a difference. But in that case, the rhetoric and stance of many conservative Christians will in fact have to change. You can't deny the value of prayers offered in a manner contrary to Jesus' teaching and by people who do not have a personal faith, and yet advocate for formal prayer in school, without ending up in a contradiction.