Bob Cargill created and shared this checklist: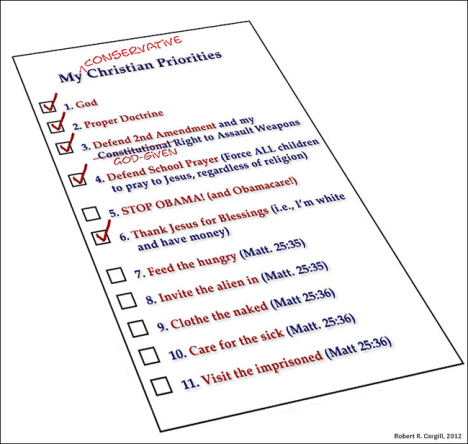 I think Bob is right about some things and sort of wrong about some things.
I think he is right when he says that the skewed prioritization has to change, and that there is reason to be hopeful that it is indeed changing.
I think he is sort of wrong when he placed God at the top of the list with a check next to it.
Of course, conservative Christians of the sort Bob is addressing would indeed place that at the top of the list and put a check next to it. But that is just lip service when the priorities that God is said to have in the Bible, which they claim to regard as authoritative, are not their own priorities.
And so let me say nothing more except to quote some words from 1 John 4:
Whoever does not love does not know God, because God is love…Whoever claims to love God yet hates a brother or sister is a liar. For whoever does not love their brother and sister, whom they have seen, cannot love God, whom they have not seen.