Thanks to the generosity of Zondervan, I am able to hold a giveaway for not one, not two, not three, but four sets of the Theologian Trading Cards
that I blogged about recently.
Along with three of the four sets of cards, Zondervan will include a signed card of one of the following (the fourth will be a "consolation prize" and will not include a signed card):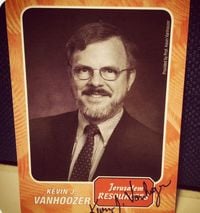 That's N. T. Wright, Elisabeth Schüssler Fiorenza, and Kevin J. Vanhoozer.
It is interesting to look at the reviews on Amazon
, where the reviewers mention being puzzled at which theologians were included and which were not. One person had never heard of Rosemary Radford Ruether (!) but thinks that Charles Ryrie ought to have a card.
But it isn't necessary to choose, in the long term. I am delighted to say that there are plans for follow-up sets of trading cards, including ones that will branch out into New Testament scholars (and, I hope, eventually Hebrew Bible/Old Testament scholars). And so I thought it would be fun to encourage commenters here to say who else they would like to see cards for. Feel free to be serious or satirical or approach it any other way you see fit. (And feel free to make them part of your "Fantasy Team for Jesus Nerds" that Anthony Le Donne recently blogged about).
To encourage readers to be creative in suggesting which future cards they would want to see (including duplicates of current ones for different "seasons" in their work, perhaps?), I have decided that, while I will give away the three sets of trading cards with signed cards at random, I will give the fourth set to the person that I thought left the best comment.
So for the purpose of the main giveaway, all you need to do is leave a comment here on the blog (sorry, comments left on a shared link on Facebook or somewhere else don't count) with the name of the theologian whose signed card you would like most (feel free to mention two or three and rank them, in case it turns out that I can't get you your first choice). But to maximize your chances of getting a set of cards even if not chosen at random, leave as many comments as you wish that suggest possible cards for other scholars, whether theologians in the narrow sense or scholars in other related fields. There is no penalty for two people proposing cards for the same theologian or scholar. What will matter to win the final set is what you write, whether it be your serious reason for wanting that person to have a card, or your frivolous and funny description of what you think should go on the card.
Is that clear? I hope so. Now, let the contest begin! I will let this run until Monday and will pick the winner after that.
Enter early, and enter often. And spread the word!