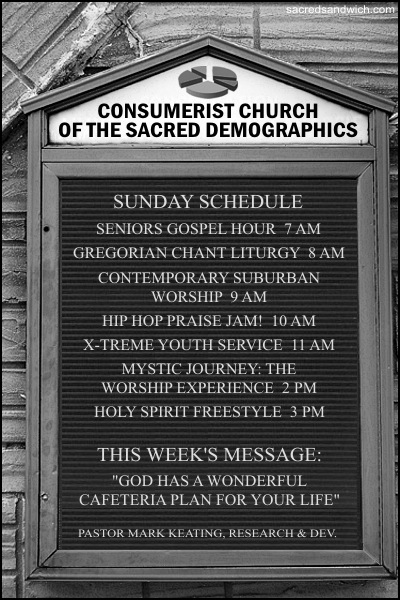 I've shared the above image before. But I came across it again, and it struck me in new ways, as I had recently been reading discussions about where the life of the church actually unfolds in our time. I'm not sure how it was that it was once possible to have people join together with no real issues of musical preference arising. But it has never been the case that choices of hymns or topics of sermons were meaningful to all present. The only thing that has changed from recent generations is something that brings today's church closer to that of the first century: most people do not take it as given that a church building is a place that they ought to gather at least once a week to listen to a sermon, sing songs, and pray.
Some have responded by taking the approach in the image – by trying to cater to a particular niche, or to all of them. (See for instance the Episcopal Cafe post about Cinema Sundays, and the Internet Monk post about megachurches.)
But I have wondered lately whether we don't need a different sort of cafeteria approach – one in which we gather in a cafeteria and talk, or actually provide a cafeteria and feed those who are hungry.
Perhaps it is time for the focus of church gatherings to be on others rather than ourselves. Perhaps it is time for singing and praying and listening and discussing to be things that we organize and do in smaller groups, whether occasionally or as a regular routine, and make the regular features that happen each week the feeding, and clothing, and tutoring, and sheltering.
But what would the R&D folks say about this proposal?