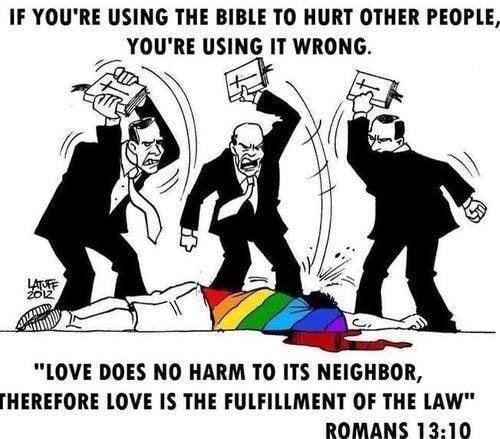 Although I greatly appreciate the sentiment expressed through the cartoon above, there simply isn't a right ot wrong way to read the Bible. The Bible genuinely contains things that can inspire hatred, and things that can inspire us to renounce hatred and choose love instead. The Bible is a collection and it doesn't come with a guide to interpretation attached to all copies of it. There is no way to harmonize all of it into a single coherent viewpoint.
And so, if the Bible is important to you, it is still up to you to decide what to do, what to embrace and what to reject. And so why not choose to maximize love and minimize hate?
That may not be "what the Bible says" without remainder and without contradiction, but it is most definitely one of the things the Bible says.