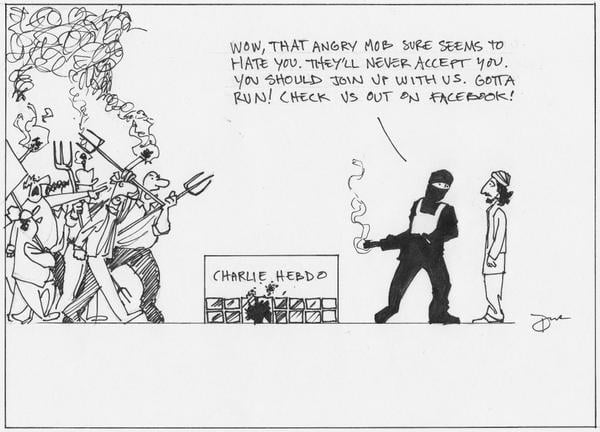 Dan McClellan drew the cartoon above and shared it on Twitter. It illustrates the reason why it is important to not respond to intolerance with intolerance. It is self-defeating. If we hate all those who fit into a category with terrorists, then the claim of the terrorists that we are against their people becomes true, even if it wasn't before, and serves to foster their aim of recruiting more people to their cause.
Martin Luther King Day is next Monday. And so let's recall these insightful words of his:
The ultimate weakness of violence is that it is a descending spiral, begetting the very thing it seeks to destroy.
Instead of diminishing evil, it multiplies it.
Through violence you may murder the liar,
but you cannot murder the lie, nor establish the truth.
Through violence you may murder the hater,
but you do not murder hate.
In fact, violence merely increases hate.
So it goes.
Returning violence for violence multiplies violence,
adding deeper darkness to a night already devoid of stars.
Darkness cannot drive out darkness:
only light can do that.
Hate cannot drive out hate: only love can do that.

Dr. Martin Luther King, Jr., Where Do We Go from Here: Chaos or Community?, pp. 62–63..