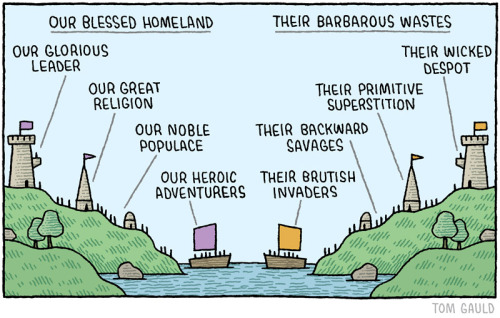 The cartoon above is by Tom Gauld. It seems to me to do a good job of illustrating how people tend to exalt their own heritage and denigrate that of others.
This relates directly to how Islam is being treated in the media. I've said it before: any Christian who reads the Qur'an differently than they would want people to read the Bible is ignoring what is arguably Jesus' most famous and most central moral teaching: treat others the way you would want to be treated.
Mark Sandlin has a wonderful post
about this, looking at what would happen if people read the Bible the way that conservative Christians critics of Islam read the Qur'an. I suspect that the only way conservatives might be able to sidestep the point is to insist that they differ from Muslims in that they don't obey those violent commands in the Bible. But that doesn't really help their case much, in my opinion, since they still claim that the Bible is inherently better than the Qur'an, which seems less persuasive when they have to disobey its teachings in order to make that seem plausible to themselves.