None other than J. K. Rowling drew attention to this tweet from Mike Pence from back in 2015:
Calls to ban Muslims from entering the U.S. are offensive and unconstitutional.

— Governor Mike Pence (@GovPenceIN) December 8, 2015
She then added a Biblical quote, challenging his hypocrisy: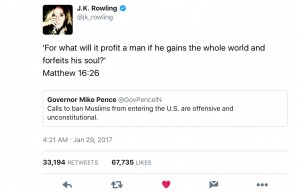 And now he is saying nothing against the executive order. Mike Pence has sold his soul in the interest of power – but what power have you gained if you are the vice president and must keep your convictions quiet? That isn't really power. Pence is less powerful now than he was in 2015. I wonder if he realizes that.