Doug Chaplin shared the following blue circle plaque that he made for Jesus, of the kind that one finds on important historic and heritage sites around the UK.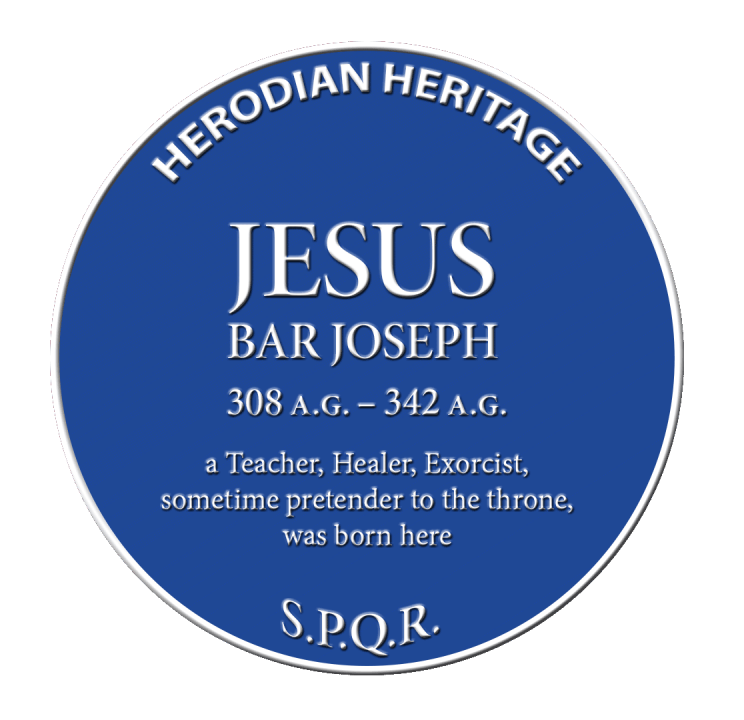 I like that the plaque states what, historically speaking, we can consider very likely, namely that Jesus was Joseph's son. On that topic, see also Kyle Roberts' recent book A Complicated Pregnancy. I provided an endorsement for that book, and the publisher has made a study guide as well as the introduction and first chapter available for free online.
But returning to the original subject, if a plaque like that above were to be made, where should it hang? Should there be one in Bethlehem? Nazareth is a far more plausible choice, historically speaking, when it comes to the question of where Jesus of Nazareth was born.
It seems inappropriate to mention these questions without asking where a similar plaque marking the burial place of Jesus ought to hang, considering in particular the recent National Geographic article about investigations within and under the edicule in the Church of the Holy Sepulcher in Jerusalem. Tests on mortar confirm that it dates from the era of Constantine, which was not in serious dispute, but still cements (pun intended) that link in the chain of argument about the site. See Jim Davila's comments on an article in Haaretz for more on the subject.
Science-promoter and history-denier Jerry Coyne has made his usual sort of comments about the matter, still failing to show any awareness of the hypocrisy of his stance as he continues to complain about those who reject the academic consensus in his field, while doing likewise to the consensus of historians.
Those interested in my views will probably have already read them in my book The Burial of Jesus. If you've never read the book, an article I wrote for The Bible and Interpretation is excerpted from there, and it focuses specifically on the Church of the Holy Sepulcher.
It has been a while since I have blogged about this topic, which consumed a lot of my research attention some years ago.
Bart Ehrman leaves his meaning unhelpfully ambiguous when he talks about Jesus not having received a "decent" burial. But given that a non-decent burial is still a burial, I am going to treat him as not disagreeing with my view that Jesus was buried in a tomb for criminals, without the honor that accompanied "descent" or honorable burials. For more on Ehrman's views, here are two of his blog posts on the topic:
Decent Burials for Crucified Victims: A Blast From the Past
The Skeletal Remains of Yehohanan: Readers Mailbag October 8, 2017
See also Ben Witherington's post on recent work on the Church of the Holy Sepulcher, and also Matthew Ferguson's which touches on Joseph of Arimathea in the context of the incorporation of historical figures into non-historical narratives (and vice versa).
Of related interest, see James Tabor's blog post about the question of whether Simon Peter's tomb was discovered in Jerusalem. It includes a transcription of an important older article, as well as photos of relevant archaeological evidence.