The latest Star Wars movie, Solo, manages to feel genuinely like a perfect prequel to A New Hope and the rest of the original, even more so than Rogue One. That even though it follows the opening words "A long time ago, in a galaxy far, far away…" with more words, and not the classic fanfare. This post will include spoilers, but if you haven't already seem the movie and are in two minds about whether to do so, please read on and persuade yourself to see it – is is definitely worth your time. But perhaps stop reading a little before the end, because there is one detail – one unexpected appearance by a very familiar character – that it might be worth saving the surprise of until you are in the movie theater.
The movie starts with a runaway on Corellia who has become part of the crime network of one Lady Proxima. The first 20 minutes feels like Oliver Twist in space. On that note, I will comment on the tendency of the Star Wars universe to treat planets as neighborhoods, as more like individual nations than our own pluralistic world. The desert world of Tatooine, the forest moon of Endor, the slums of Corellia, the ice world of Hoth. Stargate SG-1 nicely poked fun at this in an episode in which members of the team assume they have landed on some frozen world, when in fact they are on Earth, in Antarctica. Leaving that to one side, we get from the outset a host of details – some laden with significance, other merely nice background. The frequent focus on his lucky dice is one, and all the more poignant given their arc all the way through The Last Jedi. However, my favorite detail from the scene from young Han's criminal early life is his attempt to bluff his way out of a tough situation by claiming to have a thermal detonator – which is in fact a rock. We are left to assume that sometime in their relationship, Han told this story to Leia, retroactively adding depth to their relationship prior to the end of The Empire Strikes Back.
Han is in love with another teen in Lady Proxima's gang of young criminals, named Qi'ra. They try to escape from Corellia together, but Qi'ra is apprehended. Han wants to become a pilot, and joins the Imperial cause. When asked his name, he simply says "Han," and when asked for more information – who his people or family are – he says he has none, leading the Imperial official to provide him with the moniker Han Solo. This origin story about his name is another nice touch that feels authentic.
Three years later, he has been kicked out of the Imperial Academy for thinking for himself, and the same trait gets him into and keeps him out of trouble on many occasions. When he observes to a commanding officer while serving as an infantry soldier that they are not fighting "hostiles" but are themselves the hostiles on someone else's planet, it hints at a major theme of the film, namely freedom and liberation. Han soon gets thrown to "the beast" in a scene reminiscent of Jabba's Rancor pit, but the "beast" turns out to be a Wookiee, and Han just happens to understand and speak a little Wookiee. They thus work together to both escape, and it is no surprise when we learn that the Wookiee's name is Chewbacca.
Han joins with a group of criminals hired by a head of a crime syndicate (Dryden Vos of Crimson Dawn) to steal a fuel shipment. His aim is to earn enough money to buy a ship so that he can go back for Qi'ra. But the job fails because of marauders who try to take the fuel shipment themselves, and so Han goes with Tobias Beckett to see Vos and see if there is some other way to get him what they now owe him. It turns out that Qi'ra is on Vos' yacht, branded with his syndicate's symbol. They plan to steal raw coaxium (the fuel that is so valuable in its processed form) from a mine on Kessel. That planet is in the midst of a dangerous maelstrom, and the safe entry route is known as the Kessel Run, about 20 parsecs in length. Fans could already foresee that, on the way back, Han will need to take a shortcut through the maelstrom – and that they will use a ship called the Millennium Falcon which then belongs to Lando Calrissian. Han tries gambling for it at Sabacc but loses because Lando cheats (but he will later have a rematch).
Lando has a droid partner L3 who is an outspoken advocate for droid rights. She tries to persuade a battle droid that is providing entertainment to exercise free will and extract itself from such savagery.  She comments about the fact that the establishment won't even serve her kind (a phrase that also comes up in A New Hope). Later on Kessel, she removes a barbaric restraining bolt from a droid, and proclaims it free. When it asks what it should do with its new freedom, she suggests freeing others – and so a revolution is started. L3 says as a result that she has found her true purpose. L3 earlier told Qi'ra that Lando has feelings for her which she doesn't reciprocate, and we get a sense that she is not wrong when Lando is willing to be shot twice while trying to rescue L3 after she has been damaged. Here as well there are amusing nods to other movies, such as when Lando says that mining colonies are the worst.
Taking the raw fuel to a refinery, the marauders show up again. In a moment reminiscent of the removal of Kylo Ren's helmet for the first time, the person beneath the mask turns out to be a fairly young and freckled girl. They are not marauders, she explains, but something else, seeking to wrest this powerful resource from the crime syndicates that ultimately serve the empire. It isn't a source of income, but blood in the veins of something new: a rebellion. Han ends up helping them, also hoping to free Qi'ra. But having killed Dryden Vos, she contacts the person they answer to:
Maul
! And so she leaves on Vos' yacht to rendezvous with him, rather than going with Han. She had earlier said that "
everyone serves someone
," and one of the deeper elements of the Star Wars universe is that it pokes and prods at facile notions of freedom – whether through Anakin the freed slave, R2-D2 with his restraining bolt removed, Luke after the death of his aunt and uncle, Han, Qi'ra, Chewbacca, the Rebellion, the Resistance, or purportedly neutral power and planets.
The movie ends after Han shoots first, killing Tobias, who lives long enough to tell him it was a wise move, since he would have killed him otherwise. Earlier, Tobias had said he planned to head to Tatooine, where he heard that a local gangster was putting a team together.  Han and Chewie head there, and the rest is history.
Throughout the movie, we get a sense of Han that fits really well with who we find him to be in the subsequent stories. He is less of a convert from crime than a good guy who increasingly is willing to take the risks involved with doing the right thing in tough situations, despite having had much experience that warns against trusting anyone or letting them get too close.
I loved the use of music in the film – from the echoes of John Williams' classic themes in John Powell's score, whether the opening fanfare or the asteroid field, to the quarter tone jazz (in a song called "Chicken in the Pot") that offered something more familiar-yet-alien than the original cantina music, to the fact that criminal Tobias Beckett wants to retire and learn to play the valichord (whatever that is).
I am not sure what to make of the fact that Tobias Beckett has such a terrestrial-sounding name, with biblical (apocryphal) and English resonances. Has anyone else noticed that? Any thoughts on its significance?
I also saw that a playable version of Sabacc has released for sale that I presume mirrors what we saw in the movie (there were already some homemade versions that one can download and print off which are based on earlier glimpses of the game – including books which are no longer considered canon). Have any readers of this blog played it?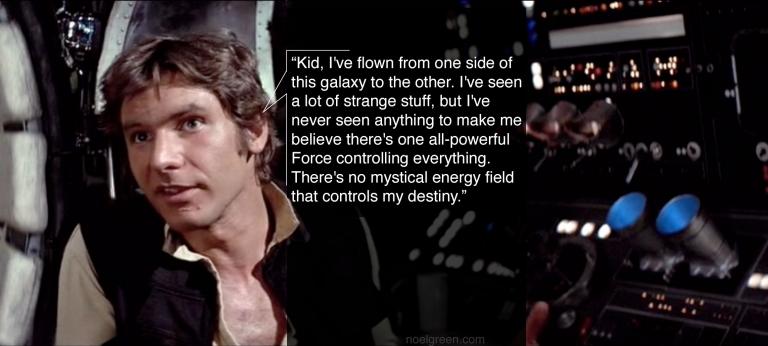 For someone interested in religious themes and elements in science fiction, with which the whole Star Wars franchise is replete, you might think that Solo would be a disappointment. Nothing could be further from the truth. On the contrary, Solo illustrates precisely how Han could live in a universe with the Force, and nonetheless travel all across it without encountering any evidence to persuade him thereof. The only explicitly sacred reference anywhere in the film comes when Lando is making an entry in what may be a private journal, or may be a novel that he hopes to one day publish, chapter 5 of the "Calrissian Chronicles." He refers in passing to a sacred temple. But even when (formerly Darth) Maul appears, there is no explicit reference to the Force. Despite the way some religious traditions romanticize poverty as leading people to find faith in a way that the wealthy may not, the truth is that hardship, entanglement with crime and injustice, slavery, poverty, being orphaned, and various other such things are every bit as likely to rob one of a sense of the sacred as luxury and leisure – if not indeed more so. Note as well that Han doesn't deny that there is a lot of "strange stuff" in the universe. Plenty of people on our planet think there may be room for scientifically-explicable telekinesis or mind control without adopting a religious viewpoint thereof. And so Han, from beginning to end, hopes for luck and hangs on to a hopeful totem, but sees little evidence of any kind of power that ties it all together and guides it, much less one that might control a destiny and thus have a positive, benevolent influence. It turns out that the same kinds of things that can produce skepticism in our world can also do so in a galaxy far far away. And a broader experience can change one's mind about these and other matters. Solo provides a great basis on which to have conversations about this topic, particularly in conjunction with the other Star Wars movies.
Have you watched Solo: A Star Wars Story? Did you enjoy it as much as I did? And did you find it works as well as a prequel to the original trilogy as I did? I look forward to your thoughts in the comments!