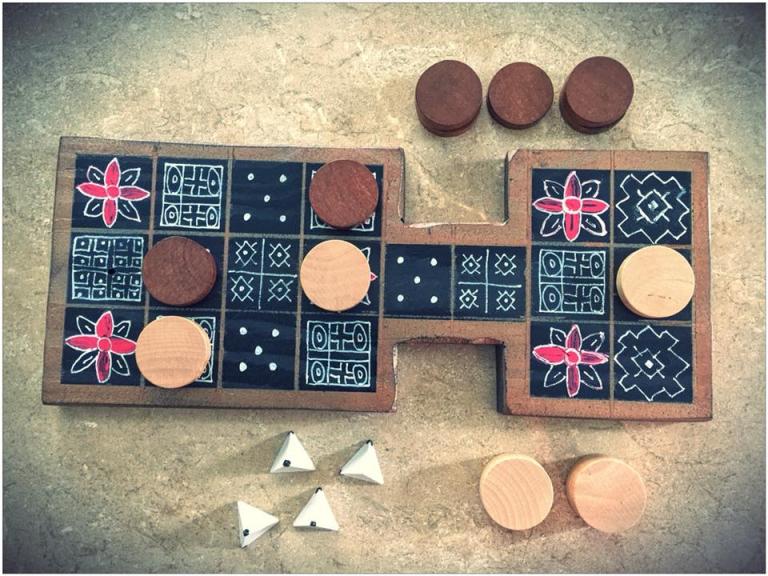 I've been meaning for a while to share some photos of the replica of a Mesopotamian board game that was created by my colleague Aaron "Gideon" Sears. With Gen Con having arrived (yesterday was Trade Day for game professionals and educators, today is the first day of Gen Con for everyone else), I've had my mind on gaming. I thus thought it was about time to finally get to this blog post. The game he made is a replica of the oldest surviving game for which the text of the rules have also survived. I'll provide some more information about it in a video about the game below. But first, some photos of us playing: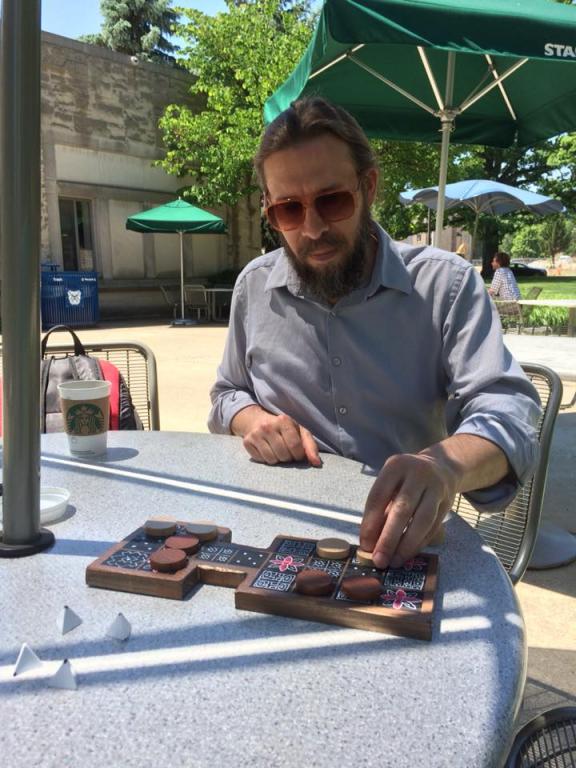 Here is a video about the game and how it is played:
I've been thinking about how replicas of ancient games might be useful in education about history, just as games that are modern creations but which are about ancient history can be useful in different ways. Any thoughts on this?
There was an interesting article about games like Mancala that were found in an ancient break room in Israel. Here is an excerpt:
A large spa and a game room have been uncovered in central Israel along with evidence of a pottery workshop that churned out wares for 600 years, according to a report in The Times of Israel. Game boards, including some for playing mancala, were etched into large stone benches at the site, which dates to the 3rd century A.D., during the Roman period.
Also, given the altered states of consciousness (flow) that games can bring about, and the religious iconography on some ancient games, I wondered whether and to what extent games have been used for ritual purposes. Anyone have any reading on that topic they can recommend?
(By the way, I recently played the game Santorini, which incorporates elements of ancient Greek religion as a theme. The mechanics are simple to learn and the strategizing required is quite unique, and so I highly recommend it!)
Another ancient game was highlighted in an article about an exhibit at the Penn Museum. And a medieval game was discovered recently in Scotland. There is an entire website dedicated to the playing of ancient games. I thought it was very cool to see Nine Men's Morris listed among the games played in ancient Rome. I learned it in Romania, where the tradition continues! See too Bill Caraher's blog post about archaeogaming, i.e. the intersection of archaeology with video games.
Let me also mention a couple of other gamification-related items I had drawn to my attention recently. One is
an article about using gamification in healthcare education
. The other is about a really exciting-looking
game that replicates the experience of being in and out of contact via WhatsApp by phone with one's spouse who is fleeing a conflict zone as a refugee
. It is called
"Bury Me, My Love."
I also want to mention an amusing story about a conversation between myself and Roger Sneed. We were talking about common interests such as science fiction, and hearing him say that he was involved with an AAR program unit on "Gaming and Religion," I was really excited, since I had not even heard that there was such a program unit, and I was eager to hear more.
It took a little while until I realized that I had misheard him, and he was talking about the program unit "Gay Men and Religion." Oops! We both laughed. But on a serious note, a program unit on "Gaming and Religion" might be worth considering!
It was very cool to see that Gen Con used a photo of me from last year's Trade Day to promote this year's! Trade Day 2018 was a fantastic experience, and I plan to blog more about it on another occasion.
If you're at Gen Con this year, let me know. Otherwise, hopefully here and elsewhere on social media, you'll enjoy seeing photos I share from the event.
Finally, let me share this card that appeared on the Gen Con Facebook page, highlighting those who attend for educational purposes. There are lots of us!