The American Academy of Religion and Society of Biblical Literature Annual Meeting was in Denver this year. The last time it was in Denver was in 2001, 17 years earlier. As I mentioned on Facebook while I was there, that was when I interviewed for the job I now have at Butler University. This year at AAR/SBL as I had conversations about book ideas, present papers, and did other things related to the diverse areas I work in – New Testament, Mandaeism, science fiction and popular culture, blogging – I found myself reflecting on how little of it would have been possible in other institutional contexts than the one in which I am still delighted to find myself, the Religion program at Butler University. I am so grateful for the path that started here 17 years ago and the colleagues and university that have not merely tolerated but encouraged and valued my eclectic interests and quirky creativity!
In some past years I have tried to live blog the conference. This year, I thought it better to focus on the moments I was in and then round things up afterwards. Let me know if you think live blogging would be more useful. My sense is that many of the people who would be most interested in reading this either were in Denver as well for the same conference, or didn't need to know what was happening precisely as it unfolded. But I could be wrong, and trust readers to let me know either way!
At the Wipf and Stock party I had a chance to meet Ken Derry in person for the first time. Hopefully you heard the podcast we recorded, which I shared here last week. He had with him something that he swiped from the Wipf and Stock display that definitely enhanced the photo!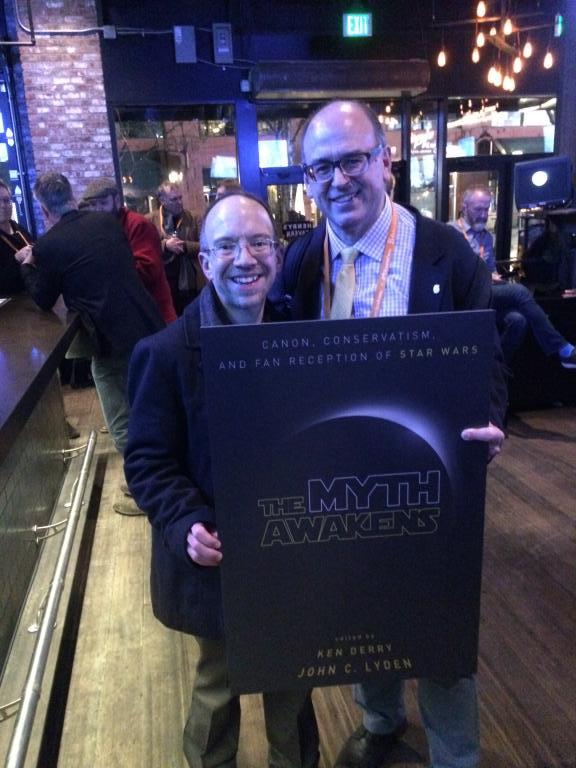 A major highlight of conferences is always the chances to connect with people – whether meeting people in person for the first time, or reconnecting with people one has known for a long time. For all the ways digital communication facilitates new possibilities, there continues to be value to face-to-face conversation, to simply sitting in the same location and chatting.
I had the opportunity to do that with Charles Haberl (with whom I co-presented two papers related to our forthcoming two-volume edition of the Mandaean Book of John) and Jorunn Buckley. The latter is without dispute the leading scholar in the field of Mandaean studies, and Charles has a similar status in relation to the study of the Mandaic language in its ancient and modern forms.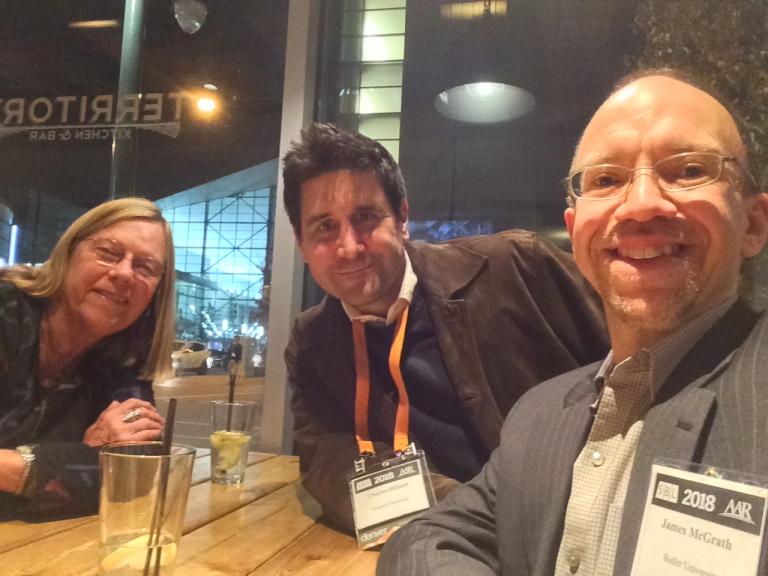 I also had the chance to see Betsy Shirley, a graduate of the Butler University religion program, who now writes for Sojourners. We were both at the Center for Foreign Relations luncheon, which is always an incredibly informative event – and they are kind enough to feed us while providing access to crucial information about relation in relation to current events of crucial importance!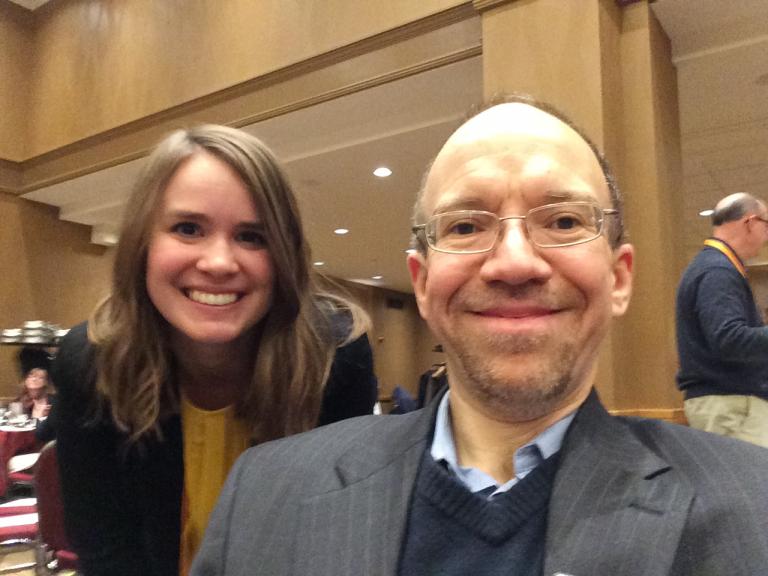 I met Gabriel McKee in person for the first time. Gabriel has written on Phillip K. Dick and Doctor Who, and currently works for ISAW.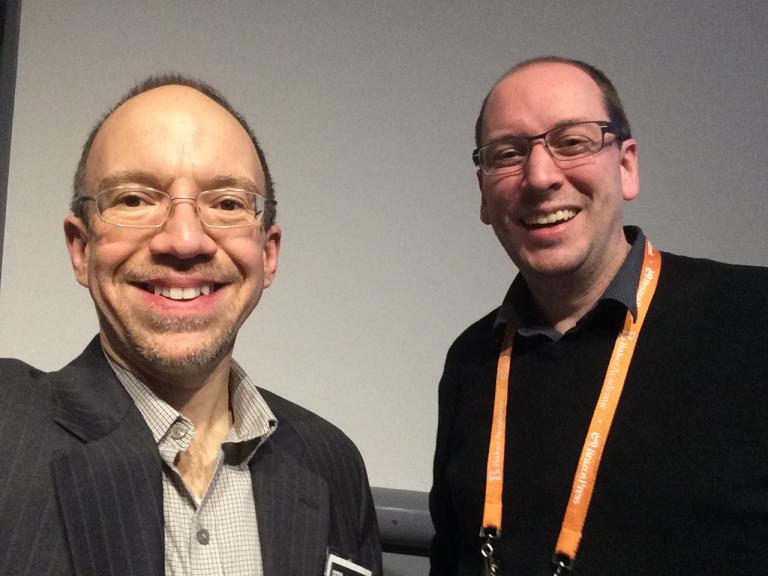 I passed Chris Tilling while he was still feeling extremely jet lagged.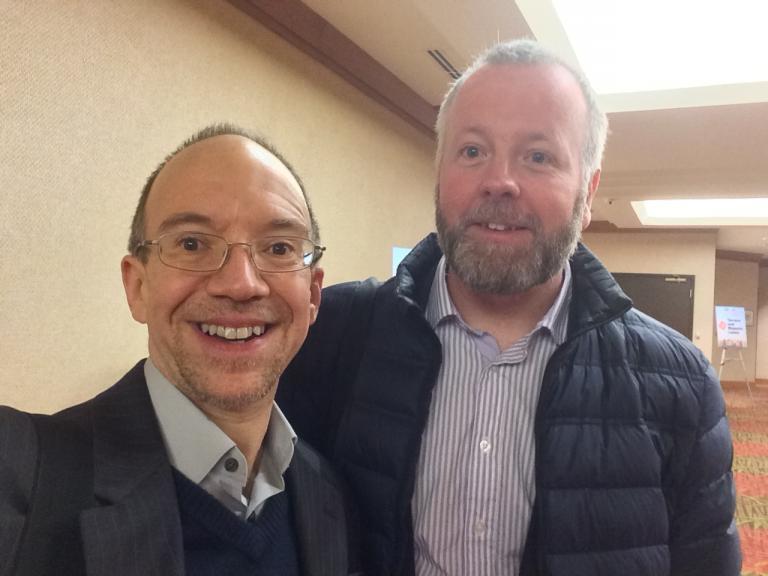 I had a chance to see Deborah Arca, whom I know through Patheos, and who now works for Chalice Press.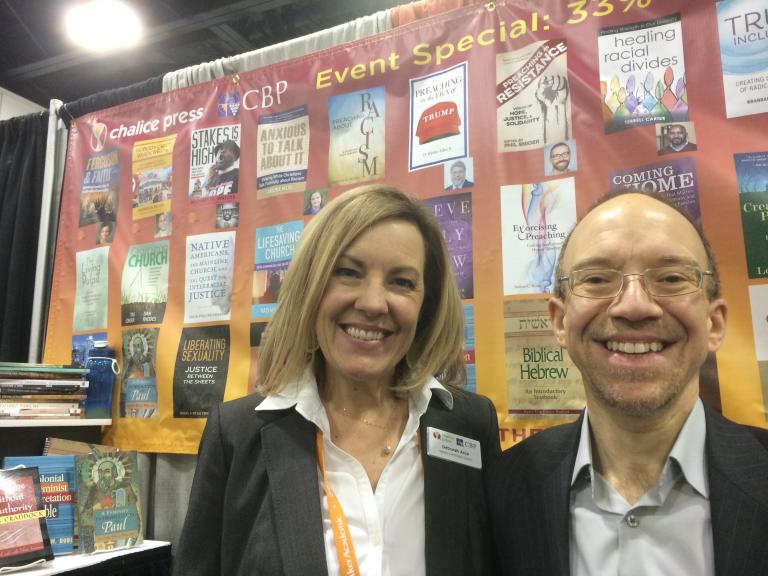 I really wanted one of these shirts correcting a common misspelling of the name of the Book of Revelation, but they didn't have them in small.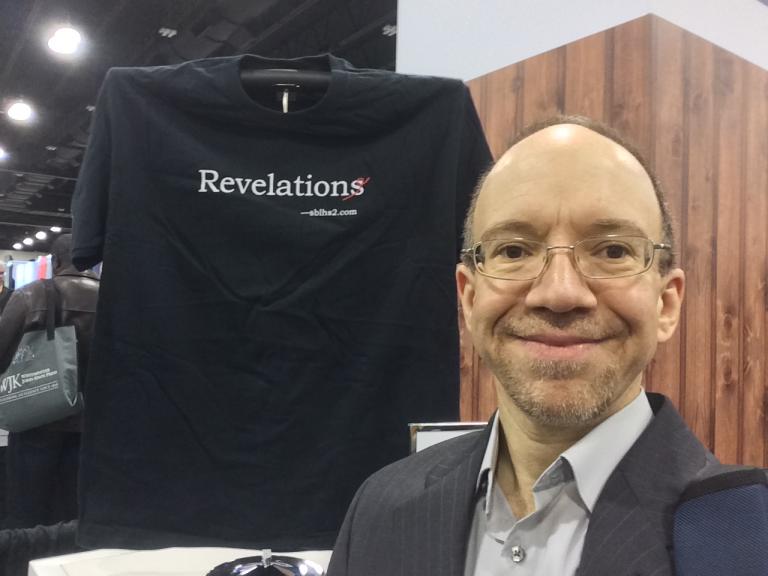 It was encouraging to see books that I've written or contributed to still on display, sometimes quite prominently.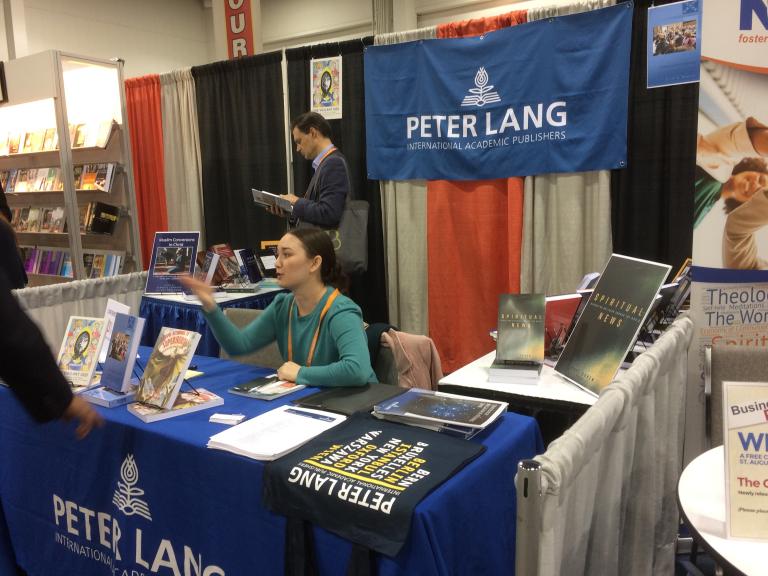 Reading Religion, the review outlet of AAR, had a clever way of spreading the word about its booth on social media.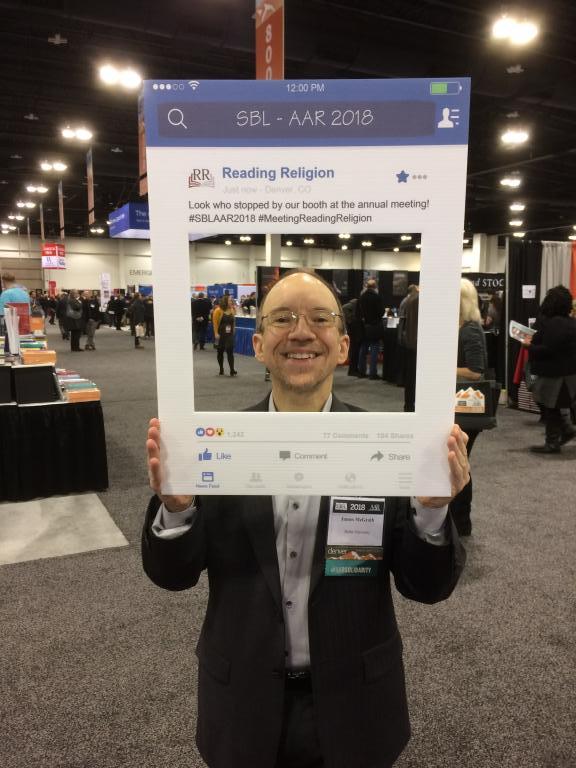 The person at the Humanities for All booth remembered me from an email exchange we had. The Mandaean Book of John project was generously funded by the National Endowment for the Humanities, and so I am very much aware of the importance of the work that such organizations do, and eager to help spread the word.
There were lots of booths with interesting things on display, but none rivaled that of Glossa House. I will be blogging about some of their original language biblical materials in graphic novel form in the near future, and was impressed to see that they have been working on original language videos of biblical stories – they had Ruth on screen for display, and Michael Halcomb kindly showed it to me.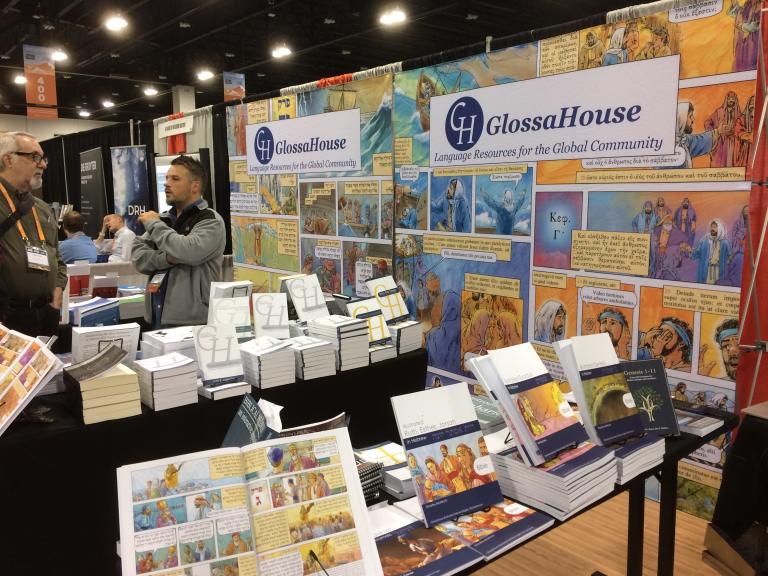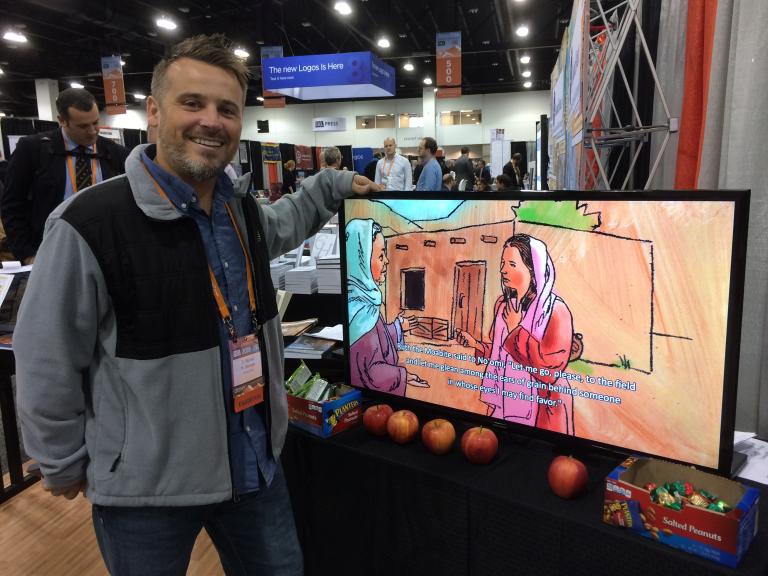 The open access journal Religions had a booth there. More people should be aware of them than currently seem to be.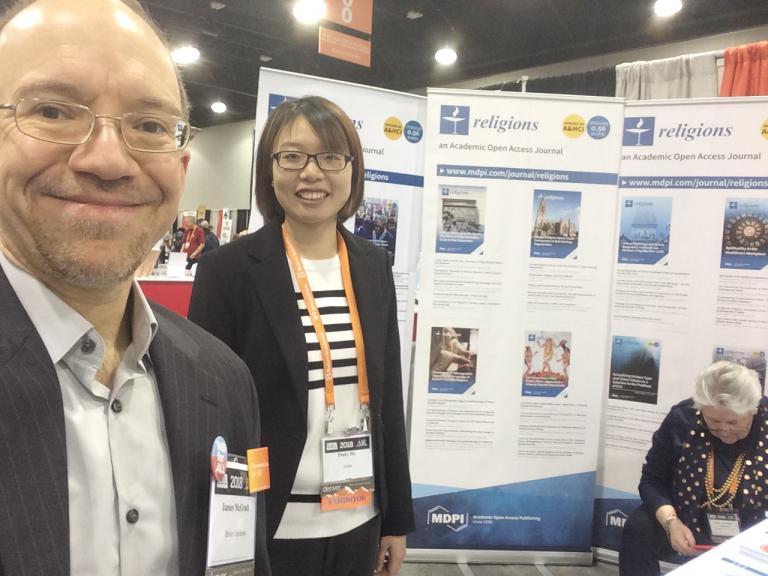 There were also lots of incredible resources, such as databases and interactive educational materials, that seemed to have surprisingly few people stopping to learn about them.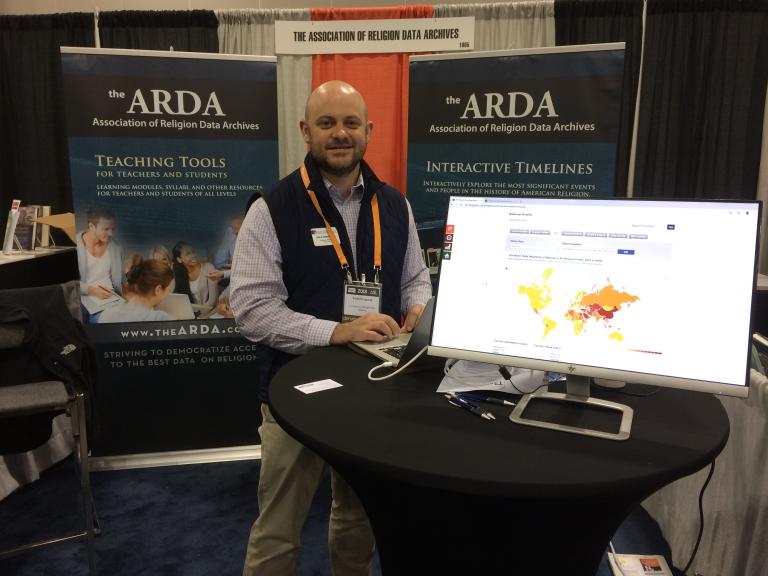 Were you at AAR/SBL in Denver? What were your highlights? If you weren't there, which of the above are you sorry you missed, and what if anything would you like to hear more about.
Finally, here's something I saw that I didn't think was still to be found anywhere…