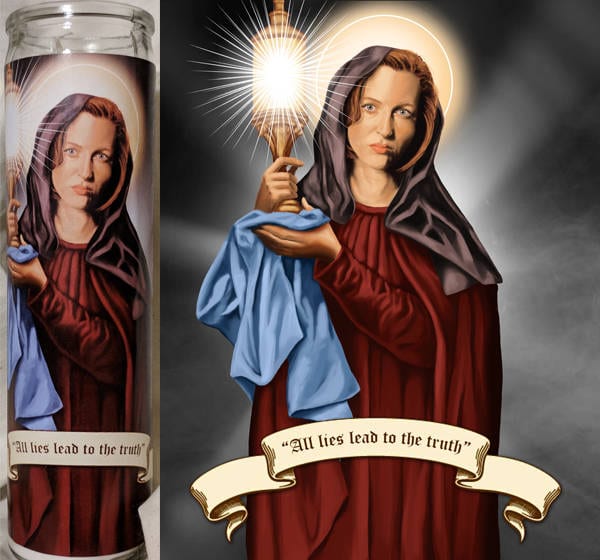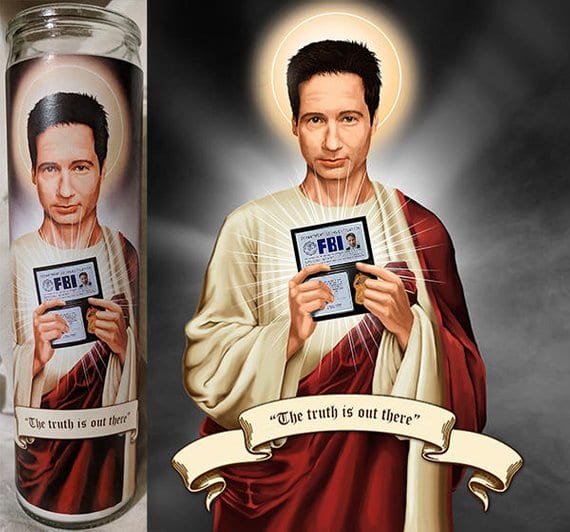 These devotional candles featuring the main characters from the X-Files grabbed my attention – not surprisingly, given my interest in the intersection of religion and science fiction, wanting to believe and science, skepticism and conspiracy theories, and so many other themes explored on the show.
HT Hemant Mehta, who also blogged about a man who gave his parents a picture of Obi-Wan Kenobi and told them it was Jesus.
See too Matt Brake's podcast interview. And the Auckland Theology and Religious Studies post featuring student work on Adam and Even in the Matrix, as well as the coverage of A. David Lewis' comic book Kismet about a Muslim superhero (I will be talking with him about that on my podcast soon!). Also, a Duke University professor who is teaching a Star Trek-themed science course appears to have gotten his photo taken in the captain's chair at Starbase Indy. I kept looking for an opportunity to do that, even though I was wearing a science officer uniform, but never found a moment when the bridge was free – that was also the largest room auditorium-style room and so was used for all the plenary session presentations. Also of related interest is the interview with Joy Gregory about depicting religious faith on television, and the ASOR article about connections between Marvel comics and ancient heroes.