The movie Skin which will be released this week is really powerful – painful to watch in many ways, especially knowing that it reflected real experiences, and because it really does try not to hold anything back in exposing viewers to the seediest aspects of this racist subculture. I was very happy to have the chance to view the movie in advance of its upcoming theatrical release (in theaters and on demand July 26), and then to talk to director Guy Nattiv about it.
The movie is about a skinhead who decides to leave that movement, and the challenges he faces both getting to that point and also afterwards. It illustrates redemption, but not in a religious sense, and that's definitely worth reflecting on, since there may be elements to the real life people's motivations that intersect with religion but simply aren't highlighted in the film, or this may illustrate that, while Christians and other religious people talk about redemption, actually accomplishing it is a messy and dangerous process that few religious people actually embark on.
I thus asked director Guy Nattiv about some of these things, being particularly interested in what led him as an Israeli to focus in on this subject and this specific story that unfolded here in my own current context of Indiana. Nattiv told me about how it intersects with his own experience and that of his family. His grandfather was a Holocaust survivor, a rabbi, who lost his faith as a result of his experiences, and who moved to Israel. He told Guy that he believes in forgiveness, but it's a secular version: it is crucially important to talk to one's enemies, to engage in dialogue across whatever divides us. Nattiv pointed to the example of Israel making peace with Egypt. In that context, Shimon Perez said you have to make peace with enemies rather than friends. In other words, enemies don't turn into friends unless you are willing to engage with them while they are still your enemies. Hate merely continues cycles of hate that we inherit and which in turn we often pass on to the next generation.
As a scholar of religion, I was interested both in the lack of explicitly religious motivations for the characters struggling to get out of or to help others escape from a white nationalist context, and in the depiction of the role Norse religion plays in white supremacist movements. Unfortunately that wasn't something that I managed to pursue in my brief conversation with Nattiv.
The movie is about accepting someone who used to be a monster, and helping them to become a human being. It asks the audience this question: do you have a place in your heart for someone who used to be your worst enemy? In depicting this he wasn't just interested in what is happening in the United States, but was also thinking about his own country, the situation with Palestinians in the occupied territories, and the lack of dialogue.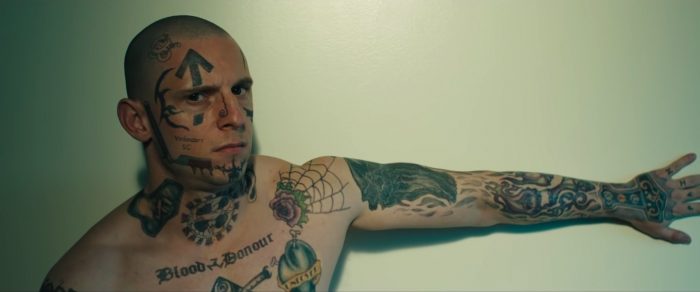 Nattiv shared an anecdote from the process of making the movie. The two real-life individuals who are the focus of the movie – Bryon Widner and Daryle Lamont Jenkins, shared a hotel room on set. In other words, the room was shared by an African American anti-racism activist and an ex-Nazi skinhead. That's possible only through dialogue.
Nattiv shared that he wanted very much to address new fascism and not just the phenomenon as it existed (and impacted prior generations of his family) in the past.
There is a family connection because antisemitism is how the Holocaust got started. But the current phenomenon poses a new and potentially different threat. And although he tells a story based on events that actually occurred in North America, the phenomenon of white supremacism is not just a U.S. problem.
I asked Nattiv whether a point that really came across to me in the movie was intentional. It seems to me that a lot of the core message is about recognizing the humanity of those we've been taught to hate. He said that this was absolutely intentional, and that the DNA of making peace is seeing others as messed-up humans.
Interestingly, Nattiv claimed that it is a "Bible sentence" that "if someone wants to kill you, kill them first." In fact, do unto others before they do unto you is not in the Bible. Be that as it may, Nattiv noted that the Bible also includes a counterbalancing teaching, about how "parents ate bad fruit" and it was felt on their children's teeth. In other words, to put it more prosaically, previous generations' problems are inherited unless we act to stop the cycle of violence.
Nattiv said he believes in education as important in this process. In the movie, we learn that people end up in racist gangs because they are hungry, because they are neglected at home and looking for love or merely companionship. When racist groups offer them food and a surrogate family, it is already too late. And so we should talk to kids at 10 or 12, when they need help and family. That's the most important dialogue.
As we drew our very brief conversation to a close, Nattiv said that he is a believer in peace, and perhaps that that makes him naive. My response was that, if that is being naive, then he should not stop being naive. But the movie Skin definitely depicts people who think it is naive to hope that skinheads could be anything other than evil twisted monsters with no hope that they might change. Those who hold that view are wrong.
It disturbs me that so much of the rhetoric coming from people who are opposed to racist, misogynist, antisemitic, Islamophobic, homophobic, and other hateful stances merely adopts and reinforces an us vs. them, good vs. evil rhetoric. But for those of us whose religious viewpoint is about redemption, as well as those who recognize within a secular framework that defeating evil has to mean not merely using the same methods evil uses to oppose evil, Skin offers a powerful vision of what the hard, costly, physically and emotionally painful work of redemption can look like, and the life-transforming fruit it can bear.
Of related interest, the Southern Poverty Law Center features in the film, and there is an interview they shared some years ago with Bryon and Julie Widner, two of the main characters in the movie. See as well the teacher who developed a curriculum to combat white nationalism, and also the following:
Inside the Radical, Uncomfortable Movement to Reform White Supremacists
RTV6 had a piece a few years ago about hate groups in Indiana
How white supremacists are targeting online gamers
Take a look at the trailer here, and then make plans to see this movie in the near future. It will be out in theaters and on demand July 26th from A24!