I continue to find the things that I read and watch while working on my book What Jesus Learned From Women fascinating, and the new things that jump out at me as I ask neglected questions truly remarkable. I'll be sharing more about some of those things in blog posts in the not too distant future. But until I find the time to get to that, here's a round-up of some things that I've found useful and interesting which I think you'll enjoy and benefit from.
Let me start with the incredible documentary that Helen Bond and Joan Taylor made a couple of years ago, "Jesus' Female Disciples":
They also gave and continue to give lectures on the topic:
Taylor's work is also a focus in this article about how the story of Jesus isn't just about men. And do give a listen to the podcast episode I recorded with Helen Bond.
This cartoon by David Hayward is of obvious relevance: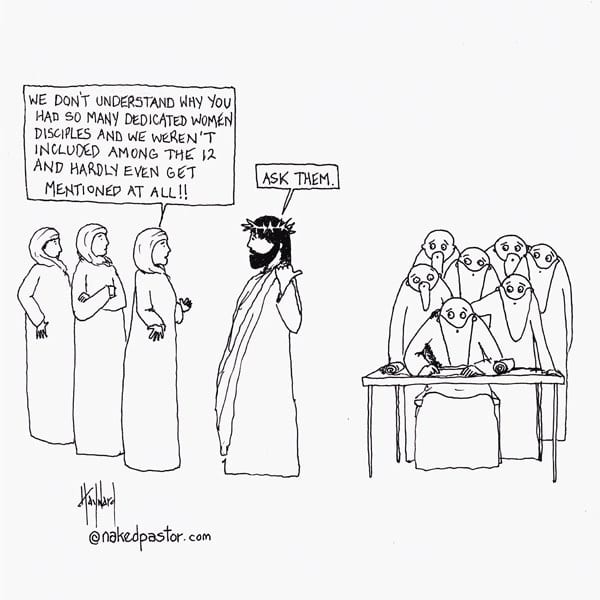 Here are some more links related to women in the New Testament:
Mary of Magdala and Intersectionality by Gina Messina
Uncovering the Invisible Women of History
Review of a book about three biblical matriarchs
Relevant to how one goes about research, which I share to see what others think of it, because some of the advice in it would have resulted in me not pursuing some really interesting possibilities:
Relevant to the broader topic of faith healing and demon possession that is connected with some of the women mentioned in Luke:
Sara Ronis shared a classroom activity related to exorcism. See also Graham Twelftree's contribution to Bible Odyssey on exorcism in the Gospels. Also of related interest:
The implications of Jesus' encounter with the Samaritan woman for churches today.
Report from a conference on gender and sexuality in Catholicism.
"Divorce, Annulment, and Communion" in Commonweal.
Women and competition for status in ancient Rome
Related to all of this at a stretch, or more directly if you think that Mary Magdalene was the author of the Fourth Gospel or Priscilla wrote Hebrews: