Very soon I'll have an update to share about some of my own science fiction writing, with some stories I'm really excited about becoming part of projects that I'm delighted about in and of themselves. In the meantime, here are some videos, stories by others, and a few approaching submission deadlines for fictional stories which I wish I had the time to write something for, or had something ready to go that would fit, but alas I don't.
To begin with, the keynote address from the Christianity and Science Fiction conference I helped organize, sponsored by the Michigan Center for Early Christian Studies, is now available on YouTube. It is by science fiction author Maurice Broaddus and is titled "My Spiritual Journey as a SF Writer." Watch/listen here:
Maurice is a local legend here in Indianapolis and I am delighted to have begun to get a chance to know him—even managing to meet for tea in person despite the pandemic!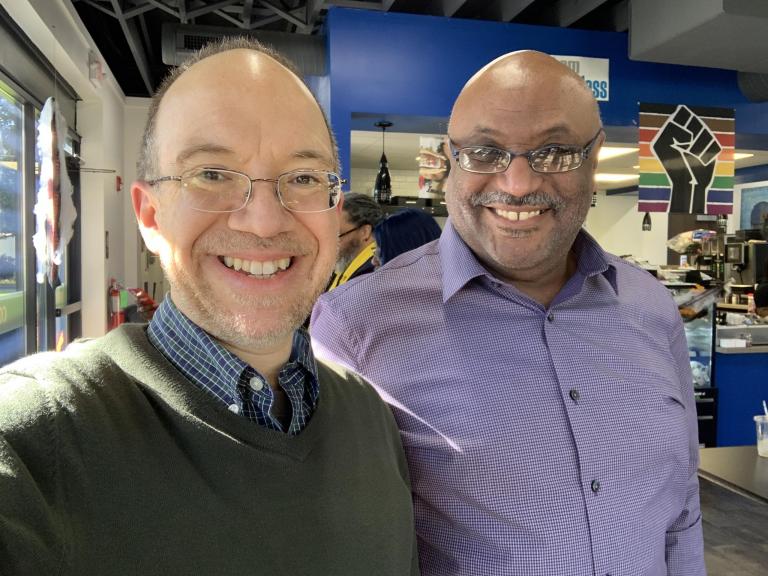 You can watch the recap session we held at the start of the second day of the Christianity and Science Fiction conference on Facebook, where it was livestreamed. That is now also on YouTube:
Also from the recent conference on Christianity and Science Fiction, here is Paul Levinson's talk:
See also his "Looking Back on the Missing Orientation." Roger Sneed's presentation about Star Trek DS9 has not been made public, but this conversation he had with Monica Coleman and Tanarive Due not long after, "Octavia Tried to Tell Us," is available to view:
Check out Roger's new book The Dreamer and the Dream: Afrofuturism and Black Religious Thought. Also check out the Octavia Butler-inspired Shaping Change project.
Of related interest, Jim Clarke has a lot of interesting projects underway as well as interesting blog posts. Take a look at "Before and After Religion" as one example.
Commonweal had an article on first contact
How helpful might religion be to future settlers on Mars?
Jeff Bezos funds the quest for eternal life
A call for submissions for an anthology called Save the World on climate change (thus cli-fi, for those who know that term):
I wish I had time to write something for consideration for that, and for this:
Three Time Travelers Walk Into … Guidelines for Submissions
I also wish I had time to write something to submit to the anthology My Robot and Me:
There is a lot of interesting fiction online, including this story by Maurice Broaddus:
When I had the chance to attend an online retreat and chat with Ted Chiang in a small group session, we were given his short work "The Great Silence" to read. I asked him about his retelling of the Tower of Babel story and was struck by how he was inspired by the elaborations on the story in Jewish tradition, which went into detail about the effects of a person versus a tool or brick falling, among other things.
I still need to read "A Thousand Tiny Gods" by Nadia Afifi and "This Is The Way The Prayer Ends" by Barbara Barnett
IO9 shared an Ursula LeGuin story
From the organizers of the retreat I mentioned, ECLAS (Equipping Christian Leadership in an Age of Science) which is spearheaded by Rev. Prof. David Wilkinson, the principal of St. John's College, Durham University, in England:
Superman's Methodist Roots: What superheroes can tell us about the rise of transhumanism
Another upcoming event: the artistry of Dan Curry at the intersection of science fiction and science fact.
And finally, just to geek out about the chance I had to talk to Ted Chiang, as well as to several authors of nonfiction works that I also find interesting: