In the Julian calendar today marks the second day of Carmentalia. The festival celebrates Carmena, who is the Goddess of women's health, birthing, and prophecy. She is the inventor of letters, as Minerva is the inventor of numbers. She tells the future through Her sister Porrima and reveals the past through Her sister Postvorta, while Carmena knows all that happens in the present. Together the three Carmenae sisters are the Good Fates, the Three Mothers, and the Muses. The very name of Carmena was given to song (carmen) and Latin terms for poetry, charms, and speaking-in-tongues. With Her songs she would soothe the ill and taught women how to care for themselves and their children. Her sanctuaries thus became places for women and children to receive traditional medical treatments using herbs and music.
Carmena takes us back to a very early period, a time well before the beginnings of Rome around three thousand years ago, back into the Italian Bronze Age. She takes us back to the ecstatic tradition of the female priestesses called vates in which Latin religion began and in which the Religio Romana was first founded. The sacred grove of Carmena, the most ancient sanctuary in all of Rome, was located at the foot of the Capitoline Hill. It is still visited today where people gather waters from Her sacred spring. It was in this very grove that Carmena appeared to Numa Pompilius in his dreams as the nymph Egeria. She instructed Numa on how to commune with the Gods. With Egeria's instruction, Numa Pompilius then established rituals for the Gods, festivals, and a calendar by which the Romans could attend these. Numa set out sanctuaries for Gods and Goddesses and he created colleges of priests and priestesses to serve the Gods and Goddesses. Egeria taught Numa the laws which he handed down to the Romans and which still govern our sacramental rituals today.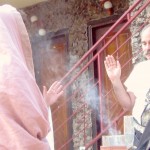 One of the laws of Numa states: "The Gods are not to be represented in the form of man or beast, nor are there to be any painted or graven image of a deity admitted (to your rites)." As one of the oldest Goddesses of Rome, whose worship was established by Numa, Carmena was never represented by an image. It was sufficient to feel Her presence in the sacred grove below the Capitoline. In the same way, Vesta, Goddess of the Hearth, is never represented by an image but only by living fire.
Another law of Numa holds that, "Sacrifices are not to be celebrated with an effusion of blood, but consist of flour, wine, and the least costly of offerings." The restriction against the use of blood sacrifices was so strong in the worship of Carmena that no one was allowed to enter Her sacred grove wearing anything made of leather or animal hide. It is not right to take the life of another creature in worshiping the Goddess who helps birth life into the world. And thus it follows that today we offer Carmena bay leaves as incense, a libation of milk, and popana cakes made of soft cheese and flower.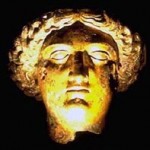 Come, be present, Carmena.
May Your sisters Porrima and Postvorta attend You.
With joyful mind come, Mother Carmena, on You I call,
Come, stand by me, stay, and listen to my pleas.
Speak to me once more, in Your own words, as You did before.
In Your sacred grove where Egeria counseled King Numa,
bear forth now Your soothing songs to dispel our sorrows.
Come forth! I call to You, Good Goddess,
Great Goddess of charms.
Give voice, happy Voice of song,
With soothing songs as will cure our ills, or whatever else we fear.
Spare our daughters heavy with child, spare our wives in their pangs of labor,
Care for the mothers who worry over their children.
With pious rite I call out, I summon, I entice with songs that You come forth, Carmena,
And look favorably upon the matrons of our families.
In You, dearest Mother, in Your hands we place our safekeeping.
In offering to You this cake of cheese I pray good prayers
in order that, pleased with this offering of popana,
May You be favorable towards our children and to us,
Towards our homes and our households.