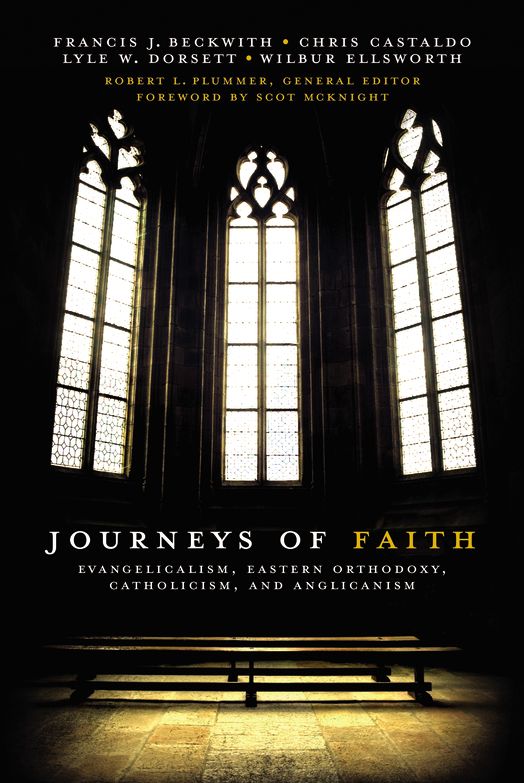 Tomorrow, March 6, Zondervan (a subsidiary of Harper Collins Publishers) officially releases the book Journeys of Faith: Evangelicalism, Eastern Orthodoxy, Catholicism, and Anglicanism, edited by Robert L. Plummer (with a forward by my fellow Patheos blogger, Scot McKnight). I am one of the four main contributors, presenting in my chapter an account of my return to Catholicism.
My chapter is followed by a response by Gregg R. Allison of the Southern Baptist Theological Seminary. I then in turn reply to Allison in a small chapter. The other three authors each provide accounts of their pilgrimages from one Christian tradition to another: Chris Castaldo (Evangelicaism), Lyle Dorsett (Anglicanism), and Wilbur Ellsworth (Eastern Orthodoxy). And just like my contribution, each of the others is followed by a respondent to which he too replies. The respondents for Castaldo, Dorsett, and Ellsworth are respectively Brad Gregory of the University of Notre Dame, Robert Peterson of Covenant Seminary, and Craig Blaising of Southwestern Baptist Theological Seminary.
You can browse inside the book at the Harper Collins website here. And you can read more about the book on the Zondervan website here.
Here is how my contribution begins:
I was baptized in the Catholic Church as an infant, several weeks after I was born on November 3, 1960. In January 1967, our family moved to Las Vegas, Nevada, where I received First Holy Communion (May 1968) and the Sacrament of Confirmation (May 1973).

It was soon after my confirmation that I became intensely interested in the person and work of Christ. I had come across a copy of the Good News for Modern Man version of the New Testament that a family friend, Frank Strabala, had left on our kitchen table after he talked with my parents one evening about his renewed Catholic faith. Not knowing at first that it was the New Testament, I began reading it. I was drawn to the Jesus of the Gospels. I really did not know what to do. So I called up Mr. Strabala and asked him some questions. He invited me to a weekday service at a local "Jesus people" church, Maranatha House. It was there for the first time that I came in contact with Christians from a variety of Protestant denominations. They, along with the Catholics on hand, were part of the burgeoning "charismatic movement," a renewal movement that emphasized the baptism of the Holy Spirit and spiritual gifts. There were none of the accoutrements of Catholic liturgy at these worship services. Rather there was Scripture reading, expository preaching, and contemporary and expressive worship. For a young Catholic interested in following Jesus more deeply and authentically, this was profoundly attractive.

Although there were Catholics who worshiped at Maranatha House, the ecclesial ambience was Evangelical Protestant. The authors and speakers whose books and tapes I devoured, and the sermons I heard, were virtually all Protestant. Thus, it seemed to me—in comparison with my experience as a young Catholic—that Protestants, at least the ones I knew, were far more serious about their faith. Although I considered myself Catholic through my high school years, I had assimilated much of Protestant thinking on salvation, Scripture, ecclesial authority, and worship. Nevertheless, it was only after high school that I began to think of myself as an Evangelical Protestant.
Here's is an excerpt from my response to Professor Allison:
The doctrine of justification in the first fifteen hundred years of Christian history poses a peculiar problem for the Protestant view that "Scripture is clear for all Christians, who are also responsible and competent for the task of interpreting it." "The clarity of Scripture," according to Allison, "means that it is written in such a way that ordinary human beings who possess the normal acquired ability to understand written and oral communication can read Scripture with understanding or, if they are unable to read, can hear Scripture read and comprehend it.…"

Given this belief—sometimes called the "perspicuity of Scripture"—it seems difficult for Allison to account for why the Protestant view of justification is not front and center in the Church's first fifteen hundred years. For if that view were the obvious and clear reading of Scripture, one that literate Christians of ordinary wit should find in the Bible with ease, then its absence from deliberations of every church council as well as the Church's sacramental life and the writings of its leading theologians means that either the Protestant view of justification is right and Scripture's perspicuity wrong or Scripture's perspicuity is right and the Protestant view of justification wrong. Thus, it seems to me that the Reformation's legitimacy depends on two apparently contrary beliefs both being true at the same time.