Over the last year, I have been completely devoted to working for the cause of LGBTQ equality, acceptance, and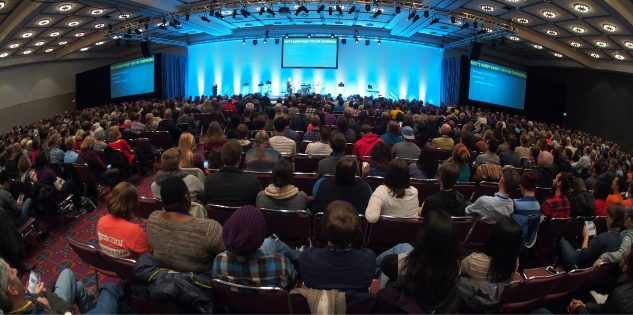 inclusion in the society and in the Church. When I first jumped in to full time activism, I didn't expect to see much movement on this issue among my fellow evangelicals. From where I sat, as a student in one of Americas leading Bible Institutes at the time, evangelicalism seemed to have planted its flag deep into the ground on this issue. No evangelicals would even support civil marriage equality let alone full inclusion in to the life of the Church. My heart was broken at the state of things. I knew God's heart was too. And I didn't see much hope. But, following the prompting of the Holy Spirit, I moved forward. I stepped in to this role. And six months into this work, let me just say, my mind has been blown.
I spend most of my time these days meeting with pastors, ministry leaders, and college professors and presidents, talking about the issue of LGBTQ inclusion and equality, both on the civil and ecclesial levels. Most of the people I meet with are bona fide evangelicals, deeply committed to the Gospel of Christ and the authority of the Bible. When I began going in to these meetings, I fully expected to meet opposition and rejection, like I had received countless other times from the evangelical pastors, professors, and friends in my own life who opposed my decision to stand for LGBTQ equality. Instead, time and time again, I found that most of the people I was meeting with were sensing a deep sense of conviction, a sense that God's Spirit was moving them to change their position on this issue. Many of these individuals had spent years wrestling with theology and seeking God's guidance on what position they should take, and time and time again, God has led them towards the surprising path of inclusion.
The same Spirit-led movement is happening in the pews. I also spend a lot of time traveling to conferences and hanging out with deeply committed evangelical lay people, most of whom look at me across the table in Starbucks and tell me, "Of course I'm inclusive", as if I should have expected that was their position. I have been stopped by youth group leaders in Southern Baptist Mega churches who told me that they are progressively moving their small group towards equality, while trying to avoid making it on to their pastors' radar. Many young evangelicals in non-affirming churches have taken up their own in-depth theological study of LGBTQ issues and are coming to the overwhelming conclusion that this issue is a justice issue, a gospel issue. But not in the way many evangelical leaders have framed it. This is a gospel issue in that it is an affront to the Gospel of Christ to continue excluding and marginalizing a group of people for whom Christ died. It is an injustice to continue to tell LGBTQ youth that they can "change" their sexual orientation or remain celibate. And so, evangelical laypeople are "coming out" in droves in support of full inclusion and equality for their LGBTQ brothers and sisters.
But if you spend your time reading conservative or evangelical news sources, you'd probably think that I'm making all of this up. Because time and time again, staunchly conservative evangelicals, young and old, say that this move of God's Spirit isn't happening at all. It's just a small anomaly at best or a deception of the liberal media at worst.Take, for instance, what my friend Glenn Stanton of Focus on the Family said last week when he was asked to comment on an article in TIME Magazine reporting on the growing evangelical movement for same-sex marriage:
"I don't think there is the shift TIME claims. Much of their story rested on false stereotypes. They see the fact that some notable evangelical leaders being friendly and developing relationships with some gay activists—as I unapologetically do—as a change in position about homosexuality. Not at all…This "gay Christian" thing is the flavor of the month in the major media precisely because it is outside the realm of basic Christian orthodoxy. Otherwise, there'd be no story."
According to Glenn and many other evangelical leaders, the "shift" I'm talking about is nothing more than the "flavor of the month." A media fad. Something that will have no long-term effect on the church and the world. This shift that so many others and I have been experiencing both in the pews and in the pulpits of American evangelical churches is all an illusion.
Enter Pastor Ryan Meeks of Eastlake Community Church (Washington) and Pastor Stan Mitchell of Grace Pointe Church (Tennessee), leaders of two evangelical mega churches at separate ends of the country. In the past two weeks, both of these churches have made the full and final strides across the line of LGBTQ inclusion and acceptance in their evangelical congregations. On January 11th, Pastor Stan stood before his church of a couple thousand in Tennessee and announced that they would be fully affirming of LGBTQ people. One attendee reported, "There was a 10 minute standing ovation by the vast majority of those in attendance", a clear indication that the change the Rev. Mitchell was announcing was one that had been made up in the minds of his congregation for a while. On the other side of the country, this past Sunday, Ryan Meeks sat before his congregation, spread throughout Washington at multiple church campuses, and announced that the leadership team at Eastlake Community Church had also been moved by God to become fully affirming of LGBTQ individuals. Throughout his 3o minute talk, Pastor Meeks, visibly moved, asked his congregation to commit to sticking together for the next few months as they all work through this issue together at a conference his church is hosting in April on the topic of sexuality.
In the first month of 2015, within two weeks time, two evangelical mega churches have moved to fully embrace and include LGBTQ people into the life of the Church. This comes after an incredibly full year (in 2014) of very visible movement on this issue within evangelicalism, including a leading evangelical ethicist announcing he is now LGBTQ affirming, a gay Christian conference with over 1,500 attendees, the launch of an evangelical organization supporting civil same-sex marriage, a leading evangelical songwriter and worship leader coming out as lesbian, a leading Christian band coming out in support of gay marriage, and the release of an evangelical book that outlines the biblical support for same-sex relationships, to name a few of the monumental occurrences that happened throughout the year.
Many conservative evangelicals are still going to try to claim that this change isn't really happening. That it's all a fad and illusion. But from where I stand, I have never been more sure that God is moving in the midst of the Western Church and that the powerful wave of movement towards inclusion and acceptance of LGBTQ people can no longer be written off as something only "liberals" and "mainliners" are experiencing. It's happening in the midst of some of the countries largest churches. Among some of the most devoutly evangelical congregations. Out of a deep sense of conviction and discernment. The churches, organizations, and individuals that are moving forward to embrace equality aren't doing so out of a desire to adapt to social whims. Instead, they are doing it… we are doing it… because we have become convinced that welcoming, loving, and standing up for one of the churches most marginalized groups is perhaps the most truly evangelical, truly Christian thing we can do. We are still a long way from full equality and inclusion.
We still have a long way to go. There is a lot of work to be done. A lot of hearts to be changed. But I am convinced that 2015 will be a year of unparalleled reformation and revival among evangelical Christians as God continues to move us forward on this issue. To those pastors, leaders, and laypeople that are sensing the Spirits call but are fearful to "come out" in full support of LGBTQ individuals, now is the time. To those who are still in the process of discernment and debate, continue to prayerfully seeking the guidance of God on this matter. Engage the growing mountain of resources now available to you on this important topic and be intentional to build relationships with the LGBTQ individuals that surround you. And to my evangelical brothers and sister who are convinced that those of us who are changing our minds are abandoning the Gospel, I leave you with the wise words of Gamaliel, the Jewish leader who said of the Apostles in the Book of Acts: "If their plan comes from human authority, it will fail. But if it is from God, you will not be able to stop them. You might even be fighting against God himself!" (Acts 5:38-39 NCV)
God is moving. Will you join him?