As the Supreme Court issued its ruling in favor of legalizing same-sex marriage in all 50 states this morning, nearly 100 evangelical leaders have come together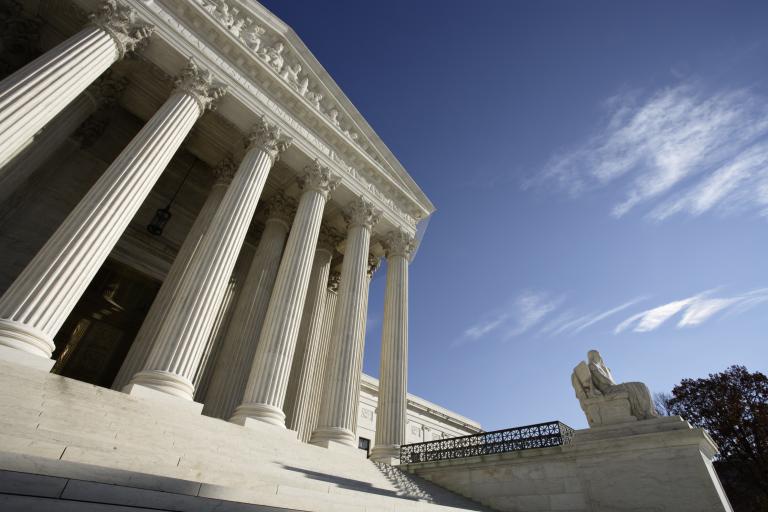 to celebrate the ruling and call on Christians around the country to continue to work for justice for LGBTQ individuals in the church and in society.
"As Evangelical pastors and leaders, we believe that the gospel of Jesus Christ is a message of good news for all people. Following in the way of Jesus, we are compelled to be a voice for the voiceless and to fight for the dignity and equality of all people, regardless of their race, religion, ethnicity, sexuality, or gender identity," evangelical pastors and leaders write. "Today, the Supreme Court of the United States has ruled in favor of civil marriage equality for lesbian, gay, bisexual, transgender, and queer Americans. We join with millions of people around the country in celebration of this major step towards justice and equality for LGBTQ people in the United States."
Signatories include Dr. David Gushee, leading evangelical ethicist; Richard Cizik, a former leader within the National Association of Evangelicals; Dr. Mark Achtemeier, noted evangelical scholar and theologian, Fred Harell, pastor of evangelical mega-church in San Francisco; Justin Lee, Executive Director of the Gay Christian Network;  Matthew Vines, President of The Reformation Project; Ryan Meeks, pastor of evangelical mega-church EastLake Community Church, Seattle; Dr. J.R. Daniel Kirk, leading evangelical scholar at Fuller Theological Seminary, among nearly 100 other evangelical leaders.
The leaders note that "
While we believe that the Supreme Court's decision is a major step in the right direction, we are also reminded that this victory is only one step towards true equality for LGBTQ individuals and highlights our need, as people of faith, to continue to work for justice."
The statement continues by highlighting the fact that in over 28 states LGBTQ people have little to no protection against workplace discrimination, that in 8 states, LGBTQ inclusive curriculums are still prohibited in schools, and that in 32 states, schools offer little to no protection of LGBTQ youth from bullying.
The leaders conclude the statement by making a commitment to "no longer stand by while discrimination and inequity flourish, but to lift our voices on behalf of all of God's children."
Earlier this morning, the Southern Baptist Convention also released another evangelical statement, this one condemning the Supreme Court's decision. They began by saying, "As evangelical Christians, we dissent from the court's ruling that redefines marriage. The state did not create the family, and should not try to recreate the family in its own image." The letter, issued from the office of Dr. Russell Moore, President of the Ethics and Religious Liberty Commission, concludes with the commitment of evangelicals to "stand steadfastly, faithfully witnessing to the biblical teaching that marriage is the chief cornerstone of society, designed to unite men, women and children."
However, the tides are changing among evangelical Christians. According to the latest Pew Institute data, nearly half of millennials that identify as evangelical Christians support same sex marriage. The stark contrast between these two statements highlights an ever growing generational divide among evangelicals that threatens to create a schism in the broader evangelical movement. It is clear that todays Supreme Court ruling has divided the evangelical movement, with the growing edge being among younger, LGBTQ affirming evangelical Christians.
To view the full statement by affirming evangelical, visit www.EvangelicalResponse.com