Last weekend, my friend, noted New Testament theologian, and former professor of New Testament Studies at Fuller Theological Seminary, Dr. Daniel Kirk, sat down and had a conversation with Dr. Robert Gagnon, associate professor of New Testament at Pittsburg Theological Seminary and notorious opponent of LGBT equality and proponent of reparative therapy, about the biblical case for LGBT inclusion in the Church. The conversation, hosted by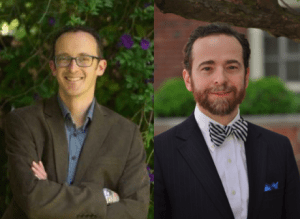 Valley Presbyterian Church in Arizona, is one of the most important presentations I have seen in recent months on the topic of LGBT inclusion. I say this for two reasons.
First, Dr. Gagnon is notorious for his hubris and dogmatism on the issue of same-sex relationships. For this reason, very few affirming scholars have been willing to engage with him, not because his arguments are particuarly strong, but because of his lack of humility or graciousness in his work on this issue. Therefore, when Dr. Daniel Kirk decided to engage Dr. Gagnon, it showed an exemplary confidence on his part and a commitment to loving the LGBT Christian community by countering some of the most destructive theology being propagated among the Church today.
Second, Dr. Kirk's entire argument is rooted in and centered on the person and work of Christ. I know no scholar who roots his theology more on Christ and his teachings and work than Dr. Kirk, and when he engages the question of same-sex relationships, it is from a firmly Christ centered approach. Anyone who would seek to claim that affirming theology pulls us away from the Gospel would have a hard task proving this to be the case when listening to Dr. Kirk speak. In fact, it is because of Christ that Dr. Kirk feels compelled to make his case for the full inclusion of LGBT people in the Church.
As I listened to this debate, I found myself filled with hope. Dr. Kirk is one Christian theologian in a growing group of Christian leaders who are coming to the conclusion that Christ himself is calling for full inclusion of LGBT people in the life of the Church. Dr. Kirk's stance on this issue has been costly to him- he was recently fired from his position as Fuller Theological Seminary because of this issue. He is clearly not doing this to capitulate to culture or to gain popularity. He has changed his mind because he feels that it is
imperative
for him to do so in order to remain
faithful
to Jesus. And as he has taken this stance to be faithful, it has cost him greatly.
As an LGBT Christian, I am so grateful to the leaders who take this costly stand on behalf of queer followers of Jesus. Their voice really matters. Their perspective really does change things. Every new leader who steps forward for inclusion is a clear sign that the Spirit of God is still speaking, convicting, and leading the Church into a fuller vision of the Kingdom of God. And that gives me great hope.
I hope you will take some time to listen to this presentation with an open heart and mind, allowing the Spirit of God to speak to you through this compelling and vital conversation.