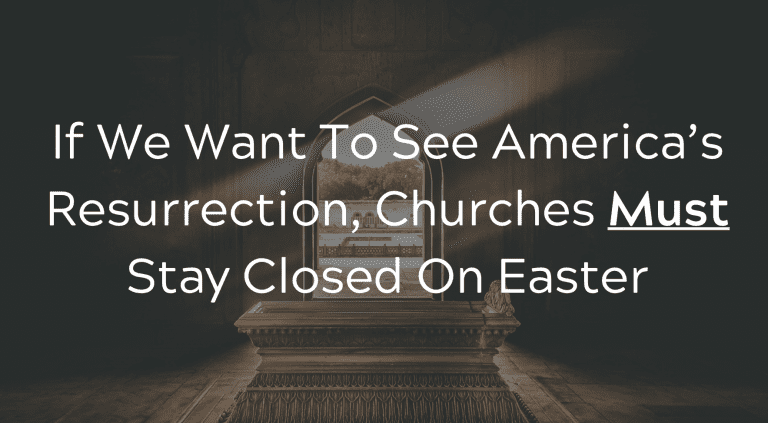 The world is facing an unprecedented moment of crisis as COVID-19 spreads to every corner of the planet, threatening the health of the entire human population and the economies of virtually every nation. In moments like these, it is understandable that large swaths of humanity turn to their faith communities for hope and direction in desperate times. As most faith communities around the world have responded to the COVID-19 by closing our doors and streaming our services online, there have been some communities who have been resistant to take these actions.
When COVID-19 first broke in South Korea, we learned that one of the major sources of the spread was a prominent megachurch, the Shincheonji Church, where thousands of members became infected with the virus. Since that time, it became obvious that large gatherings of any kind, but particularly religious gatherings could become incredibly dangerous places for this virus to spread. However, despite warnings from local governments, there have been a number of conservative faith communities across the United States that have refused to shut their doors, claiming that "church was the safest place to be" in times like these.
As the pastor of a church in San Diego, I know how hard the decision to close the doors of a church can be. Not only are we cutting off hundreds of people from a vital source of community and inspiration, but we're also limiting our ability to help those who are most vulnerable through our acts of charity. And beyond that, the financial toll on independent faith communities like the one I pastor is tremendous- when services aren't happening, offerings go down, which means we begin looking as staff pay cuts and the inability to pay our general operating expenses.
But in moments like these, faith leaders must harken to the core principles of our faith- we must put the health and wellbeing of our neighbors above our own survival. And while I absolutely believe in the power of God to heal, my tradition also teaches us not to put God to the test- if we can prevent people from becoming ill, then we must do that, rather than staking our bets on miracles happening when people fall ill due to our selfishness and lack of care. We must work hard to ensure that everyone our community reaches receives the best and most accurate information and are instructed to follow health guidelines of public officials, simply because that is the most loving thing to do.
Enter President Trump, who on a Tuesday interview with FOX News declared that he would like to see America open for business by Easter. The commentator responded, "that would be an American resurrection", to which Trump replied, "I like that!" These words from the President sent shockwaves throughout the Public Health community in the United States- there is no reputable source that believes America will have sufficiently contained the spread of COVID-19 by Easter, just a few weeks from now. The "curve" isn't flattening, but is reaching its peak, as thousands of Americans continue to fall ill and die, all while thousands have failed to yet heed the calls for social distancing.
President Trump seems motivated by only two things: economic prosperity and his approval rating. Knowing that a large portion of his base identifies as conservative Christians, it doesn't surprise me that he would try to make a promise that he could have churches miraculously open for the highest holy day of the Christian calendar. It has also been reported that his own advisors see the economic toll the restrictions have taken on the economy could have a dire long-term impact and are urging the President to ease up the restrictions on our country to save his own economic legacy. And I think that it is quite possible that the President will in fact declare that the country is open for business by Easter, putting thousands of lives in grave danger all for the sake of appearing to be our modern-day Messiah.
But as a person of faith and a Christian pastor in particular, in this time I feel compelled to make a plea to all of my fellow Christians to stay home on Easter Sunday, regardless of what the President declares. It has become apparent that the White House is no longer a source of accurate information regarding COVID-19, and a simple glance at the CDC's reports on COVID-19 would show us that the virus has not slowed down and shows no signs of doing so. If we are to truly care for our neighbors and truly fight to stop this pandemic, we must keep our doors closed on our highest holy day.
We must resist the temptation to follow President Trump's path, one that flies in the face of the values of all faith tradition and open our doors to help relieve the "pent up energy" of America. Yes, we are all already longing for a return to our normal lives- but the only way to get there is through enduring a few months of discomfort and inconvenience. If we hope to see America experience eventual resurrection, we must do our part to ensure our communities stay safe and socially distant for the foreseeable future. We can celebrate the hope of resurrection virtually as we have been doing and make our celebration this year one of longing for the day that the sun rises on Sunday morning and we can gather once again in our churches.