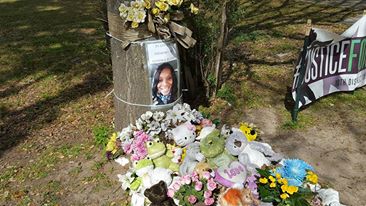 Back in February (2016), I had the opportunity to visit Prairie View A & M for their annual COMM WEEK. It is an annual event where communication and broadcasting scholars come and share their research and work with the students and members of the community. Put on by the Associate Professor of Communication Dr. Toniesha Taylor, COMM WEEK is one of the most successful and well attended events held on campus.
While there, I also had the opportunity to visit the memorial dedicated to Sandra Bland at the site where officer Brian Encinia arrested her.  As I have written about before, sites such as the one dedicated to the memory of Sandra Bland, offers an opportunity for theological reflection. As with other sites dedicated to victims of state sponsored abuse, this site is sacred space–a place where when approaching it and coming upon it, one feels the urge to stand still, quiet oneself, or just walk away to gather oneself. As many proclaim #SandyStillSpeaks, I too agree that this sacred space, at least for me still speaks. It speaks about the many memorials that folk erect all over this country reminding themselves of loved ones gone too quickly.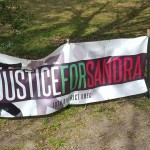 Moreover, I suggest that these "roadside," "urban" or "street memorials," are sites for theological reflection because it gives insight on how people constructed ideas of the sacred in the aftermath of a tragic and sometimes senseless death.  Typically these sites remind people that death happened here. In the case of Sandra Bland, this site takes on another powerful meaning. This site is a reminder of how her death started–from a traffic stop. In a society that does not like to talk about death or wants to move away from death as quickly as possible, memorials force us to remember that a death happened or again in this case started here. In addition, these memorials remind us that the community did not forget the person who has died. They proclaim that the community not only remembers the deceased, but that the community also loved the person. I suggest this helps with the grieving process.
While in Waller County, I got the sense that people are not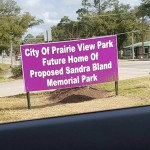 forgetting about Sandra Bland. On the day of my presentation, there was a protest downtown at the Federal Courthouse in Houston. The work that Hannah Adair Bonner and others are doing here is keeping alive the memory and work that Sandra Bland did. Even the leaders in the town of Prairie View plan to name a park in Sandra Bland's honor. So yes, people are still coming together, sharing their stories, mobilizing and finding their own place and space in the movement. So yes, #SandyStillSpeaks because her spirit is still alive and I am a witness to that.
Donate to the Work of R3
Like the work we do at Rhetoric Race and Religion? Please consider helping us continue to do this work. All donations are tax-deductible through Gifts of Life Ministries/G'Life Outreach, a 501(c)(3) tax exempt organization, and our fiscal sponsor. Any donation helps. Just click here to support our work.