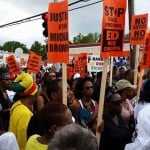 I recently started a bible study series at our church titled "Black Lives Matter and the Theology of a Social Movement." It is a seven week study that examines the BLM movement through the lens of James Cone's Black Theology. The goal of the class is to demonstrate how people of faith (particularly the Christian faith) can begin not only to better understand the movement, but also to see social movements as part of the faith walk. When we look at the principles that guide BLM, we quickly see that those principles are not antithetical to faith commitments. However, I talk to many people of faith and Christians in particular who still have some reservations about BLM. While some say that there are sympathetic to the movement, others believe that "All Lives Matter" should be our mantra. It is in this debate that I decided to offer this study.
Intentionality of Incarnation
I decided first to lay the foundation for the rest of the study by sharing something I have been working on for a while now. I call it the Intentionality of Incarnation. In the Christian faith, the incarnation states that God dwell in the body of Jesus while here on earth. It is where many of us get the notion that Jesus was fully God and fully human. I simply argue that if we are to believe this doctrine, then we also must believe that God was particular in what God wanted to do. God was intentional. Thus I define the Intentionality of Incarnation as approach to interpretation, mission, and theology that takes seriously the conditions in which God decided to dwell on earth and the location/position that God took in Jesus to do the work of God. In other words, if Christians are going to affirm the incarnation, then we must examine God's intention when God decided to dwell in the person of Jesus.
After offering this as a foundation to the study, we then examined Luke 4:18-21 and Romans 12:4-10. We read in the Luke text Jesus' mission and in the Romans text, we read Paul's metaphor of the church as the body of Christ. As we read and broke up into group to discuss the texts more, we begin to see something. We saw the connection between Jesus' body and the body of Christ. In other words, if Jesus did those things (found in Luke 4) in his body while on earth and if the church is now the body of Christ (found in Romans 12), then we surmised that the church (as body of Christ) should do what Jesus did in his body while Jesus was on earth.
After our discovery, we then started talking about how Jesus acted as he went on his way. I started our study here because I believe it gives us a good foundation to expand our theological paradigms. What an Intentionality of Incarnational approach does is to force us to reexamine our hermeneutical presuppositions and engage in thoughtful theological reflection. It forces us to reread biblical texts and challenge rhetorical constructions of God, tradition, dogma, and doctrine. It allows us to ask questions and talk with each other to discuss and discern how the Spirit is operating today. It opens us up to new revelations and thoughts to do contextual theology. In short, it allows us to examine the BLM movement without fear or trepidation. We can see where the Spirit leads and we also can allow the Spirit to have its way.
Andre E. Johnson is the managing Editor and Founder of R3. He is also Pastor of Gifts of Life Ministries in Memphis, Tennessee
Donate to the Work of R3
Like the work we do at Rhetoric Race and Religion? Please consider helping us continue to do this work. All donations are tax-deductible through Gifts of Life Ministries/G'Life Outreach, a 501(c)(3) tax exempt organization, and our fiscal sponsor. Any donation helps. Just click here to support our work.