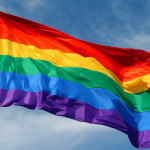 by Ernest L. Gibson III
On June 12, 2016, at 2am Sunday morning, Omar Mateen walked into Pulse Nightclub in Orlando, Florida and started shooting. When he finished 50 people were dead and 53 injured. Here at R3, we are collecting some reflections of this horrific massacre. If you would like to share, please email us at rhetoricraceandreligion@gmail.com. You can also follow us on Twitter at @examinereligion and Facebook
I've spent 34 years teaching this tongue how to speak; teaching it how to shape meaning into word; teaching it how to sculpt silence into sound. And yet, this tongue still struggles to speak tragedy; still trembles when speaking heartache or pain or hurt or loss. I've spent 34 years learning how to mold understanding into utterance; learning how to charm acceptance from tolerance; learning how to conjure a desire for knowing out of the blind basking in ignorance. This tongue, this voice, which is to say this self, however, does not know how to speak terror. It is far too curved or too queer to pronounce the jagged intonation of its essence. Its shape or its age is all too foreign, too futuristic to carry the cadence of an idea so old and so malefic. This tongue, which has striven towards perfecting the phonetics of humanity or humanness or humaneness, does not know how to properly navigate the treacherous topography of hate; cannot make sense of that which inspires such an idea's inflection; does not know how to respond to the pierce and clamor of its sound. Nevertheless, this tongue also claims a language which rejects the possibility of silence; fights against the idea of nothingness and invisibility and hiddenness. This tongue has mastered the art of scratching rage from discomfort, of locating breath where there is no air.
I cannot speak Orlando, for terror and hate, homophobia and violence are riddles of a language requiring fluency in inhumanity. And yet, while my tongue struggles to utter how tragic; while it suffers against its inability to be silent – which is to say at peace or in privilege; while it may not be able to fully wrap itself around a word or thought strong enough to communicate what lies deeper, it can still utter… Despite my inability to fully process how much hate abides in this world, I know how painful that abiding presence is. There are no words to express what this feels like… How does one tell the world that his spirit is being lynched? How does one convey to those who hate how this goes beyond the law or morality or religion or culture or flesh? How does one find the strength to love when the heart itself has been stabbed?
Some languages must die; some words must be erased and extinguished; some ideas must be eradicated from the imagination of this place. When a person has deluded himself with an idea "gifted" to him by a sick world so much so that he takes the lives of a people who live and love differently, we ought to mourn those who we have lost as we also interrogate the ways in which we are complicit. There comes a point where we must know that the language of freedom teaches us how the lives of others are precisely that – the lives of others. No one, neither man nor woman, neither flesh nor god, has the right to take the breath of another. The blood of inhumanity drowns the possibility for breathing… And if one cannot breathe, one cannot speak; if one cannot speak, one cannot live.
This tongue is not built to speak terror or hate… And in the face of so much tragedy, it's becoming increasingly more difficult to speak life… But speak we must, even if the wisdom of love and inclusivity and freedom passes the lips at just above a whisper, just above a prayer, in the accent or timbre of hope.
Ernest L. Gibson III is an Assistant Professor of English at Rhodes College in Memphis, Tennessee. His teaching and research interests include African American literature, Male Studies, Black Popular Culture and Literary/Cultural Theory.
Donate to the Work of R3
Like the work we do at Rhetoric Race and Religion? Please consider helping us continue to do this work. All donations are tax-deductible through Gifts of Life Ministries/G'Life Outreach, a 501(c)(3) tax exempt organization, and our fiscal sponsor. Any donation helps. Just click here to support our work.