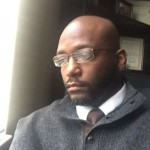 Reverend Derrick K. Holmes is the oldest son of Tyrell & Christine Groom, was born in Harlem, New York. Relocating to Columbus, Ohio as a teenager, Derrick went on to graduate from Eastmoor High School (now known as Eastmoor Academy) with a College Preparatory diploma. He went on to attend Wright State University in Fairborn, Ohio, where he majored in English Education & minored in African American History. After completing his undergraduate studies at Wright State, he then went on to attend American Baptist College, obtaining a degree in Pastoral Leadership.
Reverend Holmes has written poetry, essays, and social critique that have had the privilege of being featured in various journals and publications across the country. He is also a featured journalist on the website goblackcentral.com where he offers commentary on life & spirituality. He has conducted numerous lectures and workshops regarding social justice, youth mentorship, and community empowerment. He has also partnered with local organizations including the 100 Black Men of Central Ohio and the Columbus Chapter of the NAACP. Derrick spends as much time as he can in service to others. He counsels families and youth as a Licensed Christian Counselor, teaches english through the Columbus Literary Council, offers his services as a public speaker, and joins a number of local community organizations in the fight for civic equality.
He currently serves as pastor of the Second Baptist Church in Circleville, Ohio and blogs regularly at Are You Up Yet?