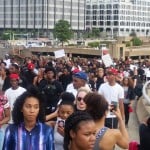 By Earle Fisher
Reflecting on a conversation we had recently at church, we discussed what it means and what it takes for folks to get substantially involved in social justice and movement work.
Those of us who have become public faces of The Movement (and most of us against our will) are relatively clear on a few things; things we've shared publicly but may have been overlooked or drowned out by all of the white noise (pun intended):
1) With few exceptions… MOST of us were outchea doing work in the trenches YEARS before #BlackLivesMatter became a hashtag. (we affirm and salute those who caught the sacred fire when the movement showed up… we just know that's most often not the case).
2) We're mindful that the actions, initiatives, projects, and moves people see in public is undergirded with a great deal of research, reflection, discussion, and planning that goes UNNOTICED, UNAPPRECIATED, AND UNDERPAID…
3) A lot of times when you must go…. You'll be going ALONE or with a faithful FEW!!!
4) TO SEE ANY SIGNIFICANT AMOUNT OF PROGRESS OR PRODUCTIVITY IN ANY PARTICULAR AREA OF SOCIAL JUSTICE YOU MUST PREPARE FOR AT LEAST A 3-5 YEAR COMMITMENT!!!
Our social and political issues are comprehensive and have been in progress/process for decades (really centuries)… Our responses must be comprehensive and will not bear fruit overnight….
As much as we affirm EVERY MEANINGFUL MEASURE OF RESISTANCE AGAINST EVIL, INJUSTICE, AND OPPRESSION… Folks need to know this ain't a quick trip… It's not about the glitz and glamour… and there are no microwave solutions to our crock pot problems….
So if you're not REALLY bout that life… at the very least don't hinder us…. If you are about this life…. We. Will. See. You. Outchea. Just. Do. The. Work!!!
Earle Fisher is a R3 Contributor
Donate to the Work of R3
Like the work we do at Rhetoric Race and Religion? Please consider helping us continue to do this work. All donations are tax-deductible through Gifts of Life Ministries/G'Life Outreach, a 501(c)(3) tax exempt organization, and our fiscal sponsor. Any donation helps. Just click here to support our work