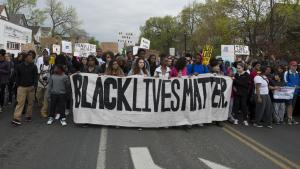 by Renita Marie
So this happened, as we were protesting the injustice of setting former police officer Jason Stockley free in the killing of Anthony Lamar Smith. I share as a teaching moment:
A black lady called me a bitch; my presence made her feel violent….
I did not do or say anything to provoke this, it just is…
Even as a child I never understood why black people were nice to white people–they have every reason to think us horrible creations…
It speaks to the character of black people that we get any love at all…
If we believe that black lives matter, we must also realize black feelings matter…
If our presence causes black lives to feel some kind of way, we need to fall back with grace, not indignation….
That lady, she's hurting…
And people who look like me caused that hurt…..
I have to be honest, at first, I couldn't believe she was talking about ME?!?!
And I had a moment of feeling some kind of way…
But it was just a moment…my spirit reminded my ego
Black lives are greater than white feelings
So, white folks be aware, be sensitive and compassionate….
Be present…be aware of other white folks…and if your white feelings get hurt, get them in check or go home…
Renita Marie is a R3 Contributor
Donate to the Work of R3
Like the work, we do at Rhetoric Race and Religion? Please consider helping us continue to do this work. All donations are tax-deductible through Gifts of Life Ministries/G'Life Outreach, a 501(c)(3) tax-exempt organization, and our fiscal sponsor. Any donation helps. Just click here to support our work.