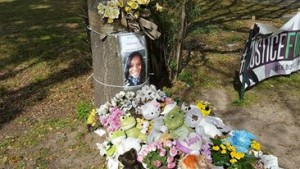 by Toniesha Taylor
July 16, 2015, was the day students started coming to my office to have their transfer documents signed so they could leave the university. I was Interim Department Head, and they need my signature. I talked with every one of them about their reason for leaving. They only had one. Sandra Bland. Some said it was because she died or was killed they all said she was a Panther. They told me they couldn't stay at a university that would let what happen to Sandra Bland happen without an actual response to activism or even care from the administration. They all had personal stories or a story of a roommate, close friend, sorority or fraternity member that had been harassed by the police on or just off campus. Many of them had been taken to jail. All of them felt their treatment was unnecessary. One student told me that being a student at PV was like stepping into the past. The student said they couldn't do it anymore, they couldn't go backward anymore. It broke my heart. My soul will always hurt.
I took to Facebook to post about the silences around me. The silence of the administration was and is so painful. I know of faculty and staff that are no longer part of the PV family because they couldn't take the silence. It was just too much. When a staff member looked at me and said, "upper administration VPs and those up there, they don't care about anyone, not the students and especially not the staff" It broke my heart. My soul hurt. I couldn't disagree with the staff member. They weren't wrong. Later that year, like other who'd had enough and could, that staff member retired. Others found employment elsewhere.
Two years, and much activism later, I can say I've only seen one of the students that transferred away. The student came back for homecoming last year and made a point of stopping by to say hello. They thanked me for my activism, for saying something to the administration and working with students. When I asked how they knew, the answer was, "I follow you on Twitter. I like your research too. I want to do that too." I smiled and told the student to call me, and I'd be happy to help.
I returned to the faculty later that year and have been all the happier. I find it easier to heal my still broken heart and my hurt soul as an activist, scholar, teacher, researcher. There are still silences around what happened to Sandra Bland. Yet students, faculty, staff, alum, and community members continue asking questions and pushing for change. We won't let the silences stand. We speak. Sandy Still Speaks.
Dr. Toniesha Taylor is an Associate Professor of Communication at Prairie View A&M University. You can follow her on Twitter at @DrTonieshaT 
Donate to the Work of R3
Like the work we do at Rhetoric Race and Religion? Please consider helping us continue to do this work. All donations are tax-deductible through Gifts of Life Ministries/G'Life Outreach, a 501(c)(3) tax exempt organization, and our fiscal sponsor. Any donation helps. Just click here to support our work.