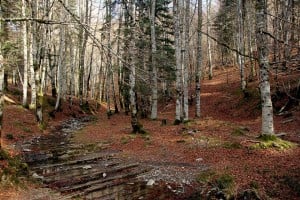 by Alphonso Saville
In Toni Morrison's Beloved, when Sethe, the novel's main character, determines that "it was time to lay it all down," she heads to the woods to find the Clearing.  It is there, she recalls, that Baby Suggs, the unchurched preacher, exhorted her community to love themselves, their bodies, and one another.  The Clearing, described as "a wide-open place cut deep in the woods nobody knew for what at the end of a path known only to deer and whoever cleared the land," is a literary depiction of a brush harbor, or hush harbor, and is foundational to the historical development of Black religion in America.
As historian Janet Cornelius explains, "hush harbors were meeting places, usually secret, which slaves created outside the plantation quarters." The natural elements—rivers, forests, swamps, and caves—have housed sacred meeting spaces for religious observance throughout the course of human history. Secluded wilderness space had a particular appeal to North America's early Black inhabitants. During the colonial and antebellum eras, black people's movement was legally restricted in states like Virginia and South Carolina.  For example, in many states legal statutes prohibited enslaved blacks from leaving plantations without their masters' written permission.  But, as historian Anthony Kaye explains, despite such restrictions, enslaved blacks formed neighborhood communities that stretched the boundaries of plantation society.  Slave neighborhoods extended beyond individual plantations to include wilderness areas like the one Morrison describes. These brush harbor sanctuaries exhibit how Black people used uncultivated space to form religious communities when their inalienable right to free religious expression was not constitutionally protected.
The transformation that takes place in the brush harbor parallels several stories of the Old and New Testaments. A host of biblical prophets undergo spiritual transformation and renewal in the wilderness.  When Moses flees to the wilderness, Yahweh appears and commissions him to demand Israel's liberation from slavery.  Jesus fasts and prays in the wilderness for forty days to and exhibits the strength needed to overcome evil at the outset of his public ministry. From these biblical and historical examples, we see that brush harbor temples provided the sacred space where one's humanity was affirmed and one's right to religious liberty could be realized.  The Black Church, slavery's invisible institution, was one of the first protectors of religious liberty in American history.
The spiritual significance of brush harbors in early African American religion is profound.  As depicted in Morrison's Beloved, brush harbors housed the rituals and practices of the "invisible institution" in black religious history.  In these makeshift, tree-covered temples, black religious practitioners enacted rituals of spiritual transformation and reaffirmed the belief that they were equal stakeholders in the cosmic order of creation.  In the secluded sanctuaries of Georgia, South Carolina, Virginia, Maryland and countless other North American territories, they discovered that the discriminatory rules of American society were not operative. The brush harbors of the Black Church North American provided a physical and conceptual space in which free and enslaved Blacks could assemble to freely exercise their religious imagination.  As Baby Suggs surmises in Morrison's Beloved, "Here, in this here place, we flesh; flesh that weeps, laughs; flesh that dances on bare feet in grass.  Love it.  Love it hard."
Where are we finding the power to deal with the evils of today? Where are our brush harbors today??
Alphonso F. Saville, IV is a scholar, educator, and artist. His research explores American religious history, African American religious literature, and religious freedom in contemporary American society. His poetic works are showcased via Twitter and Instagram. You can follow Dr. Saville @drphonsarelli.
Donate to the Work of R3
Like the work we do at Rhetoric Race and Religion? Please consider helping us continue to do this work. All donations are tax-deductible through Gifts of Life Ministries/G'Life Outreach, a 501(c)(3) tax exempt organization, and our fiscal sponsor. Any donation helps. Just click here to support our work.