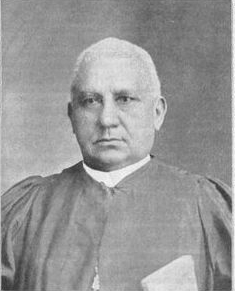 I discovered Henry McNeal Turner (1834-1915) by accident. While starting a seminar class in rhetorical criticism and trying to hone in on a dissertation topic, I ran across a speech delivered by Turner. He delivered the speech on the floor of the Georgia House of Representatives as the House debated whether African Americans could hold office in the state of Georgia. I remember reading the speech and wondering if anyone had studied Turner's rhetoric. However, there was a problem. Since Turner lived during the nineteenth and early twentieth centuries, it was my belief that texts would be difficult to find. Turner, like many of his contemporaries during this time, spoke extemporaneously—not from notes or prepared texts. Moreover, unlike many other speakers during this time, Turner did not travel with a stenographer—or someone who could have written what Turner said for later publication. Going into my project, I only hoped there were enough texts to do a solid dissertation.
Imagine my surprise when I found that Turner was not only one of the most prolific writers and speakers during his time but also was one of America's earliest black activists and social reformers, and, as such, made an indelible mark in history and left an enduring social influence. He published a copious amount of articles, essays, and editorials for the Christian Recorder and the AME Church Review. During his time as a chaplain in the Union Army, his weekly reports published in the Christian Recorder from the battlefield became a necessary read for blacks. He published several pamphlets and wrote the introductions to several books. Turner also published several of his speeches as well as a book of letters chronicling one of his trips to Africa. He published a hymnal as well as a church manual for the denomination. However, despite the thick corpus of material to study, scholars have not paid as much attention to Turner as to some of his contemporaries. One of the reasons for this oversight is that Turner's corpus has not been available for study. Therefore, I made a promise to myself as I was completing my dissertation. I would collect, curate, reclaim and reintroduce Turner not only to academics, but also to the larger public. This lead to the launching of the Henry McNeal Turner Project.
I think the significance of this project is three fold. First, Turner's public career lasted over sixty years. This archival project will preserve Turner's writings during that entire critical era. Starting in the antebellum period during the days of slavery to the earlier years of the twentieth century, Turner's writings give us insight not only on (African) American history, but also Black Church history and the fight for Civil Rights. During his life Turner lived through slavery, Reconstruction, Post-Reconstruction and the beginning of official state sanctioned Jim Crow.  As these writings show, Turner presented himself both as a public intellectual and public theologian. Moreover, through his writings and speeches, we not only meet someone who lived through these times, but also a man who participated in shaping the times in which he lived.
Second, there is no "traditional archive" of Turner's writings. The Spingarn-Mooreland Research Library at Howard University offers two small boxes of "papers" on Turner, but it is not a full collection. As far as I know, this will be the first "place" dedicated to the writings of Turner. In addition, as with any digital archive, this will be a "living archive" meaning that if we discover any other writings or papers from Turner, we can easily upload them as part of the collection.
Finally, while Turner's writings will make up the centerpiece of the project, we will also add other important artifacts, pictures and writings significant to Turner's career. This will include other texts that Turner mentions in his writings, newspaper accounts and editorials on or about Turner, and general stories about Turner. Additionally, this will also be a place where readers will learn of current scholarship of Turner. I already started a page with
links to previous scholarship
on Turner and plans are to invite others to research, write, and present their own findings on the Bishop. It is my hope that this site will lead scholars from many different disciplines to publish works on Turner and continue to share the story of this forgotten leader of the nineteenth and twentieth century.
There are two primary audiences for this project. The first is a scholarly audience. This includes academics using the site as an avenue for primary research. In examining Turner's life and legacy, students and scholars of Communication/Rhetoric, History, English, African American (Black) Studies, Journalism, Media, Political Science, Religion, and the Black Church will find the site helpful. The second audience consists of non-academics. This includes community leaders, activists, faith-based organizers, and members of the Black Church, especially members of the AME church. By highlighting these two audiences, it is my aim to practice an engaged scholarship that will lead not only to online conversations between the two, but also to begin bridging the gap between "town" and "gown" that stubbornly still exist.
As part of the plan to reach out to these intended audiences, I will actively engage in social media. I have already developed Facebook page and group and a Twitter account along with a hashtag; #HMTProject. In my attempt to make history connect to the present, throughout the school year, I will host live Facebook and Twitter chats on contemporary issues that were also germane during Turner's time. In addition, we plan on promoting the site as a "required text" for classes and assisting teachers (at all levels) with lesson plans. This is why this site exists. It is our intent to recover a lost voice within American and African American history. Henry McNeal Turner deserves recognition and it is our fervent hope that this site begins to serve that purpose.
If you would like to help with the #HMTProject, email Andre E. Johnson at theHMTproject1834@gmail.com.
Donate to the Work of R3
Like the work we do at Rhetoric Race and Religion? Please consider helping us continue to do this work. All donations are tax-deductible through Gifts of Life Ministries/G'Life Outreach, a 501(c)(3) tax exempt organization, and our fiscal sponsor. Any donation helps. Just click here to support our work.