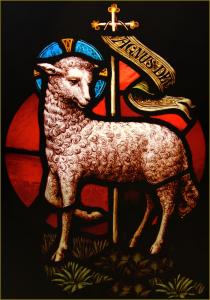 Karl Barth once said that he loved the Old Testament too much to read it JUST literally. I feel the same way. It IS to be read — carefully, spiritually, joyfully, allegorically, and sometimes but NOT always literally. When do we not read it literally? Simple, whenever it literally attributes evil or wickedness to God, we KNOW that passage must be reinterpreted allegorically or figuratively.
The greatest theologians of the early church agreed.
The early church fathers were so rich in their understanding of God's good nature. They birthed an irrepressible insight about Scriptural interpretation that prompted them to plant their hermeneutical flag deep into the ground. They were willing to stand and contend against ANY dead literal reading of Scripture which maligned and defamed God's character by attributing to Him any kind of despicable behavior. The fathers believed that any Bible reading was dead wrong if it painted God as a child-drowning, infant-burning, throat-slitting, plague-sending, people-smiting killer.I simply am unwilling to admit that God has EVER done ANY those horrible things to His children. Satan, yes certainly, but never God. Satan was the real destroyer in the Old Testament, just as He is in the New Testament. Jesus revealed a better image of God, a higher image, a deeper image, a truer image, purer image.
"Saint Ambrose (and Augustine) took Paul's statement 'the letter kills but the Spirit gives life' as a slogan for allegorical interpretation." A. Berkeley Mickelson, INTERPRETING THE BIBLE, Eerdmans Publishing, 1963, page 34. Ambrose was the Bishop of Milan was one of the four great doctors of the western church.
The great eastern church father Origen, wrote, "Ignorant assertions about God appear to be nothing else but this: that Scripture is not understood in its spiritual sense, but is interpreted according to the bare letter." (On First Principles 4:2.1-2, 4).
Gregory of Nyssa wrote that "allegory" allowed certain OT Scriptures to be "converted from the raw and indigestible state of their literal meaning into a wholesome and healthy intellectual food." (Hom., in Cant., prol.).
The western father Augustine taught that the  harmful husk (literal reading) of Scripture had to be removed so that the valuable kernel (allegorical meaning) could be consumed. (On Christian Teaching, 3.12.18). Saint Augustine said, "If a passage seems to endorse wickedness or wrongdoing or to forbid selflessness or kindness, it is figurative and not to be read literally." He believed that all Scripture must be interpreted through the love of God and neighbor, on which all the law and prophets hang. Matt. 22:37-40. (Source: On Christian Teaching, see 3:10.14; 3:11.17; 3.16.24).
Augustine used the Rule of Divine Character when allegorizing, which essentially holds that the character of God revealed in Jesus cannot EVER be violated by the literal reading of ANY Old Testament Scripture. If the passage "appears on its face" to attribute unworthy motives, brutal behavior, cruel intentions, hypocritical conduct or coercive attributes to God, then it must be read allegorically and NOT literally.
"Wherefore, in the Old Testament there is a veiling of the New, and in the New Testament a revealing of the Old. According to that veiling, carnal men, understanding things in a carnal fashion, have been under the dominion, both then and now, of a penal fear. On the other hand, spiritual men… have a spiritual understanding and have been made free through love which they have been gifted." Saint Augustine (On Catechizing the Uninstructed 4:8; NPNF 1/3:287).
John Cassian stated the church fathers' dynamic bottom line against dead letter Bible reading in the following excerpt from Institutes 8.4: "And so, since these things cannot without horrible sacrilege be literally understood of him who is declared by the authority of Holy Scripture to be invisible, ineffable, incomprehensible, simple, and uncomposite, the disturbance of anger (not to mention wrath) cannot be attributed to that immutable nature without monstrous blasphemy."
Why? Why were these church fathers so adamant? Well, its the exact same reason WE must be adamant about it. Because IF, IF, IF we read the Old Testament JUST literally, ONLY literally, and ALWAYS literally, THEN we must acknowledge that God is a vengeful, brutal, hostile, and homicidal child-killer, man-torturer, and woman-afflicter.
What follows below are 26 reasons we must not read the Old Testament literally, "by the letter"in other words, but instead read it "by the Spirit" as 2 Corinthians 3:6 instructs us. Again, if we DO read them literally, then Jesus is not only a child-killer, but a woman-killer, and a man-killer, and a bringer of cursing, disease and affliction, all of which He takes great delight to utterly destroy us. I hope these will serve as "smelling salts" which awaken us to a better way to read Scripture, a God-honoring way, a non-literal way.
The New Testament claims that Jesus is the full and complete revelation of God's mind, heart, and will. Jesus is the divine nature and character revealed. He is the sole plumb line for recognizing, authenticating, and verifying all divine activity which is alleged as coming  from God's causative hand.
For God to say or to do what the Old Testament horrifically attributes to Him, we must be willing to also say Jesus is capable of saying or doing the exact same things. However, if our Spirit-quickened consciences won't allow us to accept Jesus as causing or commanding all the Old Testament atrocities, then we simply can't accept that His loving Abba caused or commanded them either.
Honestly, can you imagine Jesus EVER saying, doing, or commanding any of the following things?
I have inserted Jesus' name in brackets for effect:
"Thus saith the LORD [Jesus]… Slay both man and woman, infant and suckling."
– 1 Samuel 15:3
"Joshua destroyed all that breathed, as the LORD [Jesus] commanded."
– Joshua 10:40
"The LORD [Jesus] delivered them before us; and we destroyed the men, and the women, and the little ones."
– Deuteronomy 2:33-34
"And they warred against the Midianites, as the LORD [Jesus] commanded Moses; and they slew all the males…. Now therefore kill every male among the little ones, and kill every woman that hath known man by lying with him."
– Numbers 31:7, 17.
"The wind of the LORD [Jesus] shall come up from the wilderness, and his spring shall become dry, and… Samaria shall become desolate… they shall fall by the sword: their infants shall be dashed in pieces, and their women with child shall be ripped up."
– Hosea 13:15-16
"With thee will I [the LORD Jesus] break in pieces the young man and the maid."
– Jeremiah 51:22
I am convinced that people who demand a hyper-literal reading of the Old Testament have never actually read it (at least in its entirety). They just seem to blissfully (or conveniently) ignore the horrible implications of the above and below passages. The church fathers Origen, Gregory of Nyssa, John Cassian, and Augustine all thought it was akin to blasphemy to read these types of passages literally because of how horrendously they malign God's character.
To say that the following passages, in their LITERAL sense, accurately describe the words, attitudes, and actions of the God revealed by/in Jesus Christ is an abomination. Sadly, this abomination is what has created atheists, chilled children's hearts, and robbed Christianity of its coherence. Let's take a look at other unthinkable verses in the Old Testament. 
1) "The LORD will rejoice over you to destroy you, and to bring you to nothing." Deuteronomy 28:63. (The Lord "rejoices" to "destroy" us? Jesus never displayed this attitude, but instead attributed all such acts of destruction to the devil in John 10:10, destructions which He came to cure, not inflict per 1 John 3:8).
2) "The LORD shall MAKE THE PESTILENCE CLEAVE UNTO THEE, until He have consumed thee." Deuteronomy 28:21. (The Lord "consumes" us with "pestilence?" Jesus never put sickness on anybody, but rather always healed the sick. See Acts 10:38).
3) "The LORD shall smite thee with a consumption , and with a fever , and with an inflammation , and with an extreme burning , and with the sword , and with blasting , and with mildew ; and they shall pursue thee until thou perish." Deuteronomy 28:22. (Jesus never "smote" anybody with "fevers," etc. Rather, He rebuked fevers AWAY from the afflicted, such as Peter's mother-in-law).
4) "The LORD shall make the rain of thy land powder and dust : from heaven shall it come down upon thee, until thou be DESTROYED." Deuteronomy 28:24. (Jesus never sent "droughts" of lack. Rather, He cured them through miraculous provision). 
5) "The LORD shall cause thee to be SMITTEN BEFORE THINE ENEMIES : thou shalt go out one way against them, and flee seven ways before them: and shalt be removed into all the kingdoms of the earth. And thy carcase shall be meat unto all fowls of the air , and unto the beasts of the earth , and no man shall fray them away." Deuteronomy 28:25-26. (Jesus never sided with one army against the other, much less feed anybody's carcass to the birds).
6) "The LORD will SMITE thee with the botch of Egypt , and with the emerods, and with the scab , and with the itch , whereof thou canst not be healed." Deuteronomy 28:27. 
7) "The LORD shall smite thee with MADNESS, BLINDNESS , and astonishment of heart : And thou shalt grope at noonday , as the blind gropeth in darkness , and thou shalt not prosper in thy ways : and thou shalt be ONLY OPPRESSED AND SPOILED EVERMORE." Deuteronomy 28:28-29. (Jesus went about healing ALL oppression, never inflicting it. Acts 10:38).
8} "The LORD shall smite thee in the knees , and in the legs , with a sore botch that cannot be healed , from the sole of thy foot unto the top of thy head." Deuteronomy 28:35. 
9) "The LORD shall bring thee, and thy king which thou shalt set over thee, unto a nation which neither thou nor thy fathers have known ; and there shalt thou serve other gods , wood and stone." Deuteronomy 28:36. 
10) "Moreover all these curses shall come upon thee, and shall pursue thee, and overtake thee, till thou be destroyed ; because thou hearkenedst not unto the voice of the LORD thy God , to keep his commandments and his statutes which he commanded thee: And they shall be upon thee for a sign and for a wonder , and upon thy seed for ever." Deuteronomy 28:45-46. (Jesus "curses" us and our children forever? No, Jesus only blessed and welcomed children).
11) "Because thou servedst not the LORD thy God with joyfulness , and with gladness of heart , for the abundance of all things; Therefore shalt thou serve thine enemies which the LORD shall send against thee, in hunger , and in thirst , and in nakedness , and in want of all things: and he shall put a yoke of iron upon thy neck , until he have destroyed thee." Deuteronomy 28:47-48. (Jesus CONTROLS our enemies and makes us their slaves? This is foreign to anything Jesus ever did or said).
12) "The LORD shall bring a nation against thee from far , from the end of the earth , as swift as the eagle flieth ; a nation whose tongue thou shalt not understand ; A nation of fierce countenance , which shall not regard the person of the old , nor shew favour to the young : And he shall eat the fruit of thy cattle , and the fruit of thy land , until thou be destroyed : which also shall not leave thee either corn , wine , or oil , or the increase of thy kine , or flocks of thy sheep , until he have destroyed thee…. And thou shalt eat the fruit of thine own body , the flesh of thy sons and of thy daughters , which the LORD thy God hath given thee, in the siege , and in the straitness , wherewith thine enemies shall distress thee." Deuteronomy 28:49-51, 53. (Jesus SENDS an enemy who causes me to literally eat my own children? Jesus NEVER promoted cannibalism of children).
13) "The LORD will make thy plagues wonderful , and the plagues of thy seed , even great plagues , and of long continuance , and sore sicknesses , and of long continuance . Moreover he will bring upon thee all the diseases of Egypt , which thou wast afraid of ; and they shall cleave unto thee." Deuteronomy 28:59. (Jesus oppresses us with "WONDERFUL PLAGUES" of "long continuance?" Jesus never called any plague wonderful, much less inflicting anybody with one).
14) "Moreover he will bring upon thee all the diseases of Egypt , which thou wast afraid of ; and they shall cleave unto thee. Also every sickness , and every plague , which is not written in the book of this law , them will the LORD bring upon thee, until thou be destroyed." Deuteronomy 28:60-61. 
15) "The LORD shall give thee thee a trembling heart , and failing of eyes , and sorrow of mind : And thy life shall hang in doubt before thee; and thou shalt fear day and night , and shalt have none assurance of thy life : In the morning thou shalt say , Would God it were even ! and at even thou shalt say , Would God it were morning ! for the fear of thine heart wherewith thou shalt fear , and for the sight of thine eyes which thou shalt see." Deuteronomy 28:65-67. 
16) Jesus killed a nation full of Egyptian firstborn infants and children during the well-known Exodus story. 
17) Jesus killed a huge city full of children of all ages in Sodom and Gomorra (not to mention all the other children killed in the flood, or at God's express command in the various Biblical bloodbaths, including even rebellious Israelite children under God's "no exception" stoning law). God burns these two cities to death. In Genesis 19:24, God kills everyone in Sodom and Gomorrah with fire from the sky. Then God kills Lot's wife for looking back at her burning home.
18) God has 42 children mauled by bears. In 2 Kings 2:23-24, some youths tease the prophet Elisha, and God sends bears to dismember them. (Newer cosmetic translations say the bears "maul" the children, but the original Hebrew, baqa, means "to tear apart.")
19) God drowns the whole earth in Genesis 7:21-23, God drowns the entire population of the earth: men, women, children, and fetuses. 
20) God kills half a million people 2 Chronicles 13:15-18, God helps the men of Judah kill 500,000 of their fellow Israelites.
21) God kills 14,000 people for complaining that God keeps killing them. In Numbers 16:41-49, the Israelites complain that God is killing too many of them. So, God sends a plague that kills 14,000 more of them.
22) Genocide after genocide after genocide. In Joshua 6:20-21, God helps the Israelites destroy Jericho, killing "men and women, young and old, cattle, sheep and donkeys." In Deuteronomy 2:32-35, God has the Israelites kill everyone in Heshbon, including children. In Deuteronomy 3:3-7, God has the Israelites do the same to the people of Bashan. In Numbers 31:7-18, the Israelites kill all the Midianites except for the virgins, whom they take as spoils of war. In 1 Samuel 15:1-9, God tells the Israelites to kill all the Amalekites – men, women, children, infants, and their cattle – for something the Amalekites' ancestors had done 400 years earlier.
23) God kills 50,000 people for curiosity. In 1 Samuel 6:19, God kills 50,000 men for peeking into the ark of the covenant. (Newer cosmetic translations count only 70 deaths, but their text notes admit that the best and earliest manuscripts put the number at 50,070.)
24) God orders 3,000 Israelites killed for inventing a false god. In Exodus 32, Moses has climbed Mount Sinai to get the Ten Commandments. The Israelites are bored, so they invent a golden calf god. Moses comes back and God commands him: "Each man strap a sword to his side. Go back and forth through the camp from one end to the other, each killing his brother and friend and neighbor." Around 3,000 people are then brutally killed.
25) The Amorites are destroyed by sword and by God's rocks. In Joshua 10:10-11, God helps the Israelites slaughter the Amorites by sword, then finishes them off with rocks from the sky.
26)– I saved the best (or worst) for last. God confessed in Isaiah 13:3-18, in the first person no less, to wrathfully causing: a nation of women to be raped, a nation of infants to be executed by smashing them all to pieces against rocks, a nation of children to be mercilessly impaled with arrows, and, finally, a nation of men to be executed by the sword.
To claim that Jesus (or His beloved Abba) were rapists would, of course, be blasphemy.
And yet, and yet, and yet—– Isaiah 13:3-18 says (quoting God in the first person) that God's 'burning wrath' DOES do all this pillaging, raping, and killing.
So what's the point? Merely this. If you won't accept the 'rape confession' as coming from the lips of Jesus, then don't dare accept any OTHER Old Testament quote as coming directly from Jesus' lips IF it portrays His Father as being a plague-sending, famine-bringing, fire-flinging, bone-crushing, child-drowning, throat-slitting, homicidal, genocidal, and infanticidal God.
However, if you ARE a strict Biblical literalist, then you must believe that God's 'burning wrath' 'hunts' us down and directly CAUSES:
–women to be raped,
–infants to be dashed to pieces against the rocks,
–children to be impaled by arrows
–houses to be looted
'I MYSELF…SUMMONED MY WARRIORS …to EXECUTE MY ANGER….The LORD of hosts IS MUSTERING AN ARMY FOR BATTLE. They come from a distant land…the LORD AND THE WEAPONS OF HIS INDIGNATION, to DESTROY THE WHOLE EARTH. Wail, for the day of the Lord is near; it will come like DESTRUCTION FROM THE ALMIGHTY!….See, the DAY OF THE LORD COMES, CRUEL, WITH WRATH AND FIERCE ANGER, to make the earth a desolation, and to DESTROY ITS SINNERS from it….I WILL PUNISH THE WORLD for its evil, and the wicked for their iniquity…. I will make mortals more rare than fine gold….Therefore I will make the heavens tremble, and the earth will be shaken out of its place, at THE WRATH OF THE LORD of hosts in the day of his fierce anger. Like a hunted gazelle, or like sheep with no one to gather them, all will turn to their own people, and all will flee to their own lands. Whoever is found will be THRUST THROUGH, and whoever is caught will fall by the SWORD. Their INFANTS will be DASHED TO PIECES before their eyes; their HOUSES will be PLUNDERED, and their WIVES RAVISHED. See, I AM STIRRING UP the Medes AGAINST them, who have no regard for silver and do not delight in gold. Their BOWS will SLAUGHTER the YOUNG men; they will have NO MERCY on the FRUIT of the WOMB; their eyes WILL NOT PITY CHILDREN.' Isaiah 13:3-18.
The above statement literally claims to be the Lord talking in first person, so we can't say anybody else is exaggerating or misstating His character. Nor can we cop out by saying that God was just this way on this one occasion because the Lord 'changes not.' (Malachi 3:6). Either this 'baby bashing brutality' and 'man-smashing malice' and 'woman-raping evil' is in His nature now and forever– or it isn't– it's that simple.
Will literalists own this passage and just declare that God's burning wrath makes Him a child-killing, rape-committing, man-impaling killer? Or, will they continue to hide behind silly euphemisms that these brutal acts are just part of God's 'mysterious ways,' His 'higher ways,' His 'justice and holiness' being dispensed?
Do we really want to go here, to this dark corner of primitive savagery? I think not.
Instead, let's choose a better hermeneutic. Let's choose Jesus as our hermeneutic. His flawless nature is written in all our consciences, waiting to be consulted and catalyzed into love.
Let's  not let literalism kill our consciences. Those who loosen their 'death-grip' on Scripture will surely find their 'life-grip' on the Spirit of love and light."
Had enough yet? There are MANY, MANY, examples. So, what is the reason for these misstatements about God's character?
All the violence, plagues, killings, oppressions, curses, afflictions, destructions and damning which the Old Testament says comes from GOD must NOW be re-evaluated with New Testament light. We must look at the particular Old Testament passage which is attributing "evil" to GOD and ask if it is referring to THE GOD OF THIS WORLD (a Pauline designation of Satan)  or is it referring to THE GOD OF OUR LORD JESUS CHRIST.
The problem was that the Old Testament had an "undifferentiated" view of God. They lumped Satanic qualities into their image of Yahweh. They simply did not differentiate God from the Devil in any meaningful way. The result? A bipolar God who is up and down, good and evil, hateful and loving, cruel and gentle, vengeful and forgiving, murderous and peaceful.
The Old Testament certainly has many accurate and priceless versions of the wondrous acts of the true Yahweh, THE GOD OF OUR LORD JESUS CHRIST. The Old Testament frequently reflects the riches of Jesus' love, virtue, blessing, mercy, miracles and generosity. But, not always. Too often, because they are largely clueless about Satan's identity, the Old Testament mars and deforms the image of God by attributing the works of Satan to God.
Jesus came to heal and reveal. He came to heal our image of a wrathful and hateful God by revealing His Father-God to be ALL love and ALL light. Jesus came to teach us how to differentiate the works of the true God from the works of Satan. Jesus IS that differentiation. Satan, as the FALLEN GOD of this FALLEN WORLD, operates in all forms of stealing, killing and destroying. God, on the other hand, as fully revealed by the RISEN CHRIST of the RISEN FATHER, operates only in forms of life — the giving of it, the protection of it, the blessing of it! John 10:10.