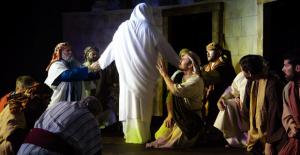 "And we have seen and testify that the Father has sent his Son to be the Savior of the world." 1 John 4:14
Some progressive Christians today appear to be becoming too evolved (or embarrassed) to declare Jesus as the their own savior, much less the savior of the world. Such a declaration of our need for utter reliance on Jesus' salvation seems to them to smack of hollow and self-flagellating religiosity.
But is this fair?
More importantly, is it true?
Did Jesus, in fact, come to bring a form of divine salvation and righteous rescue to a creation infected with a parasitical propensity to hate, condemn, and cannibalize itself into oblivion with lethal lust and pernicious pride?
Jesus didn't teach that we were all sinful wretches in need of punishment. Rather, He taught that we were His wounded siblings, children of His Father, in need of rescue and restoration.
We do live in a fractured creation. We surely wouldn't listen to a doctor who told us that our leg was perfectly healthy when, in fact, we ourselves could see bone breaking out of the skin. Nor should we listen to anybody who claims all humans are born perfect in a creation which is also perfect when, in fact, the broken lives of a broken creation surround us. Frankly, this creation often resembles a serial killer. Charles Darwin called this earthly creation "the devil's chaplain" because of its astonishing  cruelty to animals and humans alike.
As G.K. Chesterton said, "We are all seasick, and we are all in the same boat." When I was young I sought to deny this truth. But age has confirmed it to in me a thousand different ways.
As a criminal defense attorney of 28 years, I see the cracks everyday and in most every way. Emerson said that, "Man is a god in ruins." So true. In my job, I have seen (in myself and others) so many of the fractured ruins, but I have also seen the residual divine image which exists deep in all of us.
I have seen cold blooded murderers who had nothing but warm hearted love toward their mothers. I have seen child molesters who repented from the core of their being and changed their lives around. I have seen accused rapists lie about their innocence and alleged rape victims lie about their own actions. I have seen the innocent wrongly convicted and the guilty wrongly exonerated. I have seen juries disobey the law and lawyers disobey the judge.
As a former DFACS attorney from the early 90s, I have also seen videotaped footage of a father who beat his sons so hard that, with each progressive blow, the children's screams became more and more animal-like. Yet, I have seen these same children later embrace this father and lovingly melt into his arms during visits. I have seen mothers intentionally burn their infants on space heaters. I have seen mothers abandon their small children unattended at home while they themselves went out and partied. I have seen beautiful teenagers mutilate themselves, deform themselves, drug themselves, and intentionally kill themselves.
Regardless of what ivory tower idealism tries to tell us, neither these vicious wolves or self-loathing lambs described above are born perfect, without flaw or fracture. Those on the legal and medical battle-lines of human nature know better. We all like sheep have indeed gone astray from WHO we really are and WHAT we can really do.
But here is the good news. Jesus came to both set and heal our fractured states of being. These words below were the first of His public ministry:
"The Spirit of the Lord is upon me , because He has anointed me to preach the gospel to the poor ; He has sent me to heal the brokenhearted, to preach deliverance to the captives , and recovering of sight to the blind , to set at liberty those who are bruised , To preach the acceptable year of the Lord . . . . This day is this scripture fulfilled in your ears." Luke 4:18-21. The Pharisees denied that they were sick and stayed unhealed. The desperate, by contrast, admitted their brokenness and received the curative energies of God.
Jesus' above mission statement declaring His purpose as preaching deliverance to the captives, recovering of sight to the blind, and curative liberty to the bruised is just as important to us today as it was to the ancient world. Jesus didn't come to show us things were just fine the way they were, but rather that they weren't. He came to make all things new, not to affirm the status quo.
Jesus cures all things in their proper order, FIRST He (along with our consent and cooperation) heals HIS CREATION WITHIN US, so that we can THEN be His agents of healing to HIS CREATION WITHOUT US.
So, again, does Jesus bring salvation to our souls?
Oh yes.
The Hebrew name for Jesus is "Yeshua" which comes from a verbal derivative meaning "to rescue" or "to deliver."
Jesus' name in the original languages, Yeshua/Jeshua, is the Aramaic form of the Hebrew name יהושוע "yehoshua" which means "Yah(weh) is salvation."
So what exactly is the salvation which Jesus brings to us individually and corporately?
This….
"By salvation I mean, not barely, to the vulgar notion, deliverance from hell, or going to heaven; but a present deliverance from sin, a restoration of the soul to its primitive health, its original purity; a recovery of the divine nature; the renewal of our souls after the image of God, in righteousness & true holiness, in justice, mercy & truth." John Wesley
Once we see this, who on earth wouldn't declare "Save me Lord and I shall be saved. Heal me Lord and I shall be healed." What's not to love about the Lord's salvation? I can only say with the Psalmist below, "Bring… it… on!"
"1 Bless the LORD, O my soul, and all that is within me, bless his holy name!
2 Bless the LORD, O my soul, and forget not all his benefits,
3 who forgives all your iniquity, who heals all your diseases,
4 who redeems your life from the pit, who crowns you with steadfast love and mercy,
5 who satisfies you with good so that your youth is renewed like the eagle's." – Psalm 103:1-5