Thinking of Creation with Imagination (A Brief Musing by Bev Mitchell)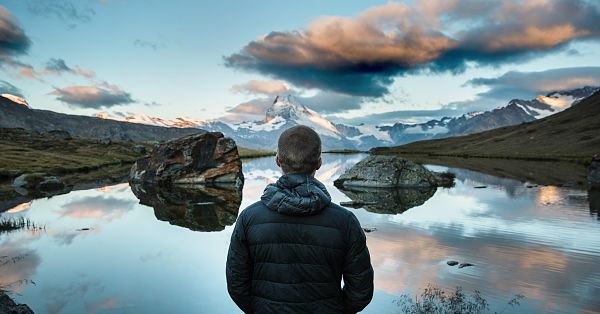 (What follows here is a guest blog post by long-time reader and commenter here Bev Mitchell. The spelling is left as is—"British-Canadian." As I always say, the guest poster here does not speak for me or any institution with which I am affiliated. Commenters may or may not receive any response; please keep all comments respectful and conducive to constructive dialogue.)
The cosmic "watchmaker," the blind or divinely determining variety, is a metaphor that is long past its best before date. In retrospect, it never did have a really useful date. This is because whether used to make fun of the theist position or to overstate and thus oversimplify that position, the watchmaker meme is both bad science and bad theology. From the perspective of the scientist, we are now well aware that complexity arises through a process of emergence – complexity is not built randomly but builds upon what already exists in response to a vast but limited suite of external realities. From the perspective of the Christian theologian, the divine being who makes all things possible works in ways we cannot know in any real detail. We have made amazing progress in describing what exists and how some of this wondrous complexity interrelates through space and time, but to detect any mechanism of divine action is beyond us. In this respect, the theist and atheist are in the same boat.
For those who rely on scripture and believe that it is one way the Creator reveals himself and his work, the texts referring to creation and the Creator's action are widely spread. Yes, there are watchmaker-like metaphors, such as being 'knit together in our mother's womb', but words that take us well beyond such limited thinking abound. Consider this poet's way of addressing part of the situation:
"Have you ever given orders to the morning,
or shown the dawn its place,
that it might take the earth by the edges
and shake the wicked out of it?
The earth takes shape like clay under a seal;
its features stand out like those of a garment.
The wicked are denied their light,
and their upraised arm is broken." Job 38:12-15
"Can you bind the chains of the Pleiades?
Can you loosen Orion's belt?
Can you bring forth the constellations in their seasons
or lead out the Bear with its cubs?
Do you know the laws of the heavens?
Can you set up God's dominion over the earth?" Job 38:31-33
"The wings of the ostrich flap joyfully,
though they cannot compare
with the wings and feathers of the stork.
She lays her eggs on the ground
and lets them warm in the sand,
unmindful that a foot may crush them,
that some wild animal may trample them.
She treats her young harshly, as if they were not hers;
she cares not that her labor was in vain,
for God did not endow her with wisdom
or give her a share of good sense.
Yet when she spreads her feathers to run,
she laughs at horse and rider." Job 39:13-18
"Would you discredit my justice?
Would you condemn me to justify yourself?
Do you have an arm like God's,
and can your voice thunder like his?
Then adorn yourself with glory and splendor,
and clothe yourself in honor and majesty.
Unleash the fury of your wrath,
look at all who are proud and bring them low,
look at all who are proud and humble them,
crush the wicked where they stand.
Bury them all in the dust together;
shroud their faces in the grave.
Then I myself will admit to you
that your own right hand can save you." Job 40:8-14
"Look at Behemoth,
which I made along with you
and which feeds on grass like an ox.
What strength it has in its loins,
what power in the muscles of its belly!
Its tail sways like a cedar;
the sinews of its thighs are close-knit.
Its bones are tubes of bronze,
its limbs like rods of iron.
It ranks first among the works of God,
yet its Maker can approach it with his sword." Job 40:15-19
"I know that you can do all things;
no purpose of yours can be thwarted.
You asked, 'Who is this that obscures my plans without knowledge?'
Surely I spoke of things I did not understand,
things too wonderful for me to know.
"You said, 'Listen now, and I will speak;
I will question you,
and you shall answer me.'
My ears had heard of you
but now my eyes have seen you.
Therefore I despise myself
and repent in dust and ashes." Job 42:1-6
Here the creator is giving a gentle but firm lesson to a human being who was being misguided by advisors who wanted him to adopt a simple, voluntarist view of God. Fortunately he resisted this advice, but it seems he nevertheless harboured some hope that right living would bring him some, relatively easy to understand vision of divine ways. Clearly a lot more is going on here than the artisan-like making of artifacts, however beautiful they may be. God's message to Job, and his advisors, is to think big, really big. Move beyond the watchmaker meme, allow your view of God to get out of tight human control. Adopt the stance of the poet, the visionary. Don't put the Creator in a box. Refuse to limit his/her actions to what a super-powerful human being might be able to do or how he/she might do it. Never define the Creator with a list of human-imagined negatives. When God says he is love and truth, then the opposite can't be true, but when the philosopher says God can't change don't take this a licence to think that the Creator cannot feel, lament or hope. Even the way we are dealt with when we try to limit the Creator, to paint him on too small a canvas encourages us to think big. In the conclusion of the book of Job we see this clearly: "I am angry with you and your two friends, because you have not spoken the truth about me, as my servant Job has." …… My servant Job will pray for you, and I will accept his prayer and not deal with you according to your folly…… After Job had prayed for his friends, the Lord restored his fortunes and gave him twice as much as he had before." We need not be afraid of thinking big or thinking small, God loves us either way – it's just that, when the subject is the Creator of the universe, it's always a lot more honoring to scripture and to God to think big.
Taking encouragement from these, and many other great expressions in the book of Job, we should also consider some other creation texts to help get our imagination flowing – to begin to expand our view of the Creator with no pre-conceived limits. This may well be a primary way to fear God, which is the beginning of wisdom.
Wisdom is at the core, the very foundation of creation. It seems that wisdom may even have a constitutive role in creation. It's as if, supported upon wisdom, shot through with wisdom, creation can only be approached in any way that leads to real understanding through Creator-given wisdom. We need to listen to Wisdom's autobiography found in Proverbs.
"I was there when he set the heavens in place,
when he marked out the horizon on the face of the deep,
when he established the clouds above
and fixed securely the fountains of the deep,
when he gave the sea its boundary
so the waters would not overstep his command,
and when he marked out the foundations of the earth.
Then I was constantly at his side.
I was filled with delight day after day,
rejoicing always in his presence,
rejoicing in his whole world
and delighting in mankind." Proverbs 8:27-31
When meditating on all of this, the watchmaker metaphor pales into insignificance. The poetry of these wisdom books must guide us as we read chapters like Genesis 1 and 2. It is important to remember that it is more poetry than blueprint, more glorious conclusion and invitation to further study than the materials and methods section of a common scientific paper. As witnesses to the unfolding and emergence of creation through the work of thousands of dedicated researchers, we need to combine what we learn from science, wisdom texts and writings like those we find in early Genesis to come to expect something much bigger and better than we often do. Early genesis is not a container of methods and acts of the Creator that we need to shape into a mechanistic narrative that somehow can be force fit into modern scientific evidence. The temptation to concord wordings in genesis with modern science should be resisted. The best way to do this is to imagine a much bigger creator, a much wider view of creation. Most importantly, we need to see there our place within creation, our role as co-creators with God and the very serious limitations we face in trying to fulfill that role while denying those very limitations and the necessary healing for them provided by the Christ of Calvary, Easter and Pentecost.
This way of approaching creation carries through clearly in the New Testament. Of course, the quintessential creation passage is from St. John's gospel.
"In the beginning was the Word, and the Word was with God, and the Word was God.
He was with God in the beginning. Through him all things were made;
without him nothing was made that has been made.
In him was life, and that life was the light of all mankind.
The light shines in the darkness, and the darkness has not overcome it." John 1:1-5
As a biologist, the part about life and its connection with light (truth, goodness, wisdom) holds a special place for me. Biology is the study of life from the perspective of science. The clear scriptural teaching about the close link between the living Word and life itself make us think carefully about the importance and value of all life – human life first to be sure, but never forgetting how varied and fecund and robust and important all life is, because of its source. Add to this the clear biological evidence that humanity is intrinsically linked currently (eg., physiologically and environmentally) and historically (evolutionarily) and we have reason to celebrate life while acknowledging that our attempts to understand how the Spirit of the Creator operates to make it all possible and sustain it must be informed by the wisdom that comes from the same divine source. This passage also reminds us that while there lurks the realness of darkness, chaos, purposelessness, un-creation, the creative wisdom that is light and life will not be overcome, its ends will remain unthwarted.
And while not often highlighted in discussions of creation, this project of the Creator's wisdom is revealed at its most significant in the Incarnation and the Resurrection. Arguably, Christians could begin every discussion of the creative work of God with these two, completely unexpected, completely incomprehensible and central events – the Creator becomes a creature, lives and dies as a creature then is resurrected as a new kind of first born that gives body to our final hope. Paul puts this all in creative language in more than a few places.
"He is before all things, and in him all things hold together. And he is the head of the body, the church; he is the beginning and the firstborn from among the dead, so that in everything he might have the supremacy. For God was pleased to have all his fullness dwell in him, and through him to reconcile to himself all things, whether things on earth or things in heaven, by making peace through his blood, shed on the cross." Colossians 1:17-20
"I pray that the eyes of your heart may be enlightened in order that you may know the hope to which he has called you, the riches of his glorious inheritance in his holy people, and his incomparably great power for us who believe. That power is the same as the mighty strength he exerted when he raised Christ from the dead and seated him at his right hand in the heavenly realms, far above all rule and authority, power and dominion, and every name that is invoked, not only in the present age but also in the one to come. And God placed all things under his feet and appointed him to be head over everything for the church, which is his body, the fullness of him who fills everything in every way." Ephesians 1:18-23
There is so much in these passages that we would need to consult several real commentaries to just scratch the surface. The intent in quoting them here is to present the obvious connections to the idea and reality of divine creation within their local context. Obviously creation is central, even when scripture speaks of great themes like redemption, the cross, Christ's authority, the church, resurrection and the world to come.
We have great encouragement, from scripture itself, to think well outside the usual boxes when imagining the scope of God's creative work and plan. To short circuit all of this with a literal hermeneutic, in Genesis 1-3 for example, so as to concord a limited view of a very large subject with current views from science is to misunderstand and misconstrue both science and scripture. Theists and atheists can both be guilty of this hamstrung thinking in the supposed service of their respective agendas. Both fail because they are way too small. They are small because only a small view of scripture can give their arguments a kind of quasi coherence. Meanwhile, scripture, science and indeed all of creation is calling us to a much bigger view of the Creator and his/her awesome work and plan. Paul puts it this way:
"For the creation waits in eager expectation for the children of God to be revealed. For the creation was subjected to frustration, not by its own choice, but by the will of the one who subjected it, in hope that the creation itself will be liberated from its bondage to decay and brought into the freedom and glory of the children of God. We know that the whole creation has been groaning as in the pains of childbirth right up to the present time." Romans 8:19-22